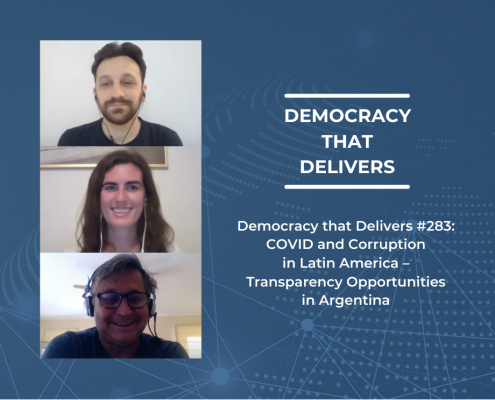 In this continuation of the Democracy that Delivers mini-series on "COVID and Corruption In Latin America", we take a closer look at our recently released report's second of three country case studies: Argentina. Cohosts Ken Jaques and Elena Padbury are joined by Demian González Chmielewski, Public Management Program Coordinator at CIPPEC, a CIPE partner organization that promotes democratic public policies in Argentina. Their research reveals that behind Argentina's strong legal framework lies a gap between institutions and practice which, in the current economic and health emergency context, can be an opportunity for either transparency or corruption. Listen to Demian's recommendations for bridging the gap to transparency.
Want to hear more? Listen to previous podcasts at CIPE.org/podcast.
Subscribe to the podcast on iTunes or your Android device.
Like this podcast? Please review us on iTunes.