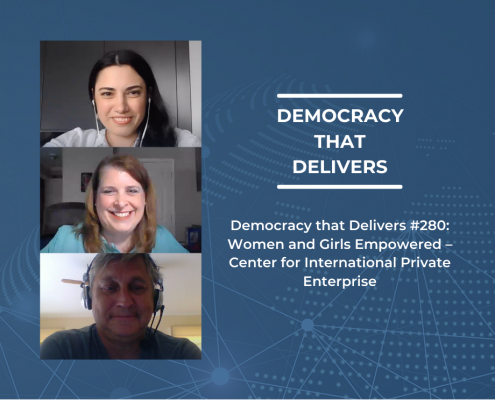 Democracy that Delivers kicks off a new mini-series spotlighting women's empowerment projects of the core partners of Women and Girls Empowered (WAGE),  a global programming consortium to advance the status of women and girls. In this first of four episodes, our host Ken Jaques is joined by Center for International Private Enterprise colleagues Barbara Langley, Director of the Center for Women's Economic Empowerment, and Elena Ratoi, Program Officer in Moldova. They bring updates on the goals, accomplishments, pandemic challenges, and lessons learned from "Reducing Barriers to Women's Economic Empowerment", a multi-disciplinary program aimed at building an alliance of Moldovan women's business and civil society organizations.
---
Want to hear more? Listen to previous podcasts at CIPE.org/podcast.
Subscribe to the podcast on iTunes or your Android device.
Like this podcast? Please review us on iTunes.
Published Date: August 31, 2021