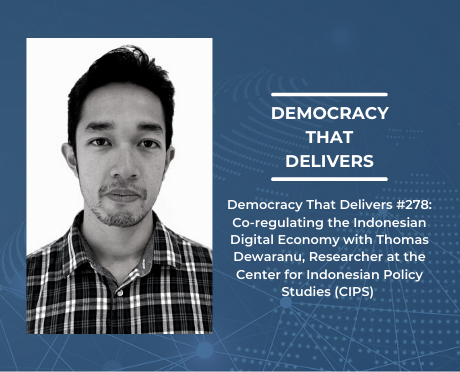 On this episode of Democracy that Delivers, our host Ken Jaques is joined by co-host Adam Sachs from CIPE's Global Team and Thomas Dewaranu, a researcher at the Center for Indonesian Policy Studies (CIPS). CIPE partnered with CIPS to engage in a digital economy advocacy pilot that examines the country's digital economy environment via interviews, public-private dialogues, and other awareness-raising activities. Thomas Dewaranu shares research recommendations that are captured in a policy paper titled, "Co-regulating the Indonesian Digital Economy". One key takeaway from the report is to follow a co-regulation approach that relies on collaboration between government and private sector actors to foster a cooperative approach to regulatory design, implementation, and enforcement of digital laws.
Want to hear more? Listen to previous podcasts at CIPE.org/podcast.
Subscribe to the podcast on iTunes or your Android device.
Like this podcast? Please review us on iTunes.