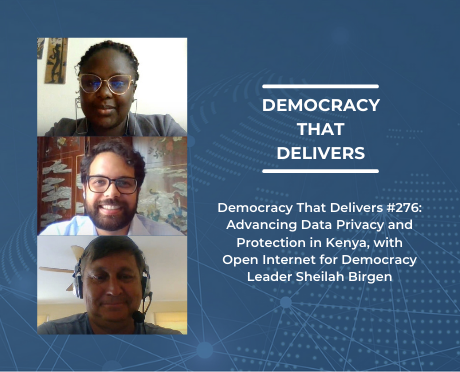 On this episode of Democracy that Delivers, our host Ken Jaques is joined by co-host Adam Sachs from CIPE's Global Team and Sheilah Birgen, The Cord CEO and 2020 Open Internet for Democracy Leader. The Open Internet for Democracy Leaders Program is a non-resident leadership program that empowers emerging leaders from across the globe to build their advocacy and organizing skills to protect internet freedom. Sheilah talks to Adam and Ken about opportunities for advancing data privacy and protection in Kenya, and together they explore how the lessons Sheilah learns there could be applied to initiatives in other local contexts.
---
Want to hear more? Listen to previous podcasts at CIPE.org/podcast.
Subscribe to the podcast on iTunes or your Android device.
Like this podcast? Please review us on iTunes.
Published Date: August 17, 2021