Editor's Note: Hundreds of small business associations from across Ukraine are coming together with think tanks and other experts to push for amendments to a controversial tax bill. This article explains what is at stake and how the groups are getting government leaders to consider new business-driven agendas.

"Think small first!"1 This statement concisely describes the basic principle of European policy on small business development. In most European countries, small business accounts for the lion's share of socio-economic development, creating 53 percent of added value, with the ability to quickly adapt to external changes. As a result, small businesses have become a source of innovative growth. In Ukraine, small and medium-sized enterprises (SMEs) account for 98 percent of all enterprises. Together, SMEs generate 55 percent of Ukraine's national gross domestic product (GDP), despite the share of small and micro businesses in this formula making up less than 16 percent of GDP. Unlike their wealthy European neighbors, Ukrainian small businesses have three times smaller contributions to the national economy compared with medium-sized and big businesses.
Although Ukraine committed to adhering to common policy principles on ease of doing business in its 2014 Association Agreement with the European Union, including the Think Small First principle, small and micro enterprises became subjected to increased fiscal pressures and new burdensome regulations instead of receiving promised support. Later, the government team led by President Volodymyr Zelensky came into power in 2019 with unprecedented voter support and a robust reform agenda, popularly known as the "turbo regime." "Dozens of new laws were adopted quickly, without properly consulting small businesses," said Oleksii Litvinov, CIPE expert on regulatory policy. The government justified such steps due to the need to combat the shadow economy2, which accounts for 31 percent of GDP, according to the Ministry of Economy3.
Data from a study conducted by the Institute for Socio-Economic Transformation, supported by CIPE in 2020, shows that the share of small and microbusiness participating in shadow schemes is negligible, compared to money laundered by bigger players through offshore schemes, violation of customs regulations, smuggling, and border corruption. Despite being provided with this data, government officials still decided to start with the small businesses and increased fiscal pressure for small and micro entrepreneurs.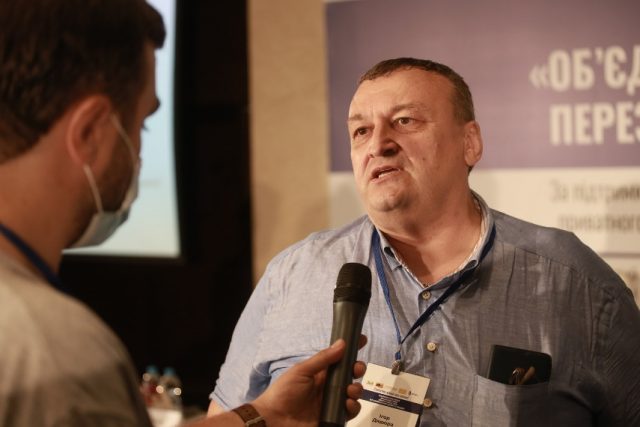 The COVID-19 pandemic came at a time of unpopular government decisions regarding additional fiscal pressure on small businesses, which threatened the survival of hundreds of thousands of small enterprises. The lack of adequate state support and the government's reluctance to analyze the impacts of new fiscal initiatives eventually eroded small business owners' patience. Mass protests led by small and micro-entrepreneurs began in December 2019. The government responded to the demonstrations by postponing the enactment of a new law on additional fiscal measures until January 2022. However, such a step only delayed the problem. Small businesses had to resort to other measures and offer an alternative: a compromise legislative initiative.
Facing such challenges, small business associations from cities like Sumy, Kyiv, Kharkiv, Dnipro, Chernihiv, Zaporizhzhia, Odesa, and Vinnytsia, turned to CIPE for support. Many were previous graduates of CIPE programs. CIPE had previously helped these small business associations build their advocacy skills, form regional coalitions, and later join national coalitions such as the National SME Platform and the National Business Coalition, also established with CIPE assistance. The associations have proposed launching national advocacy campaigns to promote their positions on fiscal issues and other important policies for small businesses to Ukraine's entire small business community. Three other coalitions joined the movement, including the All-Ukrainian Association of Entrepreneurs Fortetsia, the Alliance of Regional Small Business Associations, and Save FOP Cities Council coalition.4 Together, all five coalitions represent more than 250 small business associations from across the country. Several economic think tanks have also gotten involved and developed legislative initiatives, including a compromise proposal to deal with violators of tax legislation. This proposal would prevent 800,000 small and midsize businesses from being affected by Ukraine's heavy administrative burden.
CIPE has served as an independent facilitator working to unify the coalitions and bring coherence to both the advocacy process and the legislative initiatives. This year, Ukraine's small business community prepared three alternative draft laws and invited relevant authorities to a public discussion forum titled "United Voice of Small Business 2021: Relaunch Dialogue with Authorities" on June 24. It is worth mentioning that the main slogan of the meeting was "Think Small First." The slogan served as a reminder to the government of its obligation under the EU Association Agreement to follow European principles enshrined in the "Small Business Act" for Europe.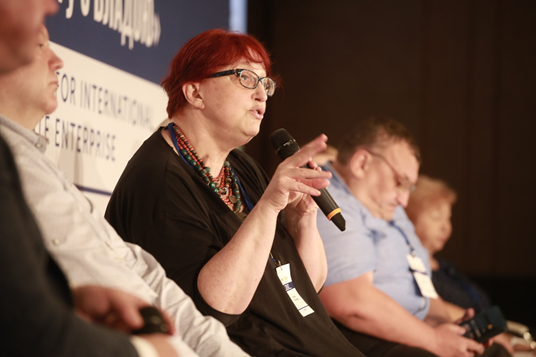 Given the COVID-19 quarantine measures, the June forum was held in a hybrid format. This allowed entrepreneurs from different regions to join the discussion virtually. Members of Parliament (MPs) including Dmytro Natalukha, Tetyana Tretyakova, Chairmen of Verkhovna Rada Committees and senior officials Ihor Dyadyura, Deputy Minister of Economy, Valeria Ionan, Deputy Minister of Digital Transformation of Ukraine, Oleksiy Kucher, Head of State Regulatory Service of Ukraine joined the discussions with representatives of business associations. Representatives of both the legislature and the executive authorities agreed to consider the proposals of the business community. Mikheil Saakashvili, former President of Georgia and Chairman of the Executive Committee for Reforms of Ukraine, addressed the forum participants via a video call. In his speech, Saakashvili stressed the importance of maximum simplification of administrative and fiscal barriers for small businesses. In total, more than 100 people attended the event in person and over 2,600 joined virtually. Additionally, representatives from dozens of national media5 agencies covered the forum.
Some attending entrepreneurs came to Kyiv specifically to participate in the event and personally convey their positions to government officials. "For the first time, the entrepreneurs did not feel as if they were on Maidan6 but in a constructive dialogue," said Iryna Berezynets, head of the Siyayvo Sivershchyny Business Association in Chernihiv. Boris Emeldesh, a representative of the Save FOP Council of Cities Coalition in Odesa, stressed during his speech that all stakeholders, including the Tax Service, microbusinesses, think tanks, and Cabinet representatives played their roles in developing the alternative draft law. This approach allowed stakeholders to address a majority of the challenges faced by small businesses. However, according to Emeldesh, it is best to approach issues like this carefully, taking the experience of other countries into account. Oleksandr Chumak, a representative of the National SME Platform in Kharkiv, noted that general fiscalization7 is unnecessary for legal business. "We have found the balance that allowed entrepreneurs to work together with the State Tax Service and the Ministry of Finance. Now we turn to the President – the ball is in your court. We hope that the adoption of this law8 will relieve social tensions," said Oleksiy Didul, a representative of the Alliance of Regional Small Business Associations in Kyiv.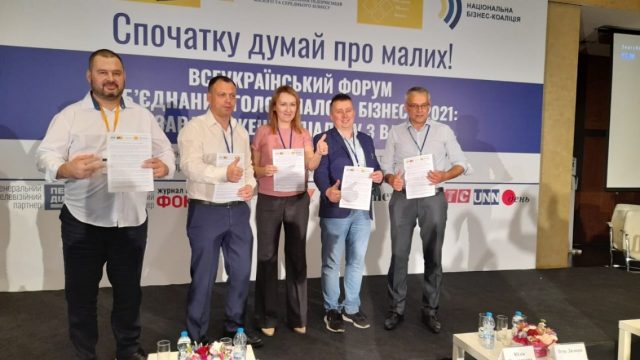 The forum participants stressed that small and micro businesses in particular require a different approach, compared to large or even medium-sized companies. After all, according to the world practice, micro businesses perform a more social than fiscal function, providing self-employment and job creation. Participants urged Ukraine to join the ranks of many other countries that introduce simple reporting and taxation systems to support the development of micro and small businesses, rather than complicating these procedures for small entrepreneurs. Over time, policies that lump together all sizes of enterprises have been known to increase social tensions.
The event was closed with the signing of the "United Ukrainian Small and Microbusiness Resolution." This resolution calls on the President of Ukraine, MPs, and the Cabinet of Ministers of Ukraine to support the proposals made by experts and business association representatives and adopt business-driven alternative legislative initiatives.
"What a powerful forum… I hope it becomes regular… Useful video9… I could watch it again a couple of times a week, so I never forget whom we work for," These were words used by Ihor Dyadyura, Deputy Minister of Economy, to describe the forum on his Facebook account.
You can find the video covering the forum here.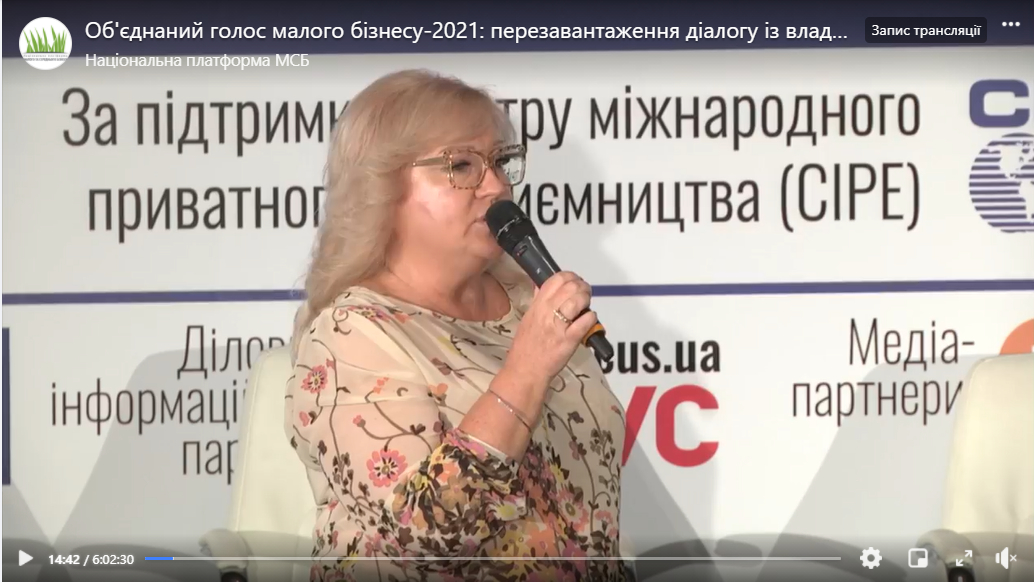 The law that stirred up tensions among entrepreneurs countrywide is scheduled to enter into force in January 2022. The forum's organizing coalitions hope the government will listen to their alternative proposal. The final decision is up to the President. While still a candidate in 2019, he supported all ten priorities of the business-driven agenda presented by a National Business Coalition representing over 35,000 entrepreneurs. Among them was the proposal not to burden a simplified regulatory system for small businesses.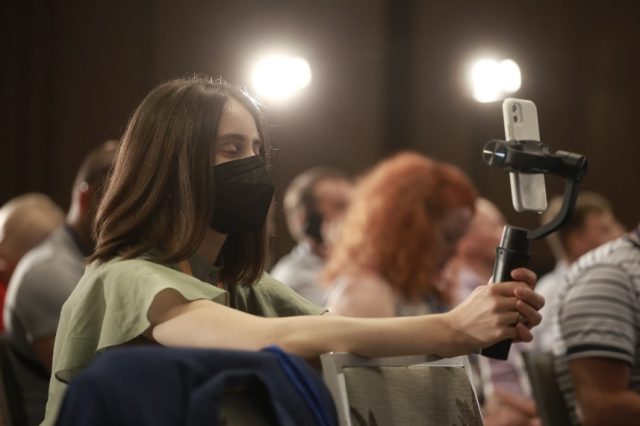 Inspired by the dialogue at the forum and waiting for the President's reaction, the small business associations have since received a surprise from the Parliament. On July 1, MPs approved the first reading in the bill, although many experts have called it perhaps the most repressive tax bill in the history of Ukraine. However, next steps include consolidating the many amendments proposed to the bill, which will involve serious revisions by MPs in consultation with experts and business.
In response to the bill's passage, the co-organizing coalitions of the forum immediately deployed an advocacy campaign for this legislative initiative. They organized work with experts and associations from various sectors affected by the law draft to develop business-driven proposals for the Parliament before the second reading. So far, their efforts have yielded nearly eleven thousand possible amendment versions, many of them similar in context. And, the groups' activities continue to attract much attention from key officials in government who promise to address the concerns. The second reading of the law draft is expected to happen in October of this year.
Nataliia Zhuhai is a CIPE Program Officer in Ukraine.
Endnotes