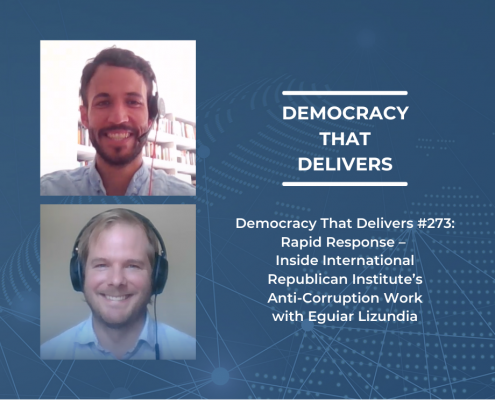 This episode of CIPE's Democracy That Delivers podcast features special guest Eguiar Lizundia, Deputy Director for the Center for Global Impact at the International Republican Institute (IRI). The latest in a rapid response anti-corruption mini-series hosted by Peter Glover of CIPE's Anti-Corruption & Governance Center (ACGC), the podcast features Lizundia sharing his perspective on rapidly deploying anti-corruption resources during political windows of opportunity guided by IRI's impressive new publication, the "Anti-Corruption Toolkit for Civic Activists."
In his role at IRI, Lizundia builds thought leadership on key issues, facilitates cross-program knowledge sharing, and leads efforts to improve programming. He's recently written articles outlining how to improve US efforts to combat corruption in Central America, why the US should bring local governments into the Summit for Democracy, and why it is important to look beyond the West to combat kleptocracy. Lizundia is found here on Twitter.
---
Want to hear more? Listen to previous podcasts at CIPE.org/podcast.
Subscribe to the podcast on iTunes or your Android device.
Like this podcast? Please review us on iTunes.