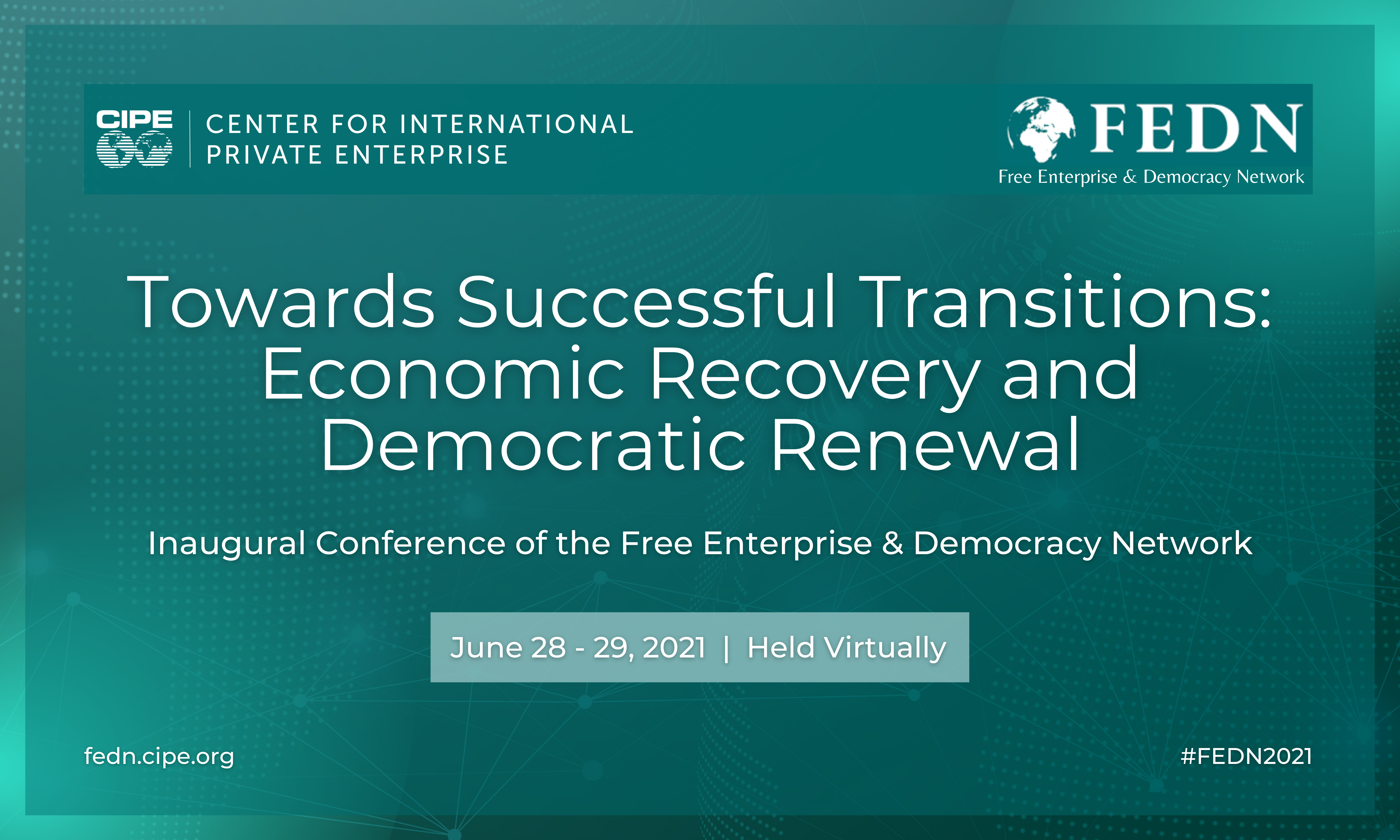 As the pace of COVID vaccination increases, the pace of economic activity around the world should increase as well. This will present opportunities, but also challenges. How can we renew faith in and reliance on democracy and free markets as the planet transitions to a post-COVID world?
To begin seeking answers, the Center for International Private Enterprise (CIPE) and the Free Enterprise & Democracy Network (FEDN) recently hosted a conference titled "Towards Successful Transitions: Economic Recovery and Democratic Renewal."
Carl Gershman, outgoing president of the National Endowment for Democracy, set the tone in an opening keynote. "Political democracy, with a strong free market system, is the best path forward for people everywhere," he reminded listeners. "A free market is not a feature; it is a requirement for good governance." The problem, as he sees it, is that the people who have tried to defend democracy too often fail to link it to the free market.
That is where CIPE helps. CIPE works with local business leaders to expand the opportunity for inclusive growth through market-led solutions. CIPE programs promote a rule-based system that emphasizes principles of democratic governance, enables entrepreneurship, opens trade, and fights corruption. CIPE and its global partner network create knowledge and practical tools to drive local change. For example, CIPE developed Business Associations for the 21st Century, a business association management guidebook that helps associations develop effective governance, programs, and advocacy efforts in order create more favorable business climate in their countries. CIPE also published Cost-Benefit: A Practical Guide for Civil Society Organizations.
Coming out of the COVID pandemic, local action will be more important than ever. A global contagion was felt at the individual level, shuttering businesses of all sizes. Local chambers of commerce and business associations have the on-the-spot expertise to help owners reopen and recover, and the political influence to obtain the help these businesses will need. They can also work through the Free Enterprise and Democracy Network. FEDN provides a mechanism for private sector leaders and advocates of freedom across the world to exchange ideas, support one another, and make the case for democratic, prosperous societies. FEDN currently has more than 60 distinguished members from 38 countries, articulating priorities for crisis response and recovery while showing solidarity with businesses and civilians facing repression.
The conference also considered the large role governments will play in the recovery. During her address, Hon. Betty C. Maina, Kenya's Cabinet Secretary for the Ministry of Industrialisation, Trade and Enterprise Development, detailed how close collaboration with the private sector has allowed her country to implement an inclusive growth agenda, social protects and welfare to support the population. She said that win-win outcomes are possible between states and private enterprises globally, but only when they work together to support one another to advance prosperity for all rather than viewing each other as antagonists.
During panels, breakout sessions, and in polls, conference participants discussed the need for governments to help small business, the needy and the poor to weather the lingering effects of the pandemic. At the same time, governments at all levels must be prepared for the rapid changes and disruption in business models that are certain to come.
They should also be ready to take advantage of the move toward democracy if it presents itself.  "Democratic transition often does not come incrementally. It comes in waves," warned Abigail Bellows, a Nonresident Scholar at the Carnegie Endowment for International Peace. She told attendees that "it is very important to be prepared for those moments and be able to respond strategically." The means moving rapidly to capitalize on opportunities for transformational reform.
Some potential opportunities include a realignment towards democratic capitalism, remaining conscientious of blind spots in policy efforts aimed at balancing outcomes, rebuilding citizen trust through transparency and accountability, as well as recognizing stakeholder dialogue and engagement as a continuous and reciprocal process.
In the closing remarks for the conference, FEDN Steering Committee Member Badri el Meouchi summarized key takeaways of the conference. Countries must:
Invest more in collective action among the public sector, private sector, and civil society.
Expect change and always be ready to respond to waves of change.
Empower local actors to push for reforms and be more involved in policy decisions.
Strengthen anti-corruption efforts to curb the erosion of free enterprise and democracy.
The pandemic showed us some of the best examples of private-public collaboration. Business and government can be equal partners, and this is often extremely effective. Together, they highlight FEDN's themes of free markets and democracy. As the world looks to recover, it needs more of both of these.