In the wake of COVID-19, millions of people across Southeast Asia are logging onto the internet for the first time. This rapid uptick in online activity means the region's digital economy is worth more than $100 billion in Gross Merchandise Value as of 2020. Digital transformation is a government priority throughout Southeast Asia, setting the region up to become one of the most dynamic economic areas for digital trade and innovation. Government and the private sector must work cooperatively to ensure this growing online ecosystem is inclusive and representative of local sectors, businesses and customers.
Recognizing this opportunity, CIPE's new office in Manila, Philippines hosted the "Manila Virtual Series on Democracy and Technology," to promote public-private dialogue and cooperation on inclusive digital transformation in Asia and the Pacific. This three-part webinar series brought the voices of business, academia, government, and civil society together to share strategies for shaping resilient digital ecosystems.
Below are highlights from those conversations:
Virtual Webinar 1: Co-regulation of Digital Transformation in Asia
On February 2, digital economy experts representing government, private sector, and civil society discussed how local business communities and the public sector can cooperate to navigate and build more inclusive digital environments in the face of the rapidly evolving technology landscape in Southeast Asia. The speakers included Mary Jean Pacheco, Assistant Secretary of the Philippines Department of Trade and Industry (DTI); Dr. Roberto Martin Galang, Operations Officer at the International Finance Corporation; and Felippa Amanta, Head of Research for the Center for Indonesian Policy Studies (CIPS) based in Jakarta.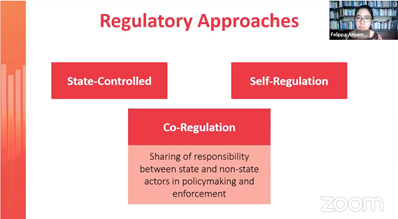 These experts emphasized the need to streamline policies and foster innovation to expand economic opportunities for all, including small and medium-sized enterprises (SMEs), entrepreneurs, as well as women, minorities, and those living in rural communities. The event kicked off with a comprehensive overview of the Philippines Government's eCommerce Philippines 2022 Roadmap, presented by DTI Assistant Secretary Pacheco, who offered insights on the role of business in achieving digital transformation objectives.
According to Dr. Galang, harmonizing policies across jurisdictions and investing in e-commerce logistics and infrastructure will foster innovation, promote inclusion, and reduce business costs. For example, updating e-good delivery service business models and harmonizing regulations and policies around the delivery of goods, including improving the postal and customs clearance process, will enhance the e-commerce sector and cross-border trade in the Philippines and throughout Southeast Asia.  To address governance gaps, Amanta supports a co-regulation approach in Indonesia– a method that leverages active cooperation between government and private sector actors – to harmonize the patchwork of policies transitioning businesses and consumers online.
Watch Virtual Webinar 1: Co-regulation of Digital Transformation in Asia
Virtual Webinar 2: Putting Digital Rights on the Corporate Governance Agenda
The second webinar, held on March 23, focused on the importance of building trust online and how the private sector's embrace of digital rights can create a more inclusive and safer online environment. Experts included Rebecca MacKinnon, Founding Director of Ranking Digital Rights; Francisco Ashley Acedillo, Assistant Vice President for Cybersecurity Strategy and Innovation at PLDT-Smart Center; and, Dr. Kenny Huang, the CEO & Chairman of the Taiwan Network Information Center.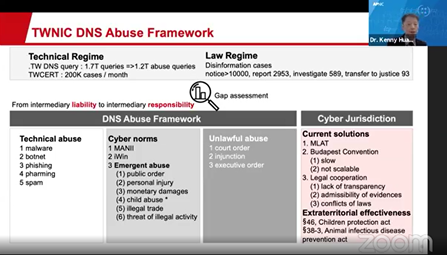 Referencing the 2020 Ranking Digital Rights Corporate Accountability Index and the United Nation's Guiding Principles on Business and Human Rights, which the index is based on, Rebecca MacKinnon explained how the index incentivizes businesses to demonstrate their commitment to transparency and users' digital rights. Francisco Ashley Acedillo highlighted how PLDT-Smart Center, a subsidiary of the largest telecommunications company in the Philippines, mainstreams cybersecurity best practices into their company's everyday business operations. Such integration includes establishing a privacy risk impact assessment, elevating the role of cybersecurity officers to enhance the visibility of cybersecurity and data privacy issues to the decision makers, and offering various channels to respond to data service requests from users.
While these practices are at the firm level, Dr. Kenny Huang shared how his work with internet intermediaries – such as search engines, platform providers, or domain registries – can work with the larger internet community to build user trust and protect digital rights from cyberthreats in the digital space. It is clear from the speakers' insights that digital rights awareness remains low across the business community. To learn more about digital rights and advocacy, visit: https://openinternet.global/.
Watch Virtual Webinar 2: Putting Digital Rights on the Corporate Governance Agenda
Virtual Webinar 3: Entrepreneurial Resilience in the Aftermath of COVID-19
In the final webinar, held on May 5, panelists focused on approaches to building more entrepreneurial and resilient ecosystems for SMEs to compete in the digital age. CIPE convened Gina Romero, CEO of Connected Women; Wek De Guzman, the Founder and CEO of SocialFilo; Rachel Chang, Founder and CEO of Kairos International Marketing Group; and Dr. T.M. Zakir Sjakur Machmud, the Director of Small and Medium Enterprise Center, Faculty of Economics & Business University of Indonesia (UKMC FEBUI).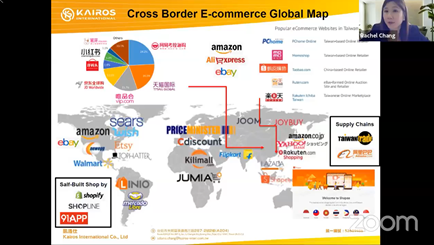 The discussion started with speakers underscoring the need for smart public policy to improve the digital commerce environment and the lack of comprehensive trainings that support entrepreneurial success in the digital marketplace. Topics such as digital literacy, financial literacy, and digital marketing were highlighted as core skills needed for entrepreneurial growth online. Romero highlighted resiliency challenges for women's participation in the digital economy and Connected Women's efforts to increase access to remote work opportunities for low-income, displaced, and vulnerable women through digital skills training and upskilling for work in the artificial industry.
At the ecosystem level, effective public policy that nurtures inclusive growth and innovation requires understanding not only business resiliency challenges, but also SME characteristics such as educational level, device and platform usage, type of goods or services, and customer base or type of transactions (business to business, business to consumer, consumer to consumer, etc.) Dr. Machmud outlined the various challenges to digital transformation and underscored how entrepreneurs, especially those outside the technology sector or start-ups, require support and engagement with academia, business organizations, civil society, and governments to ensure resiliency and sustainability both on- and offline. The lack of information dissemination for entrepreneurs and aspiring entrepreneurs on how to go digital and start a business is another barrier highlighted by Guzman, whose firm organized information campaigns and business webinars.
From an entrepreneur's perspective, Zhang offered insights on the various e-commerce platforms across Southeast Asia that entrepreneurs can leverage, and shared lessons learned in how entrepreneurs can adapt to the various resiliency challenges brought on by the pandemic and the rapid acceleration of digital transformation.
Watch Virtual Webinar 3: Entrepreneurial Resilience in the Aftermath of COVID-19
Looking Ahead
The COVID-19 pandemic further transformed Southeast Asia's digital economy landscape. To ensure digital transformation does not leave anyone behind, governments, civil society, academia, and local business communities must collaborate effectively to reorient mindsets and build capacity. CIPE will leverage its experience and network throughout Southeast Asia to support local business communities to advance norms and standards that foster innovation, preserve democratic values, and grow digital economies.
Please visit our webpage and subscribe to our Philippines Keynotes Newsletter to learn more about CIPE's programs in Asia and the Pacific. To learn more about promoting democratic digital transformation, visit the Open Internet for Democracy Initiative and read through CIPE's Digital Economy Enabling Environment Guide: Key Areas of Dialogue for Business and Policymakers.