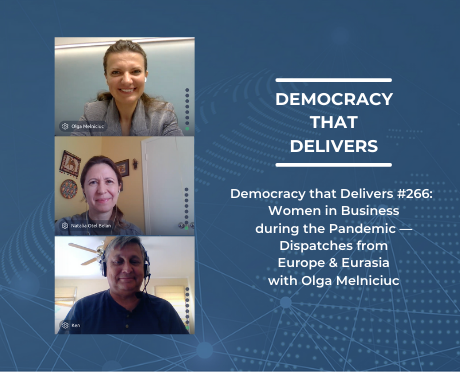 On this episode of Democracy that Delivers, the "Women in Business during the Pandemic" series brings our host Ken Jaques to Moldova once again. He is joined by co-host Natalia Otel Belan, CIPE Regional Director for Europe and Eurasia, as well as our guest Olga Melniciuc, National Consultant on Women's Economic Empowerment for UN Women Moldova and past President of the Association of Women Entrepreneurs from Moldova (AFAM). Listen to find out how Ms. Melniciuc and fellow women in business in Moldova are making the most of digitalization in order to adapt to the challenges of female entrepreneurship during the COVID-19 pandemic.
---
Want to hear more? Listen to previous podcasts at CIPE.org/podcast.
Subscribe to the podcast on iTunes or your Android device.
Like this podcast? Please review us on iTunes.
Published Date: June 08, 2021