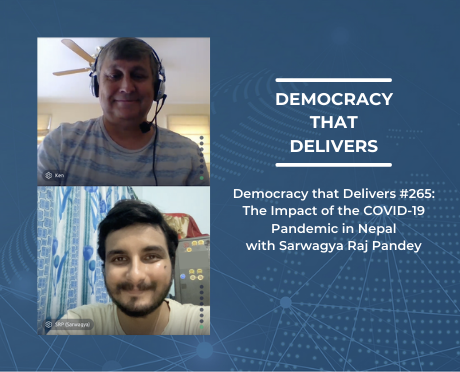 On this episode of Democracy That Delivers, our host Ken Jaques is joined by Sarwagya Raj Pandey, the Research and Advocacy Officer at Bikalpa – an Alternative, a public policy think tank based in Nepal in partnership with CIPE's Asia Pacific Team. They talk about his firsthand experience of the impact of the COVID-19 pandemic on the people of Nepal both socially and economically, notably for small businesses and the tourism sector. Beyond a story of loss, Mr. Pandey tells a story of human triumph through community, innovation, activism, and collaboration in the face of catastrophe.
Want to hear more? Listen to previous podcasts at CIPE.org/podcast.
Subscribe to the podcast on iTunes or your Android device.
Like this podcast? Please review us on iTunes.