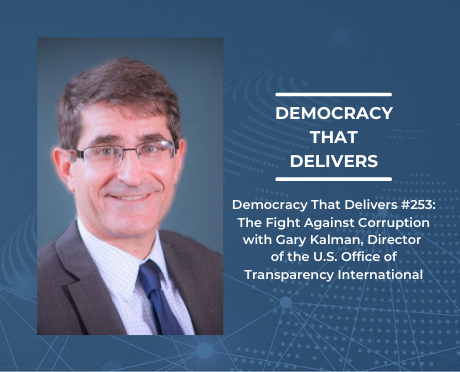 On this episode of Democracy that Delivers our host Ken Jaques is joined by Anti-Corruption & Governance Center Director Frank Brown and our guest Gary Kalman, Director of the U.S. Office of Transparency International. Gary Kalman is a leading voice in the U.S. for the concerns and priorities of the global anti-corruption movement. Prior to his current position, Kalman had been the executive director of The FACT Coalition. Listen to this podcast to learn more about Gary Kalman's experience and Transparency International's efforts in supporting and promoting the U.S. role in global anti-corruption efforts.
Want to hear more? Listen to previous podcasts at CIPE.org/podcast.
Subscribe to the podcast on iTunes or your Android device.
Like this podcast? Please review us on iTunes