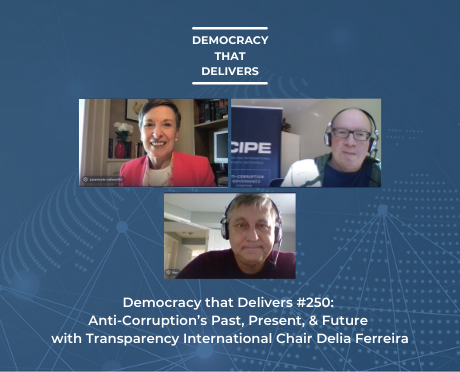 Delia Ferreira, Chair of Transparency International (TI), joins the podcast to give a decade-spanning tour of the global fight against corruption from her start as a non-profit leader in Argentina, to the global corruption agenda milestones of the 1990s and 2000s, and finally during the current era of high-profile and sophisticated corruption. Ferreira, who consults for governments, businesses, and international organizations in her leadership capacity with the world's best-known anti-corruption NGO, is joined by Anti-Corruption & Governance Center Director Frank Brown and CIPE Communications Director Ken Jaques. Listen to Ferreira share TI's priorities during the COVID-19 pandemic and beyond, her suggestions for global businesses that she sees increasingly willing to adopt social and community-minded approaches, and what she would do if TI was awarded an extra $50 million in funding this year.
---
Want to hear more? Listen to previous podcasts at CIPE.org/podcast.
Subscribe to the podcast on iTunes or your Android device.
Like this podcast? Please review us on iTunes