The informal economy is uniquely challenging to vendors and entrepreneurs regardless of gender, but women tend to experience these challenges differently and at times, more intensely, than men. As a result, commonly suggested solutions, which operate under the assumption that each informal vendor has the same capacity and individual agency, often fail to sufficiently help those struggling the most.
This article explores the gendered nature of informality and describes the Afghan Women's Chamber of Commerce and Industry's (AWCCI) work to build capacity, leverage collective action, and spread knowledge for women informal vendors. Capacity building, collective action, and knowledge sharing will help improve the business environment for women, and lead toward more vibrant vendor communities, a healthy private sector, and a more involved civil society.
Women often lack social, political, and in some cases associational, protections and rights.
Informality, or labor and enterprise that lacks social protection and goes unlicensed, unregulated, and untaxed, accounts for roughly 74 percent of women's employment in sub-Saharan Africa and 63 percent in South Asia. Across the developing world, more women than men tend to work informally as shown in the table below.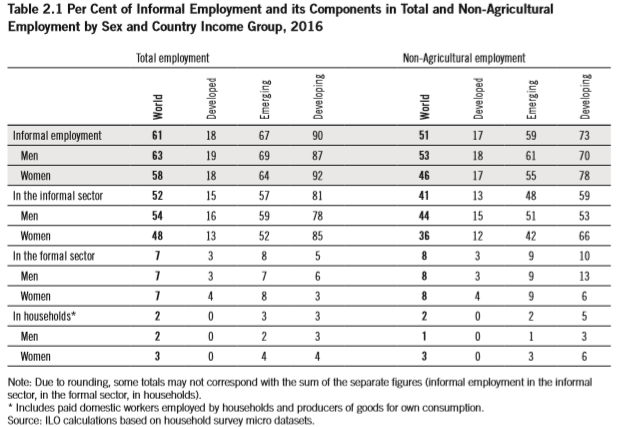 Source: ILO
Although informality provides goods, services, work and enterprise to millions around the world, it is associated with low productivity, low growth, tax evasion, and unfair competition. When taking gender into account, women must balance these challenges with the disproportionate burden of unpaid care work; the barriers of obtaining equal rights to property, credit, land and natural resources, and workplace protections; as well as access to basic services which include healthcare, childcare, transportation, and public space. Moreover, women often lack social, political, and in some cases associational, protections and rights. When women lack these protections and rights, the risk of advocating for solutions to these problems sharply increases.
The group Women in Informal Employment: Globalizing and Organizing (WIEGO) points to Elba Rojas' struggles as a street vendor in Peru. Rojas must leave home to purchase chilis before 2:00AM every day, return to the marketplace in a distant central area by 4:00AM, and navigate the spatial-inequality that comes with this sort of informal work. Rojas says working this way day in and day out is daunting, emotionally draining, and physically exhausting, however she cites the material and social support she and other vendors provide one another in the form of resource sharing and protected selling space, as a source of strength.
Women in Afghanistan's informal economy must navigate barriers to public space, restrictive and discriminatory administrative procedures, and high opportunity costs for doing business.
Likewise, the group Inclusive Cities describes Shantaben, an informal vegetable vendor in Ahmedabad, India who works with the Self-Employed Women's Association. SEWA, an association of women workers and vendors, leverages collective action to supply training on financial planning, occupational health and safety, and to carry out advocacy work to enhance social protections and negotiate financial aid. For example, SEWA created a savings account for the association's members, the SEWA Bank, to provide more financial security in the face of precarity.
SEWA's work has facilitated a more vibrant local civil society. Shantaben represents vendors on the Town Vending Committee in the municipal government. Although this committee is technically separate from SEWA, Shantaben applies knowledge she learned from SEWA training to navigate complicated procedures and obfuscated legalese.
A CIPE partner, the Afghan Women's Chamber of Commerce and Industry (AWCCI), is also plotting a path toward alleviating these problems through collective action, capacity building, and knowledge sharing. Women in Afghanistan's informal economy must navigate barriers to public space, restrictive and discriminatory administrative procedures, and high opportunity costs for doing business.
AWCCI co-founder Manizha Wafeq explained to me in a recent interview that women in the informal economy must find a way to productively balance "professional work with work in the domestic fields." To make money, women in Afghanistan are innovatively turning their unpaid domestic labor into profitable enterprise, selling surplus dairy products, vegetables, pickles, fruit, and jam as well as running salons and tailoring businesses out of their homes. These vendors are also pickling and preserving surplus agricultural produce to sustain their businesses beyond the non-growing season.
Wafeq highlighted some challenges to these resourceful enterprises: women can be legally or socially barred from public selling spaces or relegated to inferior or out of the way "women only" spaces; redundant, difficult, or gender-biased administrative barriers severely complicate formalization; and security issues surrounding harassment and abuse complicate women's participation in the informal economy.
Wafeq explained that solutions to these problems should be categorized around simplifying or eliminating administrative and social barriers and building the women entrepreneur's knowledge of administrative and legal procedures. Securing guaranteed and protected selling space in Afghanistan, for example, typically requires a business license or at least permission from the municipal government, but the first step to securing these permissions is through submitting a valid government ID. Women are required to have a male guardian's permission to secure one of these ID's, undermining their agency. Secondly, since public space is highly regulated, women vendors may be limited to family- or women-only areas, which tend to be out of the way of foot traffic or closed during the most fruitful selling times.
AWCCI, on top of advocating for simpler gender-blind administrative procedures, is also advocating for women working in public space. In Kabul, for example, AWCCI is proposing a Friday Bazaar in public parks. Women vendors can sell where they are comfortable under temporary permits AWCCI secures, either in public spaces traditionally open to them or in public spaces where they do not always have this opportunity. Normalizing women vendors selling openly can lead toward broader policy changes.
Lastly, building individual and collective knowledge is an important step toward capacity building for women vendors. Administrative procedures can be complicated, redundant, and expensive in time and money. Working with local partners and local governments to distribute informative materials, hold workshops, and create streamlined processes will go a long way toward easing these barriers.
In working to make enterprise less costly and easier for women in the informal economy, democracy and development stakeholders should look to solving these problems through collective action organizations such as trade associations and chambers of commerce. The examples cited by WIEGO and Inclusive Cities already demonstrate how collective action and capacity building can solve problems. Likewise, AWCCI's activities can leverage both the social and material strength of a robust vendor community to build effective advocacy campaigns and engage in policy dialogue to effect sustained change.
AWCCI's approach is both nuanced and innovative. AWCCI understands that the problems women vendors face in Afghanistan are interconnected and rooted in information asymmetries as well as more material barriers such as public land use and obfuscated and gender-biased administrative procedures.
AWCCI's work benefits both democracy and economic development. While the economic benefits – safer and more successful vendors and a healthier business environment – are clear cut, the benefits to democracy come from a vibrant private sector and civil society. In his book, "Making Democracy Work," Robert Putnam argues that strong associational life strengthens democracy by building accountability, social trust, and informing responsive governance.
A robust private sector and more broadly, civil society, can work with local governments to solve problems and create sustained inclusive economic growth. Strong collective organizations can leverage community resources and expertise to provide training and informative materials to beneficiaries while also serving as a platform for advocacy. Democracy and development stakeholders should work to amplify and facilitate these efforts to build inclusive economies and healthy democracies.