(A spanish translation of this piece is available here)
As part of Global Entrepreneurship Week 2020, CIPE's Latin America and Caribbean (LAC) department organized a virtual conversation with Lina Vélez and Decci Ibarra, executives from the Medellin and Putumayo Chambers of Commerce, to discuss their perspectives as female leaders in the private sector. The panel was moderated by CIPE's Colombia Program Director Ángela Vélez with contributions from CIPE's Center for Women and Economic Empowerment (CWEE) Senior Program Officer Connie Gonzalez.
The panelists represent vastly different regions of Colombia: Lina Velez from a national economic hub and Ibarra from a post-conflict zone formerly controlled by Revolutionary Armed Forces of Colombia (FARC). Despite their differences in geopolitical realities, they identified similar motifs and challenges that women face in the corporate and entrepreneurial environments.
The Future of Female Entrepreneurship in Putumayo
Located 13 hours by land from Bogota, Putumayo has been a province for only 30 years and rests along Colombia's borders with Peru and Ecuador. The region is home to 14 indigenous groups as well as diverse colonized groups which, over generations, has resulted in a rich cultural microcosm. Their recent history as a conflict zone has created a resilient generation of entrepreneurs.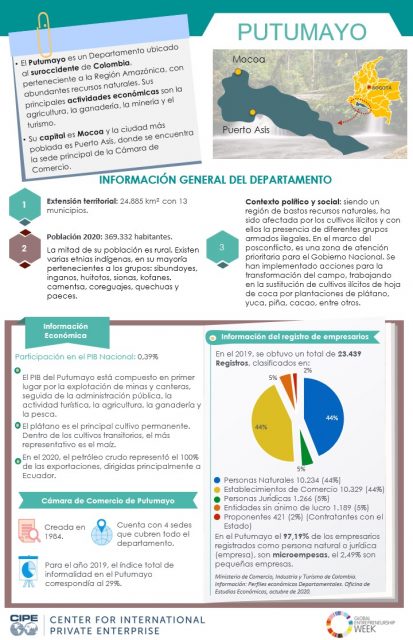 Ibarra, Executive President of the Chamber of Commerce of Putumayo, shared the importance of promoting technical and business-oriented education in rural areas starting in elementary school, with particular inclusion efforts made towards women. Entrepreneurs in Putumayo need business administration skills in accounting, human resources, marketing, and law in order to expand their horizons.
This year in Putumayo, 61% of businesses registered with the Chamber of Commerce are led by women; 99% of these businesses are microenterprises and family-owned businesses in the tourism, food, and artisanal goods sectors. In an entrepreneurial atmosphere where female leadership is already prevalent, Ibarra noted it is important to generate spaces to promote education, set positive examples, and develop skills for future generations of girls to reach their goals.
Ibarra also emphasized that creating a community of support for businesswomen is critical in an environment that fosters unhealthy competition amongst women; prioritizing entrepreneurial leadership is in the best interest of the entire community. "Everyone here [in Putumayo] is an entrepreneur in some small way," said Ibarra, "I want my daughter to become the businesswoman and entrepreneur that she wants to be."
Challenging the Gender Gap in Medellin
In contrast to rural Putumayo, Medellin is the second largest city in the country with a population of 2.5 million people. Lina Vélez, President of the Chamber of Commerce of Medellin, outlined the role of the chamber in developing collaboration between the private and public sectors to foster knowledge management and public policy on gender issues. By making pacts with businesses and creating job niches, the chamber aims to expand employment opportunities and economic prospects for women.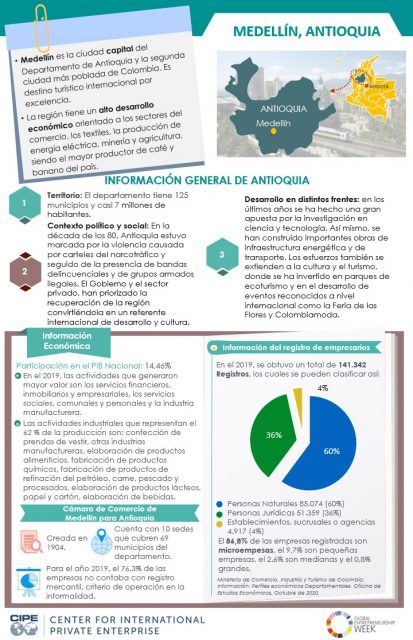 Vélez identified gaps in employment levels, wages, and sector diversification as contributing factors to gender disparity. The technical transformation induced by the Covid-19 pandemic has underscored both the importance of keeping girls in school and the digital connectivity challenges the region faces. These factors go hand-in-hand: women bear an uneven weight of household responsibility while also more severely lacking education and access to technology compared to male counterparts.
She also noted the lack of projects focused on women's entrepreneurship in the region, specifically intersectional projects that address the unique needs of women from various demographic backgrounds. For Vélez, there is a clear need for association projects which support women in achieving their educational and career goals. By focusing on training small and medium business owners, women will have better opportunities in the future. "We must break the chains of fear," Vélez asserted, "as women, we are entirely capable of generating income and advancing society."
CIPE's Role in Promoting Gender Equity in Latin America
Two years ago, CIPE founded the Center for Women's Economic Empowerment (CWEE) to promote leadership and improve the economic conditions of women worldwide. Gonzalez, a Senior Program Officer with CWEE, works with CIPE regional offices, including the CIPE's Colombia field office, to ensure that democracy and free markets serve vulnerable populations, including women.
CWEE programs offer trainings in basic finance and social media as well as services to support women in opening their own businesses. The Center also works with local actors to develop Women  Business Agendas to facilitate discussions about national priorities for legislative change. In two years, these business-oriented women's empowerment projects have supported 13,800+ women globally and the center plans to expand further into Latin America.
Ángela Vélez, CIPE Colombia Program Director, sees inclusive business and education projects in rural areas of Colombia as an effective means of female empowerment and economic development. "Colombian women are resilient, hardworking, family-oriented, mothers, and innovative on all fronts," She concluded, "there is so much entrepreneurial potential that must be harnessed here."