Bakytbek Sagynaly is an open-minded, forward-thinking social entrepreneur in Kyrgyzstan. He was pleased to join the Center for International Private Enterprise (CIPE)'s Central Asia team on a Zoom call recently.
He says he spends his time creating innovative solutions for common problems. He is the Chairman of the Board of Directors of the Association of Social Entrepreneurs (ASE), which provides financial support and technical training for young entrepreneurs and small-to-medium enterprises (SMEs). Bakytbek, himself from a rural area in the Issyk-Kul region, notes that gaps in income and access to resources exist between residents of the capital, Bishkek, and those from more isolated areas where internet connectivity is weak and an anachronistic Soviet mentality is prevalent. His association aims to bridge this gap through skills-based education, grants distribution, and networking.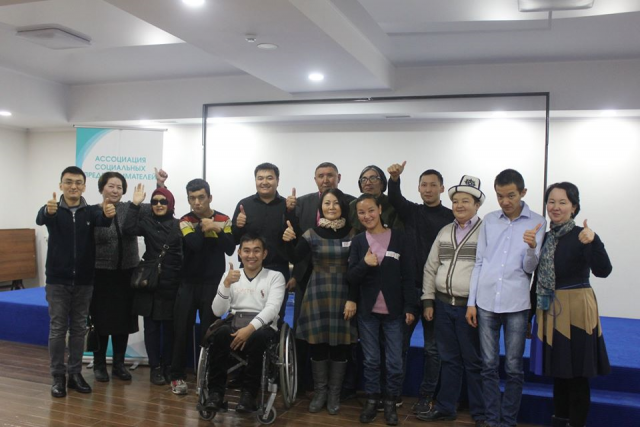 In our conversation, Bakytbek offered unique perspectives on the challenges and opportunities entrepreneurs face in Kyrgyzstan. He also discussed his ideas for how to improve the business climate for domestic enterprises and increase foreign investment inflows into the country.
Tell us about the current political and economic landscape in Kyrgyzstan.  
Like the rest of the world, Kyrgyzstan has been significantly impacted by the COVID-19 pandemic. The government was not prepared for such a crisis and did not have a clear plan for how to support businesses during this time. The private sector managed to survive on its own ingenuity: each business is figuring out how to best maintain operations, downsize, or rethink their model. Our government has an enormous budget deficit and our country's gross domestic product (GDP) has fallen by six percent due to the pandemic. The Kyrgyz Som has devalued by 18.5 percent since the beginning of 2020.
The investment climate in Kyrgyzstan has been steadily declining over the past decade due to political instability, corruption, and deterioration of the legal and regulatory environment. As risks remain high for foreign investors attempting to enter the market, the government's priority should be to revitalize the private sector to improve the business climate and advance conditions for SMEs to register, operate, and flourish. These efforts would be a welcome step forward, as many investors are currently choosing not to expand in the Kyrgyz market, and those that do eventually exit due to constant changes in government and the instability that results.
How do you see the role of the Kyrgyz government in supporting business development in the country?
The government works with business associations to find solutions to problems facing the private sector. Platforms for public-private dialogue exist; a good example is the International Business Council, where government and business stakeholders meet to discuss problems faced by local and international businesses.
Our task now is to effectively communicate what SMEs need, such as tax relief during the pandemic or better access to credit. The key is to have a two-way dialogue between the government and SMEs to ensure that newly proposed policies are truly effective and represent the needs of local business. For example, the government provided SMEs three months of tax relief when the pandemic hit, but due to interest rates, entrepreneurs' and SMEs' credit increased with each passing month, forcing them to ultimately pay more after the relief period.
It is clearly in the government's best interest for SMEs to succeed, because if they struggle and fail to pay taxes, the government's budget will suffer. The government needs to work closer with international donor organizations, like USAID and EBRD, who are interested in supporting the growth of SMEs in Kyrgyzstan.
What are the priority industries for developing the business sector? What is needed for these sectors to flourish?
There are four priority industries for Kyrgyzstan: agribusiness, IT, manufacturing/textiles, and tourism.
SMEs within these sectors need financial support, an enabling environment with strong, clear norms, rule of law, standards for taxation and registration, and accountability checks on the government. They need government committees to convene on the priority industries to catalyze the country's economic growth, such as agribusiness development and the textile sector, and to work closely with businesses in these sectors. I always look to Georgia as a success story for a country overcoming corruption, bureaucracy, and red tape. In Georgia, the process of applying for and receiving official documents is fast and straightforward. In the Georgian port city of Batumi, investors are invited freely and enter a low-risk, predictable environment.
In Kyrgyzstan, we have similar laws regarding regulating taxes, registering a business, criminalizing corruption, etc. Our legal and regulatory environment is perfect on paper. What is missing is the implementation: these laws and policies are weak in practice. Once a new law starts to be implemented, the person in charge leaves the post. That is one of the biggest challenges in Central Asia: when one person leaves, the entire institution changes. This kind of environment is not conducive for business or investment.
How can the government better support the growth and development of SMEs?
While we do have established platforms for public-private dialogue where the government listens to the business community's recommendations, these recommendations are rarely implemented. To enhance the transparency and accountability of the Kyrgyz government, we need to establish enforcement mechanisms and concrete deadlines for those responsible for acting on business recommendations. We need to strengthen local business associations, which act as mediators between businesses and the government. Associations need to develop robust advocacy skills to effectively present and promote business interests to the government and cooperate with officials during implementation. Donor organizations can play a role at this stage by providing trainings, expertise, and financial support to build the capacity of local associations. Lastly, Kyrgyzstan needs to study international examples and follow best practices, such as in Georgia and Ukraine, so that we do not have to constantly reinvent the wheel. In Central Asia, our collective, short-term mindset holds us back; our private sector and government look for short-term, immediate solutions, instead of strategizing on how to improve the industries and overall long-term economic growth.
How has the political landscape changed during the pandemic?
One of the positive sides of COVID-19 is that it has united the Kyrgyz people.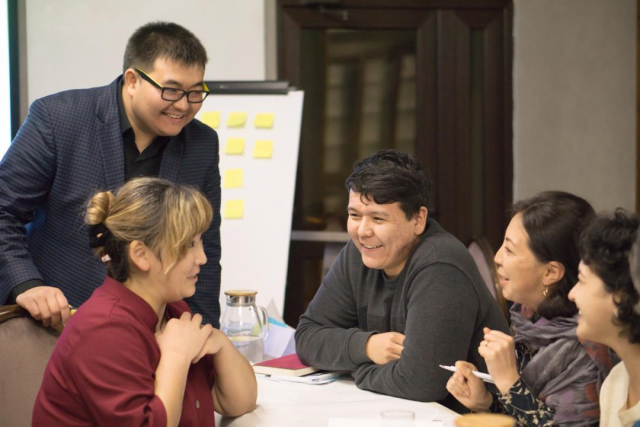 Before the pandemic, people had very low trust or interest in state affairs. The general perception was that the government had its own agenda and ordinary citizens were preoccupied with their own concerns that were never addressed by the state. However, during the pandemic, the public has realized how important it is to engage with the state and work together on common issues. This shift in political will is a huge milestone for our country.
Learning from the successes and failures of other post-Soviet countries
At the end of the conversation, Bakytbek noted the value of learning from the successes and failures of other post-Soviet countries that are on similar trajectories to achieve market-oriented reform. Bakytbek pointed to a recent example of cross-country collaboration between Kazakhstan and Ukraine, specifically on the domestic reform process. Margulan Seisembayev, a successful businessman from rural Kazakhstan included on Forbes' 50 most influential business people in Kazakhstan list in 2019, and a champion for public sector reform, recently forged a relationship with Mikheil Saakashvili, the Head of the Executive Reform Committee of Ukraine. In August 2020, the two cemented their partnership to transform the Committee into the Office of Simple Solutions and Results to improve the efficiency of reform processes in Ukraine, facilitate dialogue between the government and civil society, and monitor the implementation of reforms. Bakytbek sees this as an opportunity for Seisembayev to transfer lessons learned to enhance the reform process in his own country, Kazakhstan.
Bakytbek is hopeful for more knowledge-sharing opportunities between countries in the post-Soviet space in the future. Highlighting the significant push for change caused by the pandemic and the political upheaval following the October parliamentary elections, Bakytbek sees an opportunity for systemic change in Kyrgyzstan that he and his community of motivated social entrepreneurs are working to take advantage of.