CIPE is working with Colombia's Jaime Arteaga and Associates (JA&A) to monitor the level of investment in Region-Focused Development Programs (PDETs in Spanish). These programs were introduced by the Colombian government in 2017 in the 170 municipalities most affected by violence.
Since the 2016 Colombian peace agreement with the Revolutionary Armed Forces of Colombia (FARC), the country's regions most affected by poverty, violence, and armed conflict have been busy implementing economic reforms, including PDETs, which seek to increase public services and expand economic opportunities. Given that COVID-19 exacerbated existing economic challenges, PDETs remain as relevant as ever, helping governments, businesses, and trade associations improve the well-being of citizens.
On September 22, 2020, JA&A held a virtual public launch event to introduce the Private Investment Observatory website, discuss the preliminary research findings, and announce CIPE's new Bogota office. CIPE Executive Director Andrew Wilson opened the event, noting:
2020 has been the most challenging year in recent memory for businesses throughout the world as a result of the Covid-19 pandemic. In Colombia, municipalities with significant gaps in access to digital technologies and located in post-conflict areas have been particularly affected. PDET regions, and Colombia as a whole, are areas of opportunities; we hope in the coming years that our work will help them fulfill this promise.
Wilson's presentation was followed by  a conversation between CIPE's new Colombia Program Director Angela Maria Velez and Emilio Archila, Colombian Presidential Counselor for Stabilization and Consolidation.
Velez and Archila discussed the Private Investment Observatory's key findings and how they are driving strategies to revitalize PDET zones. For example, from 2016 through 2019, business activity in PDET municipalities had a higher growth rate than the national average, showing more resiliency during the Covid-19 pandemic than than other parts of the country. Overall, these zones have shown a marked capacity to generate resources and manage their own investment budgets.
During the panel segment, Maria Victoria Llorente, Executive Director of Fundacion Ideas para la Paz, posed the question, "How do we get SMEs to have more policies and initiatives to have higher survival rates? Provide more access to credit and ensure that there is more diversity of banks granting benefits." Llorente's question underscores that it is critical to address gaps in PDETs, such as the informal labor market, digital connectivity, and access to credit. These factors disproportionately impact small and micro businesses.
Panelist Sandra Alzate, Director of the Asociación de Fundaciones Empresariales, added, "In order to link the communities in production chains, we must use responsible investment guidelines. This country will succeed if we reflect unity and teamwork." Alzate's remark highlights the need for the private sector to invest responsibly by promoting the value of human capital and the sustainable use of resources. The Observatory data indicate that linking the private sector to PDETs will be a key to the regions' success.
In closing, Counselor Archila noted the resiliency and significance of PDET zones. "The PDETs went from being an idea to being 32,000 initiatives where communities express their vision of the territory. We are focusing not only on business plans but also stabilization," he said. Among the aforementioned initiatives, there have been 152 billion pesos allocated to PDET zones through social investment, 56 projects with Public Works Tax mechanisms, and 250 identified alliances with international cooperation.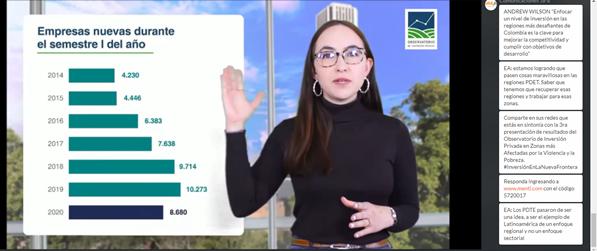 The Observatory's data show how important it is to work with the State alongside international foundations to promote private investment in PDET regions. By making responsible and sustainable investments in PDETs, the areas most affected by poverty and violence can have greater opportunities for economic progress and social development.