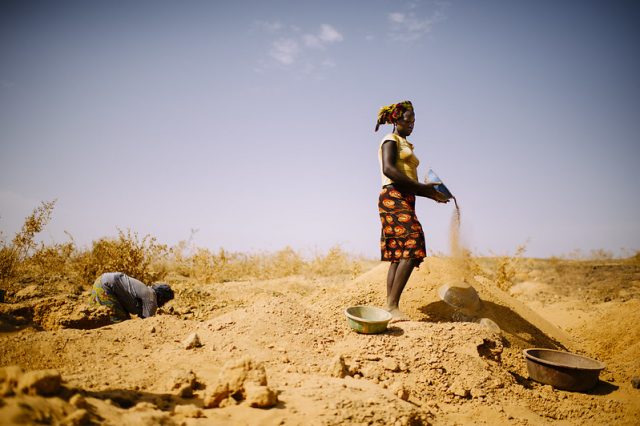 Artisanal gold mining is a crucial economic sector throughout the G5 Sahel countries of Mali, Mauritania, Burkina Faso, Chad, and Niger. It is especially important in Burkina Faso, where it contributes substantially to the state budget, provides jobs, and can improve the standard of living of otherwise highly vulnerable people. However, this mining comes with serious risks.
Artisanal gold mining has been a traditional practice in West Africa for centuries. While quantitative studies on artisanal mines are extremely limited, public reviews as well as recent baseline research undertaken by the Artisanal Gold Council (AGC) of Burkina Faso are providing key information about a sector that may be at the heart of funding for many criminal and violent extremist groups in the region. As the COVID-19 pandemic and growing security threats continue to destabilize the Sahel, it will remain crucial for Burkina Faso and the G5 Sahel Secretariat to prioritize the regulation and oversight of this critical sector to avoid losing critical ground to criminal groups.
Between 2003 and 2014, the number of artisanal mines in Burkina Faso increased from 200 to more than 700. The AGC's report notes that Burkina Faso's artisanal gold mining sector is estimated to employ more than 430,000 people, and as many as half of them are women. However, those numbers are thought to be a low estimate, since so many who work at mining do so outside the usual employment system.
Those working in the sector are frequently exposed to serious health and environmental risks, and some operations exploit the use of child labor. In 2019, it was reported that the sector brings approximately $2 billion into the country each year, though the generated revenues are largely undeclared. While artisanal gold mining can be found all over Burkina Faso, it is mostly concentrated in the Central North regions, the South West regions, the North regions and the East regions of Burkina Faso.
This bustling industry has garnered concern in recent years in light of the growing security crisis currently sweeping the Sahel. The Burkinabe uprising in 2014 led to political changes amidst a newfound wave of terrorism and deadly attacks that began to take shape across the country.
Key regions for the artisanal gold mining industry such as Burkina Faso's North and East regions have seen high levels of insecurity and increased control by extremist-affiliated groups. Groups operating illegally have pushed even further, using threats and violent acts in attempts to expel international gold mining companies; one of the deadliest attacks at the time was the 2019 Semafo escort ambush which led to 37 deaths and 60 wounded on their way to a Canadian-owned mine site in eastern Burkina Faso. Many suggest that the various incidents in critical regions for artisanal mining are not coincidental but rather a deliberate strategy by criminal groups to seize control of the country's most lucrative industry.
While Burkina Faso's Ministry of Mines and Quarries has projected a loss of revenues and a slowdown in artisanal activity due to the dual crises of insecurity and the COVID-19 pandemic, it is difficult to have clear visibility in the gold market.
Given that the former rapidly expanding hot spots for gold are both far from the capital city and allegedly under the control of extremist groups, the government has minimal information on which to base these projections; the decrease shown through a reduction in revenue is mainly driven by an absence of information from the field given the ending for public inspections in those areas.
Despite the projected slowdown, some gold sellers report an influx of foreign gold buyers in rural areas as well as in the main cities. A number of these buyers hail from India and China and are reportedly willing to pay above the local market price for raw gold. The observed increase in foreign demand could be an indicator that gold supply – through official or undeclared sales – remains strong.
While the proportion of above-board to illicit gold sales is unclear, shifting demand coupled with reporting that areas under extremist control are continuing or even expanding production of artisanal gold mining is not a trend to be overlooked. If criminal groups are able to capture greater portions of the gold supply chain and capitalize on the profits, they will be better positioned to finance activities across the region and actively contribute to the chaos of regional insecurity.
The COVID-19 pandemic has stalled already weak public service and security capacity in the Sahel; the open space offers various business opportunities to the violent extremist groups that are either taking control of local economies or simply offering their own services to regional private sector stakeholders. Across the region, business owners report facing an impossible choice when put into these situations: "if you associate with the criminal groups then you are considered an accomplice, but if you do not, you risk losing everything, even your life" said a transport operator in northern Burkina Faso.
Artisanal gold mining has various associated risks, including dangerous health and environmental factors and the potential for the illegal funding of extremist activities in an already volatile region.
While the main expansion of uncontrolled artisanal gold area is in Burkina, other G5 Sahel countries are not left out; Mauritania has seen a rush to artisanal gold in recent years (more than 200 new permits in one year) with waves of migration from Sudan, China and India while Mali has a strong traditional gold sector that has seen new sales trends that indicate questionable changes.
Therefore, the control and regulation of artisanal gold mining should be among the priorities of both Burkina Faso and the G5 Sahel Secretariat, particularly during the current security, economic, and health crises.