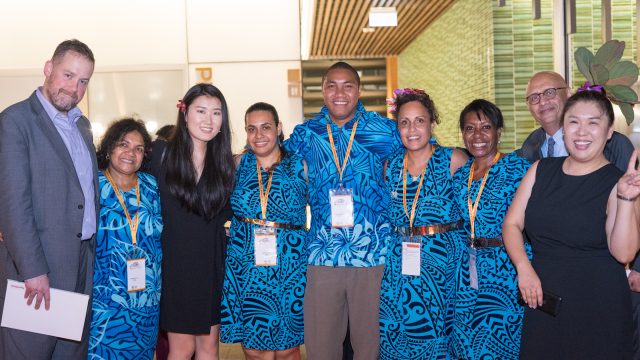 The Center for International Private Enterprise (CIPE), in partnership with the U.S. Embassy in Port Moresby, had the distinct privilege to host the fifth Papua New Guinea Women's Forum in Port Moresby last November. Half a year since the Forum, CIPE is taking the opportunity to review the Forum and, in the context of COVID-19, assess its influence on some of the SME businesswomen who attended.
The 2019 PNG Women's Forum
As the fifth iteration of this landmark event series, CIPE carried out the U.S. Embassy in Port Moresby's mission: to provide a platform to convene female leaders across PNG to develop a national conversation and launch a well-coordinated plan of action on a wide range of issues women face in Papua New Guinea. The 2019 Forum, themed Empowering Through Partnerships (Kisim Strong lo Wok Bung), built on previous Forums by exploring how networking and learning from each other can move the agenda of women's economic and political empowerment forward and achieve greater levels of impact.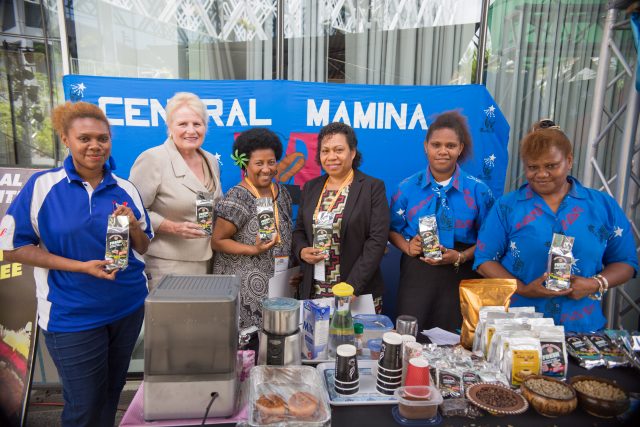 The Forum brings together stakeholders, policymakers, community advocates and women leaders and entrepreneurs from a diverse range of backgrounds and geographic representations: women and men of all ages, aspiring and established entrepreneurs, participants of various education levels, representation from the hearing-impaired community and all four regions of PNG. Additionally, the event was attended by representatives from the highest levels of the PNG government, the United States' diplomatic community, government officials from numerous countries in the region, and distinguished speakers and panelists. The two-day event drew more than 300 people and received extensive coverage in PNG media.
Then U.S. Ambassador to Papua New Guinea, Solomon Islands, and Vanuatu, Ambassador Catherine Ebert-Gray, opened the two-day event. The Forum, focused on women's economic and political empowerment, allotted networking sessions to foster dialogue and exchanges between participants and stakeholders. The event concluded with remarks from Prime Minister James Marape, who recognized the importance for "women's voices to be amplified and heard."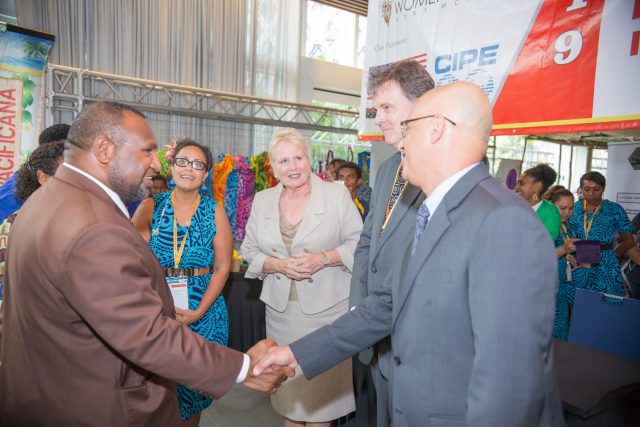 This was the first Women's Forum where a sitting Prime Minister of Papua New Guinea attended the event at length. His attendance provided an unprecedented opportunity for women to communicate their needs and recommendations for government action directly to the Prime Minister. Participants provided recommendations on women's political and economic representation and participation, accessibility initiatives for the disabled community, gender-based violence reforms, and access to finance and markets. (Click here for a detailed list of recommendations.)
A survey of Forum participants found that they left feeling informed and empowered by the opportunity to gather, discuss, and form personal and professional networks. More than 90% of respondents shared that they established meaningful connections through the Forum. Moale Vagikapi (Business Owner, IM Associations Limited, Port Moresby) stated, "as an SME practitioner, I wanted to support and assist the up and coming young entrepreneurs" and the 2019 PNG Women's Forum created the space to achieve this. Moreover, the Forum proved successful in providing an information platform and focal point for discussion. "It expanded my mindset on where I am and how I can take my business to the next level," said Zuabe Tinning (Community Leader with AHI LLG Council of Women Morobe, Lae). Also, 92% of respondents shared that they felt further committed to women's empowerment in Papua New Guinea after attending the Forum.
In the time since the Forum concluded, CIPE used recommendations provided by participants as inputs to establish a new project in PNG: the Women's National Business Agenda. The project seeks to target legislative and regulatory barriers that adversely affect women in business over their male counterparts. CIPE is committed to continuing the momentum advocates for women's empowerment set in motion during the Forum. Through the support of the U.S. State Department, CIPE will work with PNG women leaders for a locally owned process to improve the regulatory, legislative, and institutional ecosystem PNG businesswomen must navigate.
Following up with SME Women Entrepreneurs
In the six months since the Women's Forum, the knowledge and networks acquired by participants and beneficiaries have begun to bear fruit as they deploy these new resources in response not only to the day-to-day needs of their businesses but also to the challenges imposed by the COVID-19 pandemic.
Since the COVID-19 pandemic arrived in PNG in March, it has resulted in challenges not previously faced by the SMEs of Papua New Guinea, and businesses have had to adapt accordingly. Vani Nades (Business Owner, Emstret Holdings Limited, Port Moresby) highlights the resilience of women entrepreneurs well:
As entrepreneurs we live on innovations and ideas, grabbing hold of opportunities to do business, continuing to hustle for business, and creating our own niche and providing support to others.
Women entrepreneurs have had to innovate and adjust their business practices to suit the current environment, which has included a government-imposed nationwide lockdown encompassing travel and trade. The PNG government's COVID-19 response policies have included minimizing business operating hours, the number of staff members present, altering purchasing methods, and limiting sales of goods and services. These conditions have affected efforts to fully actualize the knowledge and networks gained as a result of the Forum, but women entrepreneurs shared that they were beginning to apply the lessons learned at the Forum with anticipation of benefits both to their businesses and to their communities.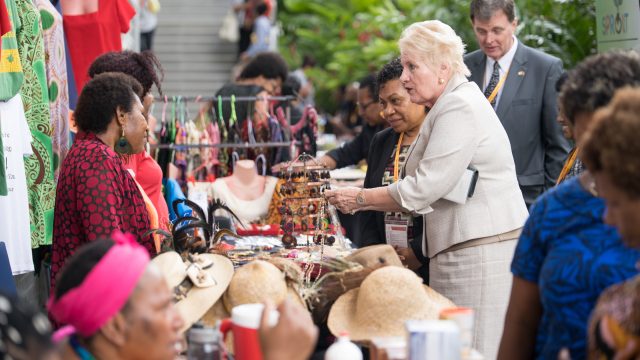 For example, women entrepreneurs were able to expand their business contacts through networks formed during the Forum and acquired potential new opportunities for further growth. In some cases, new business partnerships were formed between SMEs from different provinces of PNG during the Forum, but any movement forward was suspended due to the challenges created by the pandemic. As Mary Handen (Business Owner, JedJays Limited, Port Moresby) explained:
I live in a community of people doing business. This is not affecting one sector; it's a pandemic that is affecting the whole country. So, it has affected my business, few orders have come in and there is no way for me to ship these goods out because of the flight restriction.
Some businesses have had to close their doors. However, other businesses were able to successfully adapt to the restrictions.
As women entrepreneurs learn to navigate and overcome the challenges of this time, the resources they gained from the 2019 PNG Women's Forum can serve as a valuable guide. The Forum fostered important discussions on women's political and economic empowerment and built strong social networks and communities for participants. These networks are what female SME owners rely upon for information and support during the pandemic, as well as when the time comes to begin rebuilding their businesses after the pandemic.
Participants are eager for the next Forum to take place, and many have indicated a desire for further discussion topics. For instance, Jennifer Kelage Bu (Business Owner, Sharlom Hire Car, Port Moresby and Lae) highlighted her hope to hear from trailblazing PNG female entrepreneurs, especially those who have successfully transitioned SMEs into large corporations to share their success stories and utilize their success for advocacy on a larger scale for women. Additionally, participants would like to see discussion topics such as "separation of politics from business" and "young women redefining economic opportunities for women." Rebekah Ilave (Business Owner, Niunet, Port Moresby) elaborated further:
I think young women are achieving great things even though they are very young in their careers or their calling, and I think it would be great to hear from them or to see how youth with passion, drive, and the willingness to work look like.
In the current environment, it is uncertain whether there can be a PNG Women's Forum this year. However, the need for women's empowerment in Papua New Guinea continues to exist and the effort to address it requires consistency.
CIPE remains committed to realizing equal opportunity for women in Papua New Guinea. As demonstrated over the past six months since the fifth PNG Women's Forum, the impact of the knowledge and networks built by those championing women's causes in PNG continues to resonate ever more importantly in these challenging times. CIPE joins the SME women entrepreneurs who eagerly await the opportunity to gather again and move the discussion forward on women's empowerment in PNG.