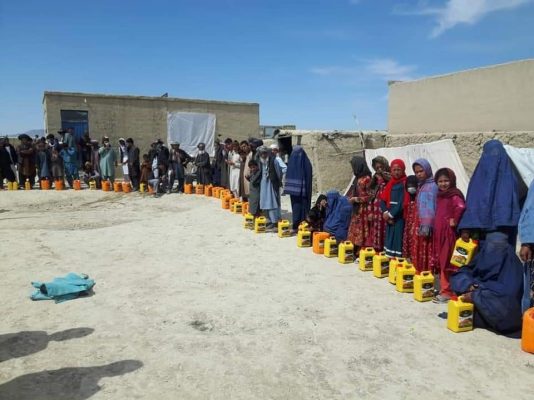 Small businesses are an integral part of societies—not just as a source of employment but as a source of community leadership in times of crisis. This is especially true in developing nations, such as Afghanistan.
Data from CIPE partners in four Afghan provinces show how the private sector is stepping up during the COVID-19 crisis. In these four provinces the private sector has donated funds and goods, coordinated relief efforts, worked with government, and advocated for essential supply lines to stay open to enable food and necessary goods to reach communities.
Keeping Supply Lines Open
Members of the business community are ideally positioned to ensure that critical supply lines stay open, because they are the first to notice issues in these supply lines. In March, the CIPE-supported provincial Advocacy Task Force (ATF) in Nangarhar began experiencing problems as perishable goods were stopped at the border going from Pakistan into Afghanistan, because the border had been closed due to COVID.
They brought this time-sensitive issue to the Director of Customs Department in the province and were able to make sure that these trucks made it into Afghanistan with their supplies. In April, private sector advocacy played a role in reopening two border crossings between Pakistan and Afghanistan—Torkham and Chaman crossing points—three times a week for cargo trucks to pass through. This not only allows critical supplies to make it into the country but helps to stabilize the price of food items and discourage the hoarding that hits vulnerable families particularly hard.
In Herat, ATF advocacy to the governor was directly responsible for ensuring that traders would be able to import basic supplies from Iran—alleviating domestic shortages. The governor responded to the ATF's urging by raising the issue with the Iranian consulate; consequently, Iranian authorities issued multiple entry visas to a list of key traders identified by the ATF and the Herat Chamber of Commerce and Industry—making sure that they can keep importing critical supplies.
Direct Humanitarian Relief through Chambers
In many situations, families who are struggling need immediate support. The business community has stepped up by donating funds and coordinating the distribution of food to those who have been hit hardest by the virus and economic devastation. The ATF in Balkh province established a charity box on a large scale; as of the time of this writing, ATF members were able to use these donations to help more than 85,000 families. The Herat Chamber of Commerce and Investment has worked with the government and contributed funds to set up a Food Bank, which has transparently distributed thousands of food packages. In Nangahar, the Afghanistan Chamber of Industries and Mines contributed $30,000 to the Nangarhar COVID-19 Trust Fund to respond to the crisis. Long time CIPE partner the Afghanistan Chamber of Commerce and Investment has collected and distributed $2 million of assistance in cash and essential goods.
Altruist Production
Business owners throughout the country have repurposed their skills to halt the spread of the virus. Mohammad Younas, a tailor in Kandahar Province, turned his shop into a small factory to produce masks to distribute to the poor. He and his workers made more than 8,000 masks. "They are good quality and washable," said Younas proudly. "I'm not wealthy, but I feel obliged to do something for my people." Younas's contribution is just a snapshot of how the business community is rising to the occasion to produce essential goods and ensure that they reach those who need it most.
Isabelle Mahnke is a Program Associate for the Middle East and North Africa at CIPE.