Virtually all businesses in Nepal are at a standstill due to the lockdown in response to COVID-19, proving to have devastating impacts on women entrepreneurs. Mandated lockdowns have forced markets to close, creating damaging repercussions for women in business. The Federation of Woman Entrepreneurs' Associations of Nepal (FWEAN) has collected testimonials from its Women Entrepreneurs Association of Nepal (WEAN) chapter members in various provinces of Nepal to illuminate the business challenges posed by COVID-19. FWEAN identifies the value in collaborative partnerships and seeks creative means to support its chapters during these uncertain times.
Dev Kumari, President of WEAN's chapter in Mahottari district, says, "I had to bury 14,000 chickens", as she could not take them to market, nor could she provide the adequate sustenance to keep her chickens alive. President Kumari shares that she has taken a ten million Nepali rupee loan (approximately $83,000 USD) and, with the recent losses, does not know how she will pay it back.
This is becoming commonplace in Nepal.
Farmers are being faced with animal feed shortages, market closures, and are running out of resources and financial options to maintain their livelihoods and care for their animals.President of WEAN Mustang, Sukun Rasayeli B.K., notes that her region has commenced its peak tourist and vegetable season, which is typically "a very crucial money-making season" for her chapter members. With the COVID-19 imposed lockdowns, upcoming exhibitions like the FWEAN and Federation of Nepalese Chambers of Commerce and Industry (FNCCI) Expo have been canceled resulting in a tremendous revenue loss. She shared that nothing is open during the lockdown and her members "don't know what to do."
Members of the WEAN Ramechhap chapter are encountering the same challenges. The next two to three months mark peak tourist season, the chapter's most lucrative time period. WEAN Ramechhap President Sumika Shrestha, has been forced to close her hotel but still feels compelled to pay her workers to brace for reopening: "I have to pay them. When the lockdown opens, I have to take them back to run the hotel again, so what choice do I have?" Entrepreneurs like President Shrestha identify similar struggles in maintaining regular salary payments as there is no cashflow, indicating that monetary loss prompted by COVID-19 is felt across multiple industries.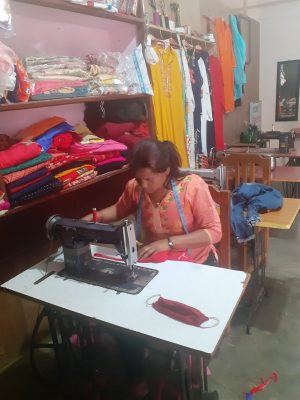 FWEAN members are repurposing their business platforms to meet the new demands of the Nepali society and innovating to continue operations. Saraswati Bhandari, President of WEAN Parbat, who lost her ability to sell her handicraft, food, and spices at markets in Kathmandu and outside of Nepal, has reimagined her business to exist in the newly impacted society.
President Bhandari along with three WEAN members who focus on tailoring have conjoined to sew and sell personal protective equipment like cloth masks. These WEAN members have found great success—around 450 masks have been made and all have been sold in a local medical store co-owned by a WEAN chapter member and a local women's cooperative, Mahila Kalyankari Sahkari. Such efforts exemplify the resiliency of women entrepreneurs and reveal the power in business networks. Platforms like FWEAN promote community and partnerships in offering a unified approach during this period of unprecedented insecurity for women in business.
FWEAN hopes to offer online counseling and training support to its members in an effort to rebuild after COVID-19.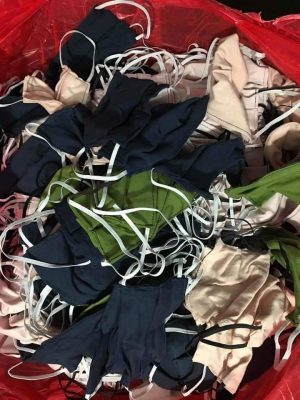 Women entrepreneurs have been greatly affected by the lockdown mandate and will need ample assistance to salvage their businesses and operate from remote environments. The gendered digital divide poses a challenge for many FWEAN members. Numerous businesswomen do not have access to internet services or phone recharge cards, making the pivot to eCommerce or digital networking spaces impossible. President of WEAN Mustang says she has "no internet access" and that "many of the WEAN members would not be accessible online due to lack of IT knowledge and skills." Without proper communication resources, FWEAN members across Nepal have found it infeasible to continue their business operations from home. President of WEAN Mahottari informs that without having access to technological resources, "They [members] are worried about how to take their businesses forward…"
President of WEAN Panchthar, Tara Baskota, believes counseling sessions focused on recovery are necessary for female entrepreneurs who run small businesses, as their livelihoods are disproportionately influenced by the lockdown. President Baskota calls for advocacy efforts to address the hardships imposed on small business owners regarding payment of rent, taxes, salary, and interest on bank loans. Despite the technological accessibility challenges, FWEAN continues to investigate virtual counseling and training sessions for those members with digital access to target women entrepreneurs who have been most impacted by Nepal's COVID-19 mitigation efforts.
Women's business networks are put to the test now more than ever, but experiences like the COVID-19 pandemic exemplify the necessity and value of community, networking, and partnership.
Erika Lewis is an intern for the Center for Women's Economic Empowerment at CIPE.