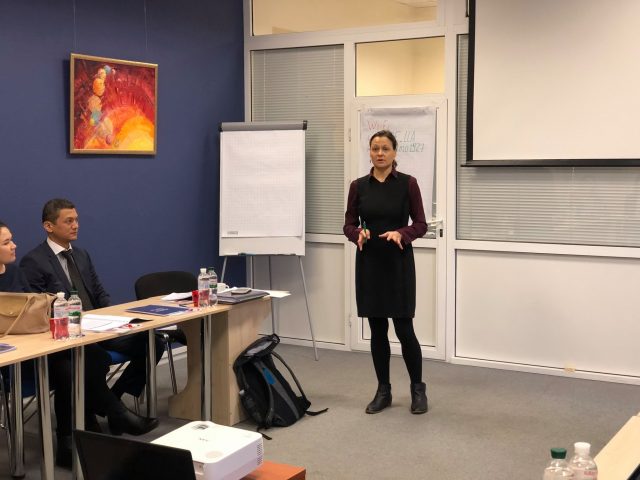 In times of social distancing, professional relationships have also remained distant, with most of the world's offices forced into remote workplace situations. It is in moments such as these that we are reminded of the impact that face-to-face collaboration can make in solving pressing issues.
Back in November 2019, CIPE brought together 14 of its partners from across Europe and Eurasia to Kyiv, Ukraine to build a group made up of private-sector professionals dedicated to business integrity. This meeting sought to respond to the partners' requests to address anti-corruption compliance challenges that small and medium-sized companies (SMEs) in the region face. CIPE's anti-corruption program officer, Ekaterina Lysova, facilitated the meeting by presenting a list of 30 common challenges that CIPE staff identified while supporting SMEs' business integrity efforts globally over the last decade. Each challenge was accompanied by a proposed practical solution drawing on CIPE's experience. We called our first draft the Guide for Building Ethical Mid-Sized Companies in Emerging Markets and shared it with the meeting participants.
CIPE partners debated approaches to business ethics and engaged in a lively review of the CIPE Guide. Each partner contributed to the discussion and helped CIPE to tailor and sharpen the proposed solutions to fit various compliance environments across Europe and Eurasia. The experience was further enriched by a variety of presentations that allowed for an exchange of lessons learned. Thus, the directors of the Ukrainian Corporate Governance Professional Association and the Hungarian Bridge Budapest presented their distinct approaches and challenges to promoting and implementing business ethics standards. Ukrainian Deputy Business Ombudsman, Iaroslav Gregirchak, spoke about the creation of the business ombudsman office in Ukraine, while the representative of the Ukrainian Network of Integrity and Compliance (UNIC) showcased their collective action approach to business integrity. It was exciting to see how many questions the presentations raised and how easy everyone could understand each other due to a shared commitment to promote business ethics and integrity.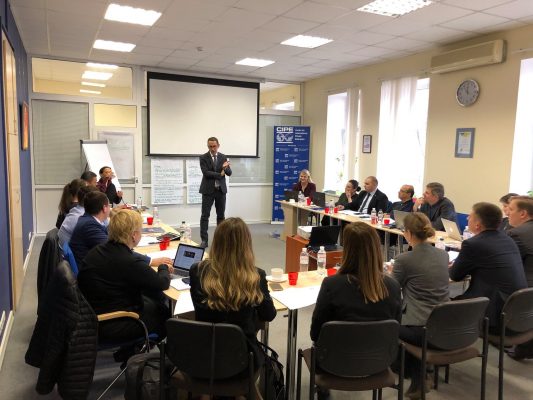 The group's bonds and resolve were tested as the Covid-19 crisis hit. Still, the group carried on its work and adapted to the new realities of distant working. On May 6, Lysova led a follow-up webinar aimed at collecting partners' feedback on the revised CIPE Guide. The partners responded very positively to the updated version and requested that the Guide be translated into their working languages. The Guide (which now includes 34 challenges under the eight steps for creating a traditional corporate anti-corruption compliance program) is designed to be a quick reference for practical business solutions on specific issues. We envision that companies without business integrity frameworks already in place can also use this Guide to map out business integrity best practices. CIPE partners plan to use the Guide in their anti-corruption work with their in-country members, once it is published on the CIPE website next month.
Bringing partners together in-person in Kyiv showed the value of cross-regional learning and a need for peer support while working on such a sensitive topic as corruption. Despite the COVID-19 crisis, the virtual Europe & Eurasia CIPE partner meeting earlier this month further promoted the exchange of ideas, offered peer support, and also resulted in a finalized Guide that we hope will benefit a broad SME community. Not one of our partners is discouraged by the crisis, and neither is CIPE. Our work to support ethical SMEs and the dedicated business chambers and associations will continue.
Watch a video with our partners providing feedback and takeaways:
Darina Regio is the Associate Program Officer for Europe and Eurasia at CIPE.