Tunisia's business associations were already strongly advocating macro-economic reforms to improve the business environment when COVID-19 struck, making the economic struggle even more complicated. No one knows how long this pandemic will last, but what is clear is that the economic impact and human consequences will be severe. Inflation, already at 5.8% last month, rose to 6.2% in March, as food prices rose from 3.7% to 5.1%. Unemployment – already at 14% – is rising. Other collateral victims of this pandemic are informal merchants and workers, estimated at over 1 million people in Tunisia, who are now without the ability to earn their daily living. Among them are at least 20,000 informal workers from sub-Saharan Africa whose existence is even more precarious, and for whom the government is not creating any kind of action plan.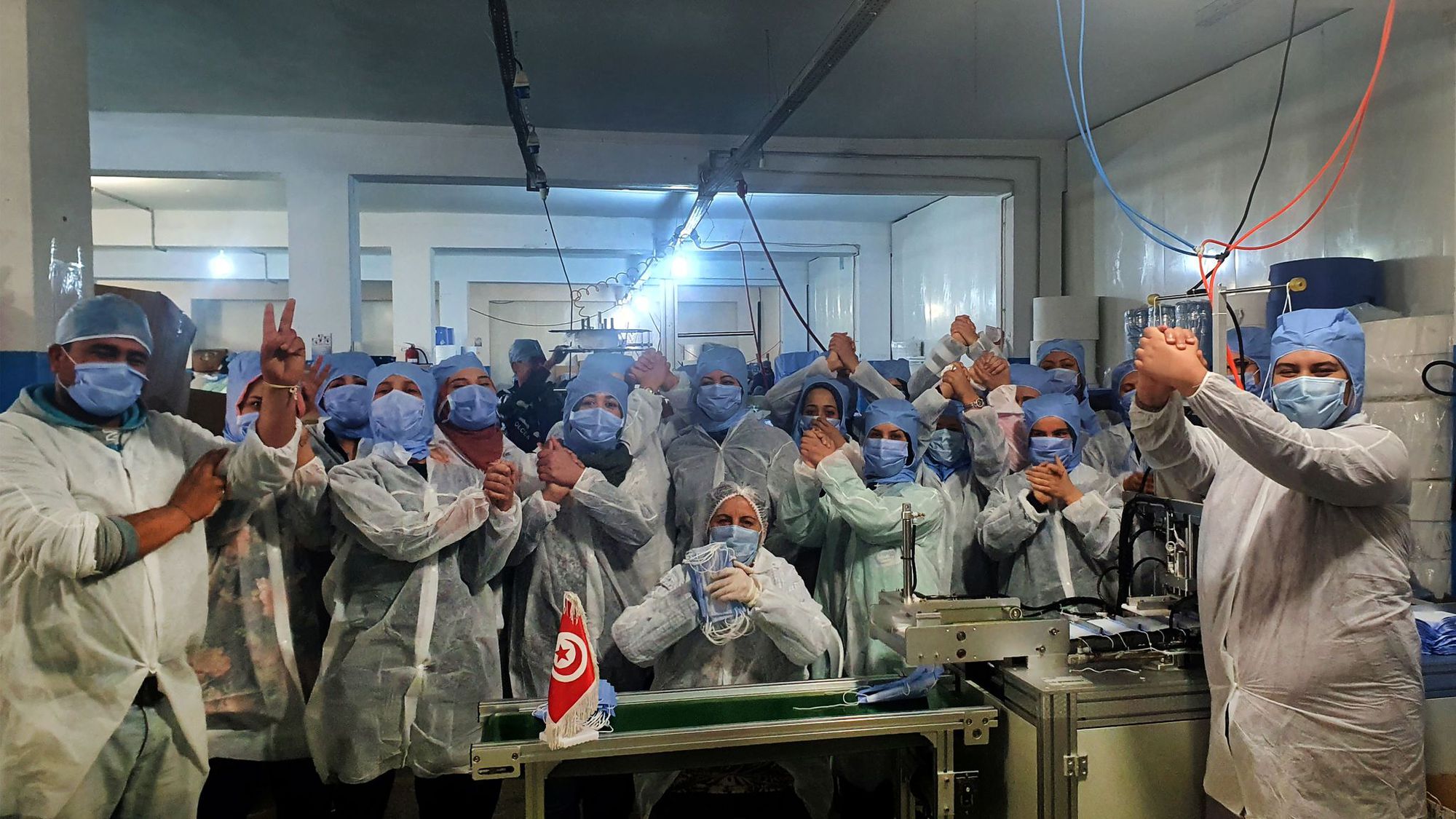 Knowing the Tunisian government has limited resources for its health system and institutions, Tunisian civil society and private sector organizations are stepping up. This huge mobilization includes everything from digital platforms, to COVID-related services and manufacturing, to telethons and individual initiatives, all raising money and resources for national and regional hospitals, as well as to help families in need during this difficult time.
Recently, CIPE's Maghreb team spoke with partner UPMI (the Union of Small and Medium Industries) in the coastal city of Sfax to hear how their association is facing the crisis. Sfax is a region known for its entrepreneurial spirit in Tunisia, and what they told us showed impressive synergies among industrialists, academics, health workers, and the government to fight COVID.
UPMI president Mr. Ahmed Ben Messaoud himself is currently in charge of a pilot with the University of Sfax and engineers from the Sfax region that has designed two prototypes for inexpensive respirators. The first model helps patients breathe if they have acute coronavirus infection during first aid, and is made of parts that are relatively easy to find and construct.  The second device also supports breathing but allows for control of oxygen values; mainly used in resuscitation services, this machine is considered high technology, and is both expensive and hard to find on international markets. With the two prototypes designed, UPMI is now marshaling its member industries and other areas factories to begin production, to supply hospitals which suffer from a significant shortage and a lack of this type of equipment essential to save lives.
All over the region, businesses are converting their factories to make medical supplies. At a regional technology cluster called Sfax Technopôle, UPMI has helped mobilize its members to support and fund the manufacturing of 30,000 visors. At another UPMI member's factory, Consomed, 150 volunteer workers have shut themselves in, away from their families and loved ones, to make masks for healthcare workers. Recently, UPMI member company SOTECA donated its engineers and expertise to the Tunisian government, helping the state electric company hook up Sfax's new hospital, allowing it to open in record time and months ahead of schedule. Another manufacturer in the plastic sector gave all the raw material of his factory to two other manufacturers who will produce 5000 protective visors. Even a swimsuit factory in the area has shifted to making masks and gowns.
This is only a small sampling of the stories we have heard. The goodwill, expertise, collaboration and strong organization among business, civil society, and government in Sfax is growing every day. In the days to come, CIPE will be adapting its own activities to best support that work through current programs and future work.
Published Date: April 07, 2020