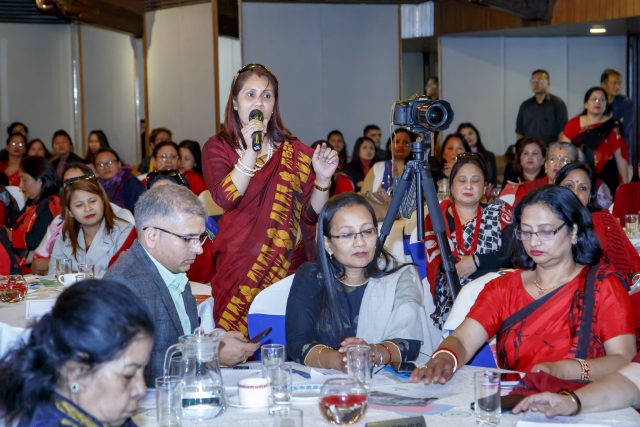 Across South Asia, many women entrepreneurs face several formal and informal obstacles that prevent them from participating fully in the economy. To address these challenges, CIPE supported the Federation of Women Entrepreneurs' Association of Nepal (FWEAN) to better engage with its members and advance gender-focused reform agendas. Through this collaboration, access to finance was identified as the key obstacle for women entrepreneurs to start or upscale a business.
In 2015, the government of Nepal initiated the Women Entrepreneurship Development Fund (WEF) to provide business loans for women entrepreneurs. Although the WEDF provides a unique opportunity to unleash economic growth, a lack of credit history and knowledge on the loan requirements, coupled with lengthy application procedures and approval time, disincentivizes women to apply for a loan from the WEDF. Beyond the WEDF, in 2018, the Nepal Rastra Bank implemented seven new business loans, one of which is a subsidized loan for women entrepreneurs. Despite this step forward to empower women in business, much like the WEDF, the implementation of the loan has not been successful. Due to the high demand for the loan, the supply is limited. The criteria for loan eligibility are unclear to the public, and women entrepreneurs across various districts in Nepal have reported receiving inconsistent messages from various bank branches. Despite the efforts to expand opportunities for women to receive loans, many women entrepreneurs across Nepal feel that implementation gaps of such loan programs and a general lack of awareness have hindered their ability to fully participate in the local economy.
In 2019, as a continuation of the policy advocacy project conducted in 2018, CIPE supported FWEAN in conducting a comprehensive advocacy campaign to raise the overall ceiling amount of the WEDF loan and to reduce the implementation gaps of both the WEDF and subsidized loan. Through this campaign, FWEAN organized nine roundtable discussions with members, government representatives, bank officials, and other women entrepreneurs spanning across all seven provinces of Nepal. During these roundtable discussions, stakeholders brainstormed feasible policy solutions to enhance the distribution of loans for women entrepreneurs throughout Nepal. Key recommendations include:
The ceiling amount of the subsidized women entrepreneurship loan should be scaled up to NPR 50 Lakhs in order to support the needs of medium and large businesses
The individual loan limit of the WEDF (NPR 1 Lakh to 5 Lakhs) should be increased to NPR 10 Lakhs to 25 Lakhs.
Bank officials that deliver loans for women entrepreneurs should be sensitized on gender equality and gender-based communication to avoid biases and reflect on the importance of designing gender-targeted products (such as separate Women Entrepreneurs' Dedicated Desk, headed by a women-led office) and service delivery.
Due to low literacy rates in Nepal, the application process and form to obtain a loan from the WEDF and the Subsidized Women Entrepreneurship Loan needs to be simplified.
There should be continuous monitoring and follow-up done by the designated bank officials, government and associations to ensure the effectiveness and impact of these schemes and re-design the schemes based on the learning from the monitoring exercises.
To promote the advocacy campaign, FWEAN organized a panel discussion to discuss key findings from the policy paper and gain support for the proposed policy solutions.  The panel discussion was part of FWEAN's two-day conference dedicated to investing in women in business on November 19 and 20, 2019. Approximately one hundred participants attended the panel discussion, including women entrepreneurs, bank officials, government representatives, and media. Building on the momentum from the panel discussion, FWEAN hosted a public-private dialogue on December 1, 2019, that brought together over 30 participants, including women entrepreneurs and representatives from banks and relevant government ministries. At the event, FWEAN's leadership presented their policy recommendations as well as key findings from previous round table discussions throughout the advocacy campaign.
In addition to the policy advocacy campaign, FWEAN identified the importance of improving the financial literacy among women entrepreneurs on how to apply for loans to start or upscale a business. To improve the knowledge base among women entrepreneurs on how to apply for loans, CIPE supported FWEAN to engage with bank officials to conduct financial literacy workshops across the seven provinces of Nepal.  Approximately 170 women entrepreneurs participated in the workshops and participants received detailed information on how to fill out the loan applications and determine loan eligibility. As a result, women entrepreneurs that participated in the workshops submitted approximately 30 loan applications for the WEDF and approximately 15 applications for the subsidized loan.
Through the advocacy campaign and financial literacy workshops, FWEAN strengthened relationships with government representatives and bank officials and encouraged expanded access to finance for women entrepreneurs. In a continued effort to address barriers that women face when accessing loans, FWEAN will continue to prioritize advocating to shape policies and work with banks and government officials to fill the implementation gaps of loan programs that seek to support women entrepreneurs.
_________________
Over the years, CIPE has supported the Federation of Women Entrepreneurs' Associations of Nepal (FWEAN) in engaging and representing women in business and implementing gender-focused policy advocacy. Established in 2003, FWEAN is an apex body of Women Entrepreneurs' Associations in Nepal. FWEAN's mission is to promote women entrepreneurship through advocacy, networking, information dissemination and capacity building throughout the country. The federation ultimately seeks to redefine the perspective of women entrepreneurship – from contributing to economic growth and poverty alleviation towards the participation of women at all levels in the socio-economic sectors. www.fwean.org.np