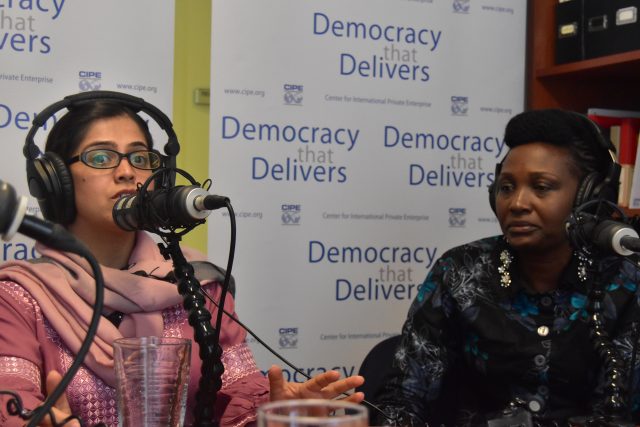 *Special 1 hour podcast for International Women's Day 2020!*
CIPE's most recent Center for Women's Economic Empowerment (CWEE) event brought together two of CIPE's most notable partners together from the other side of the globe: Manizha Wafeq of the Afghanistan Women's Chamber of Commerce and Industry, and Foluke Ademokun of the Association of Nigerian Women's Business Network. They are joined by CWEE Director Barbara Langley as they all discuss ways to improve conditions for women in the economy, as well as their efforts and achievements in eradication barriers through business leadership and advocacy.
The podcasts guests were brought in 2019 as panelists for an event at CIPE Headquarters. Watch the full livestream of the event today.
Want to hear more? Listen to previous podcasts at CIPE.org/podcast.
Subscribe to the podcast on iTunes or on your Android device.
Like this podcast? Please review us on iTunes.