In his opening remarks for CIPE's event, Leveraging the Private Sector to Improve the Economic Enabling Environment for Women, Executive Director Andrew Wilson suggested that power is not given, but taken. Wilson went on to describe four phases of empowerment, including:
taking control/power of your actions and destiny
winning power to maneuver politically or on policy issues
consolidating power to make an impactful change in society
using power effectively to be a constructive partner in issue development and prioritization, and reform solutions and implementation.
The common denominator in each of these phases is the power of constituency and being able to leverage effectively for collective action.  These phases of power also demonstrate the correlation between political and economic power – using lessons learned in organizing politically to ensure that dynamic ecosystems exist for business and entrepreneurs to thrive.  The power of constituency became very evident to me as I traveled recently to Africa, Asia, and the Middle East, learning more about the efforts of CIPE partners from women's business support organizations.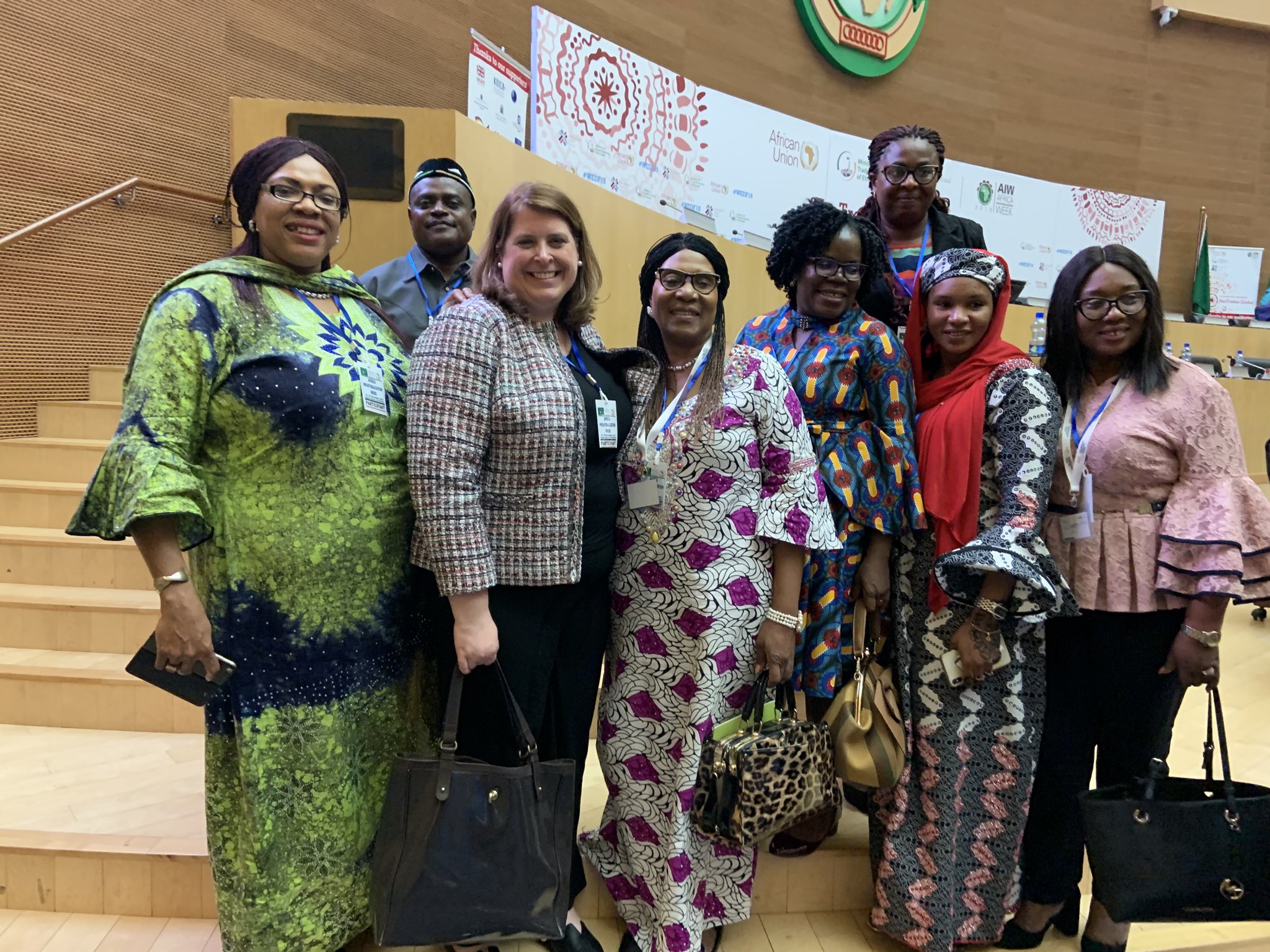 In Africa, I met a delegation from the Association of Nigerian Women Business Network (ANWBN) who were attending the She Trades conference at the African Union in Ethiopia.  They were eager to learn more about the African Union's plans for the African Free Continental Trade Area (AfCFTA) and what opportunities it may bring for women business owners.  The ANBWN members were also actively engaged in business-to-business meetings and seeking to expand the market place for their members.  ANBWN added 30 new organization members, increasing their constituency to 1,000,000 women, at their annual conference in October 2019. As a coalition, they have blocked government hikes in business administrative fees, succeeded in having moveable assets considered as collateral for loans, and pressured the government to appoint more capable women to office.  While we were in Addis Ababa, they were informed of the murder of a female politician in her home in Nigeria and were quickly organizing a response. ANBWN is using power effectively to be a constructive partner for better governance, and demonstrating the power of constituency by organizing their 1,000,000 members in collective action.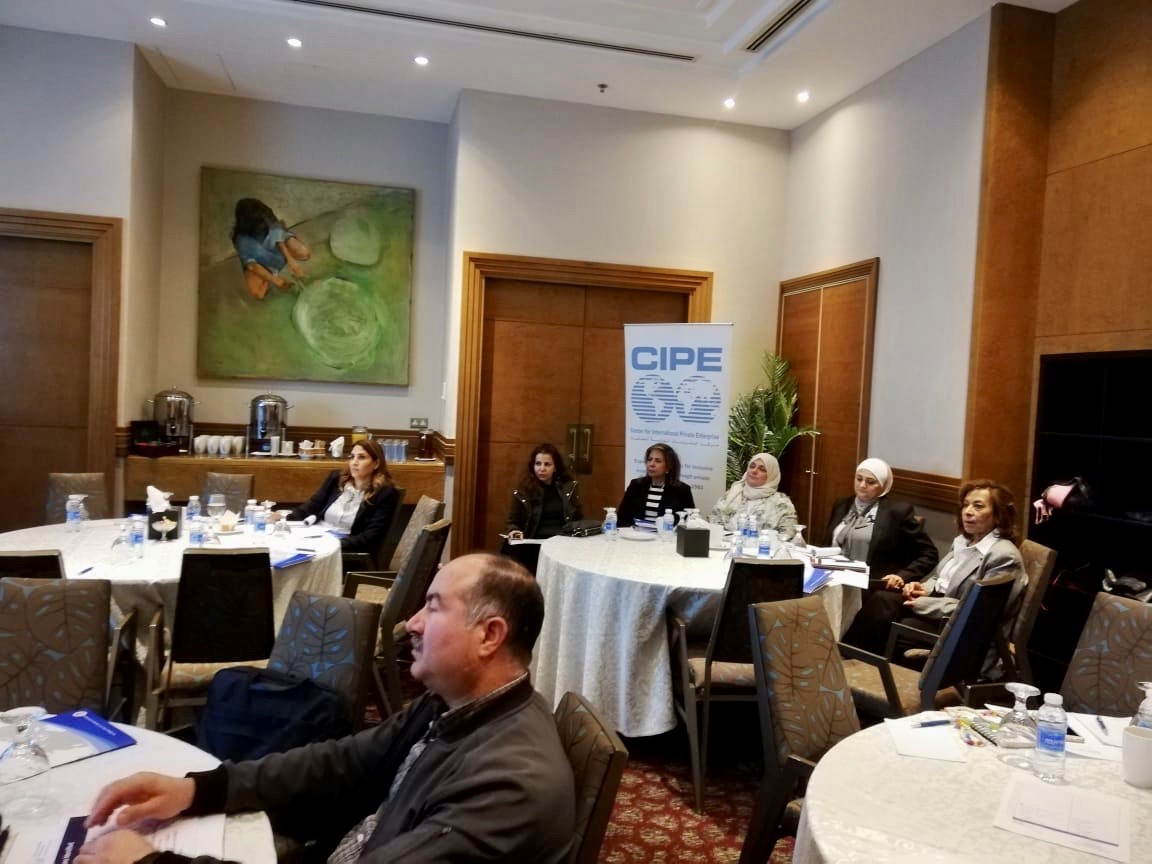 I also met with three women's business support organizations in Jordan.  The Jordanian Government is currently developing a strategy for women's economic empowerment in the country and engaging key stakeholders in the discussion.  Individually, the organizations I met with have just several dozen to perhaps a few hundred members each.  However, they recently agreed to create a coalition that will proactively review the issues of women's economic empowerment from the perspective of women business owners and offer proactive solutions for the government's strategy.  These Jordanian women's business associations are consolidating power to make an impactful change in their society.  They are also increasing their power of constituency through the coalition and preparing for collective action.
In Bangladesh, I met with the Bangladesh Women's Chamber of Commerce and Industry (BWCCI), a now 3000-member strong, women's business support organization.  When CIPE first started working with BWCCI in the early 2000s, they were a much smaller organization, focused largely on charitable work for women in rural areas.  Through CIPE's consultation and expertise, BWCCI grew quickly to represent the interest of businesswomen in both traditional sectors like the garment industry and nontraditional sectors like construction or transportation.  BWCCI changed the way commercial loans were structured and administered for women business owners, ensuring they had the capital they needed to scale their business and create jobs in their communities.  In fact, by using the power of BWCCI's growing constituency, BWCCI founder and President Selima Ahmad won a seat as Member of Parliament in December 2016.
As I prepare to travel to Papua New Guinea in late February, I am curious about the first phase of power and how it will translate to the power of constituency.  In 2015, CIPE launched a Women's Business Resource Center (WBRC) in Port Moresby where women have a safe space to learn business skills, launch their business initiatives in a co-working space, and receive mentoring and coaching to succeed.  I know I will meet an inspiring group of new colleagues that are at this first phase of power, empowering themselves to take control of their own lives and start building a constituency that will help them win power, take power, and use power effectively both economically and politically.
Barbara Langley is the Director for CIPE's Center for Women's Economic Empowerment.