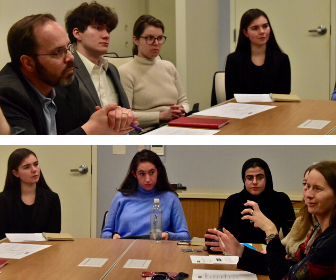 On January 9-10, CIPE opened its doors to four Johns Hopkins students to give them a taste of what it's like to have a career in democracy assistance and private sector development. Organized by the Johns Hopkins Life Design Lab, this "Host a Jay at Work" event gave undergraduate students an opportunity to shadow CIPE staff in action on a couple of very busy days. During their visit, they observed team meetings of the Europe & Eurasia division, the Middle East & North Africa division, and the Anti-Corruption and Governance Center, in addition to a staff working group meeting on association development and a focus group on the Free Enterprise & Democracy Network. The students further met with the internship committee and had face-to-face time with numerous program staff to discuss career paths and answer questions.
My colleagues and I were delighted to have four motivated, inquisitive individuals share our days. Here is how the students described their visit:
"I had such an amazing experience… and was impressed by how collaborative of an environment CIPE fosters."  — Nina Weiss
"Everyone was very welcoming and supportive and I gained a lot of insight into international development!" — Samiha Abd-Elazem
"This experience helped me to better understand my own career interests." — Ryann Schutt
"It was really an eye opening experience… The work environment is dynamic and inspiring." — John Strezewski
The students certainly brightened up our week and we hope to see them again at CIPE some day!