Good research, data, and dialogue across key stakeholders are the foundations of good policy making. By contrast, the absence of such research, data and dialogue can lead to unanticipated consequences from policy reform, or the failure to achieve desired change. At Verité Research, we aim to contribute to a world that engages in constructive dialogue and reasoned decision making.
With this in mind, we remain committed to our belief that effective communication is an integral part of the impact we seek through research.
It is this belief that has driven us to integrate communications into every step of our research process. We want our research not just to inform the public, but to transform discourse and policy. To do this, we choose specific issues in the country where we believe change is necessary, and then try to build a path to achieve that change.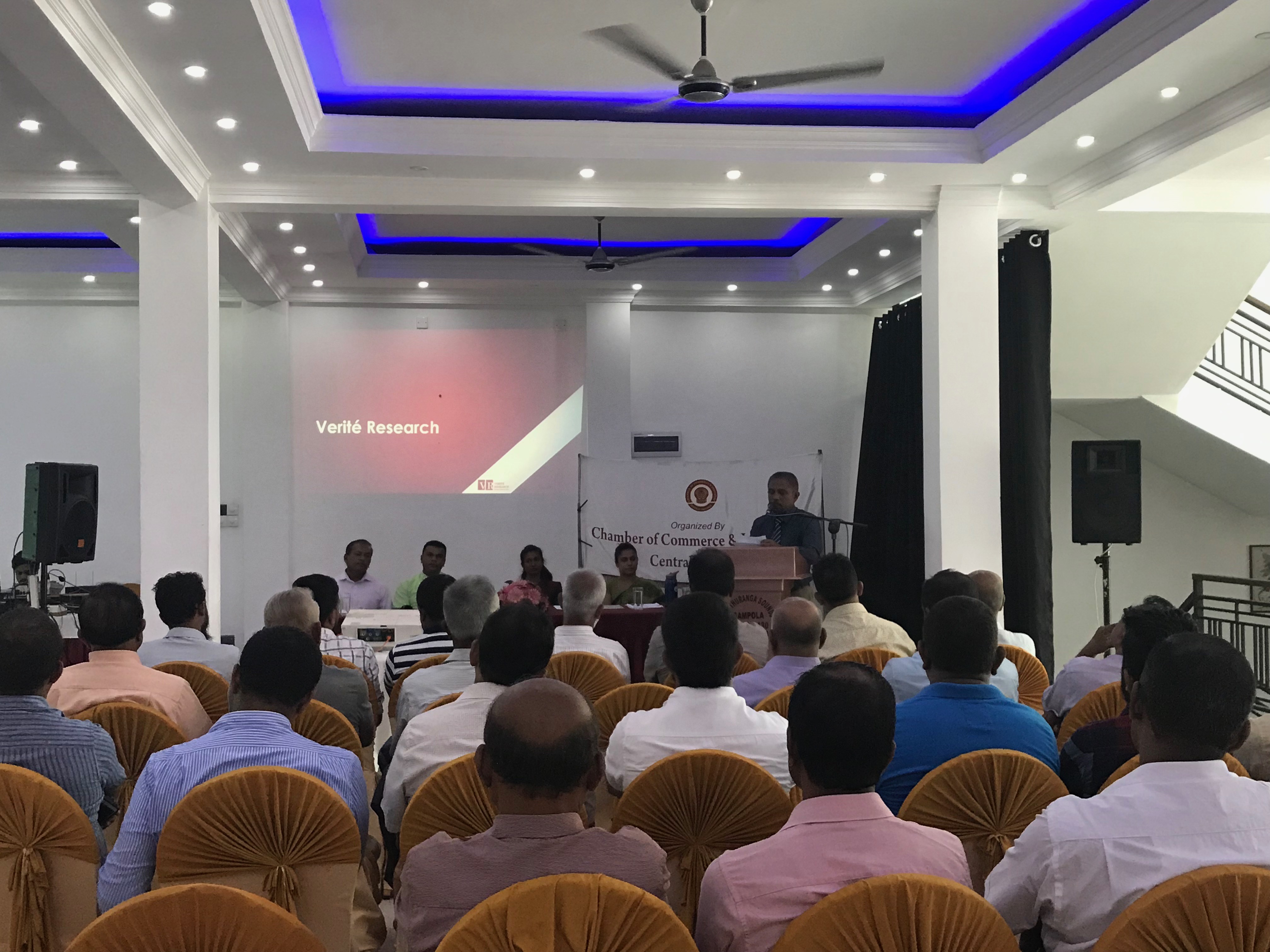 How do we do it?
1. First, by asking ourselves exactly what we want to achieve
At Verité, we shoot once we know where we are aiming. We ask ourselves three questions.
Why? We start by asking ourselves why we are doing this research. Who cares? Where does it matter, and how? This helps us identify the type of change we want to see (i.e. do we want to change the way a policy is implemented, or do we want to change the way the public is debating an issue?)
Who is our audience? An audience can be as broad as a voter base for the next election or an entire Cabinet of Ministers, or as narrow as an individual policymaker or key institution.
How do we communicate research to our audience? There are multiple ways research can be communicated, and the options keep growing. However, just because an option is available, it doesn't mean it will work for a specific audience. Therefore, we choose our communications activities specifically to trigger a response from our chosen audience.
Using these three questions, we work backwards from our intended outcome towards unique activities. Researchers often make the mistake of running these steps in reverse, picking out activities before thinking of the impact. By doing this, they can get stuck doing communications that are disconnected from the bigger picture.
2. Next, by being consistent and persistent
Achieving any kind of impact through research takes time. Often, research is only one of the many factors contributing towards policy change. It takes time for ideas to take root and gather the momentum necessary to bring about tangible change. Therefore, sustaining the conversation is as important as starting it. At Verité, we create long-term communication strategies for our research, and constantly review and revise our approach according to changing political contexts.
3. Finally, by being relevant
Timing is everything. Connecting research to existing debates can sometimes lead to higher uptake and retention of research among the media and the public. With this understanding, we have made relevance a fundamental part of our approach to communication. Our communications and research teams are trained to 'plug-in' to current news, debates, and crisis situations. As a result, journalists often seek our analysis as first responders during political and economic crises.
Has this worked?
Our budget monitoring research is a good example of how we achieved all three principles in research communication. Each year, we hold the government accountable for what they promise in their budget speech. Before we plan a new cycle of communications, we ask ourselves what our purpose is, what we hope to achieve, and how far the interests and appetite of our audiences have changed since the last cycle. We then consistently engage on the topic throughout the year, and not only during the government's budget speech, where there is heightened interest in the budget. Finally, we use our data and findings to plug in to other topics, such as natural disasters, health and education, whenever it becomes relevant.
Our work on budget monitoring has changed the way the national budget is discussed by the media and the government in Sri Lanka. Previously, the government only focused on the promises they make during a particular budget cycle. Now, there is a visible shift in the conversation from promises to implementation. This change did not happen overnight, but through consistent, creative and strategic communication over two years.
Communications can take many forms in a think tank – an infographic, a policy note, or even just a face-to-face meeting with a government official. In any activity that we choose at Verité, we seek to transform and not just inform. To make this goal a reality, we make sure that research and communications interact seamlessly with each other – from the moment we ask why.