This is Part I of a three-part blog series.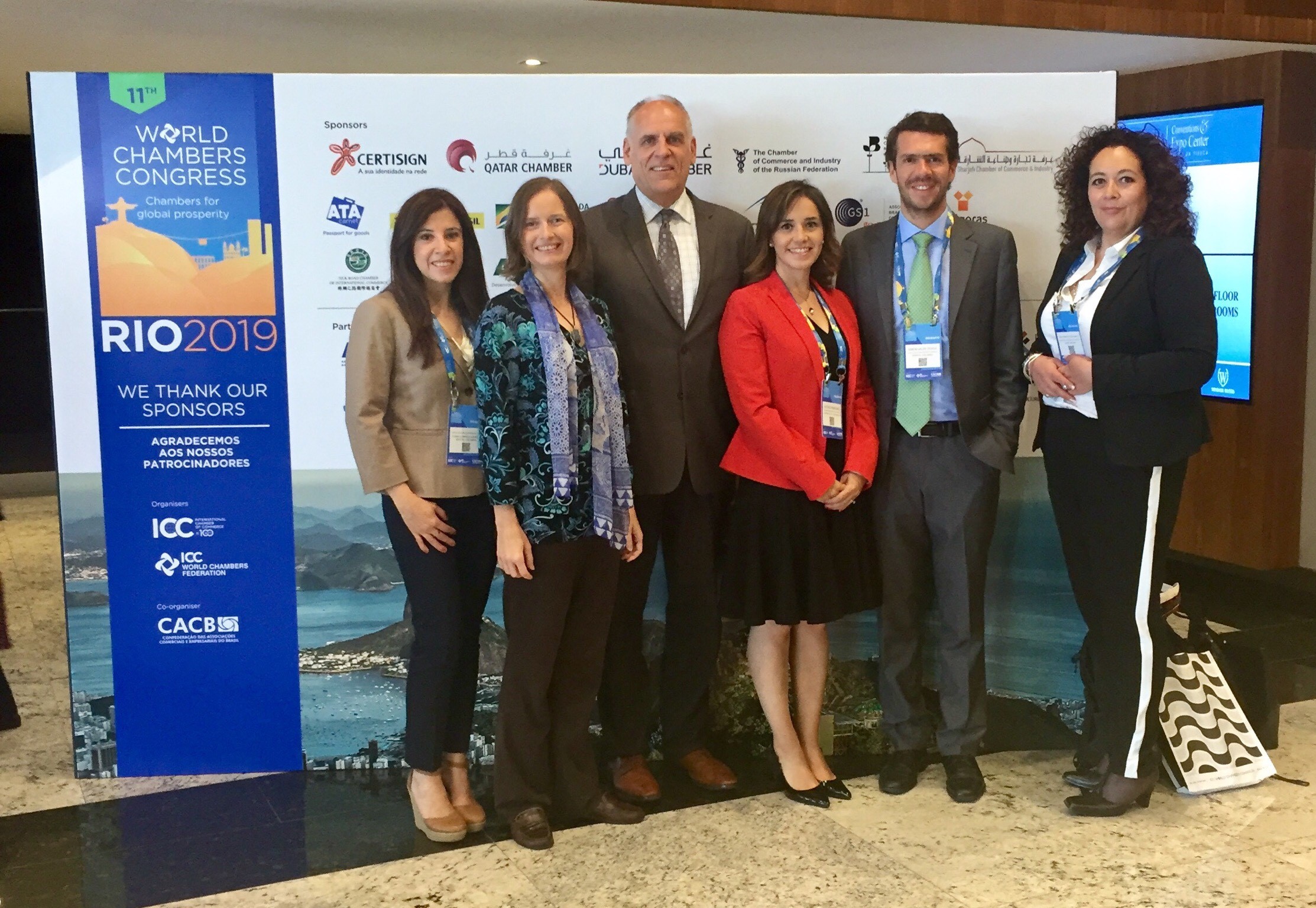 Thanks to the invitation from the Center for International Private Enterprise (CIPE), I had the opportunity to attend the 11th World Chambers Congress (WCC) held on June 12-14 in Rio de Janeiro, Brazil. The theme of this year's event, organized by the International Chamber of Commerce (ICC), the ICC World Chambers Federation (ICC WCF), and the Brazilian Confederation of Trade and Business Associations (CACB), was "Creating a shared future." The Congress opened with a look back at the ICC history when 100 years ago, right after World War I, a group of entrepreneurs created this organization with the idea that a world with fewer barriers to free trade and economic development would be a better place to live in.
Global cooperation among chambers of commerce has since managed to resolve countless trade disputes efficiently, reduced legal barriers to trade, denounced corruption and promoted human rights in business conduct. As Hamad Buamim, Chair of the ICC WCF and President and CEO of the Dubai Chamber of Commerce and Industry, emphasized, strengthening small and medium enterprises (SMEs) is also essential for chambers, since these businesses make up 95% of the companies in the world and generate 60% – 70% of total employment.
One key theme of the Congress was the chambers' role in dealing with disruption and forging new paths forward for a shared future. As the global trade tensions affect the freedom to do business internationally and, in our hyperconnected world where the trend is for everything to be "smart," technology becomes the new frontier for commerce. In the last decade, e-commerce has grown exponentially, allowing products from anywhere in the world to be purchased regardless of where they were produced. For chambers of commerce, there is an opportunity here to take existing platforms and new digital tools – such as blockchain technologies highlighted by Dorjee Sun, co-founder and CEO of Perlin – to their members.
Chambers also have an important role to play in proactively guiding governments to shape legislative environments conducive for the e-commerce revolution. For example, in Colombia, where I am from, the need for shaping the enabling environment for digital economy applies to technology-based ventures such as Uber, on-demand delivery startup Rappi, and cryptocurrencies. In that context, CIPE's Director of Global Programs Anna Kompanek presented a new resource at the Congress, titled the Digital Economy Enabling Environment Guide, created by CIPE and New Markets Lab. The Guide outlines key areas for policy dialogue between businesses and policymakers to make digital trade work for small businesses.
Digitization, streamlining of trade procedures, and elimination of paperwork costs not only help chambers and businesses promote inclusive growth but also result in a more efficient state. At the same time, considering that by 2050 68% of the world's population will live in urban environments, technology-powered smart cities provide unique opportunities for innovation. An example of this is mobility. In increasingly congested cities, transportation is usually thought of as a problem of moving people from point A to point B. But how can we also make it an opportunity for people to enjoy their city while they are traveling through it? This type of questioning invites us to rethink the future of transport, energy, and urban infrastructure – a future that is innovative, points toward technological and sustainable development, and also protects the environment. As entrepreneurs increasingly explore such opportunities in the digital space, business organizations have a unique contribution to make. They can help motivate governments to be part of that transition and creatively meet the challenge of growing cities and economies alike, which will demand better and more services from local governments to solve global problems.
Simón Mejía Ochoa is a Specialist in Projects for Development at Jaime Arteaga & Asociados based in Bogotá, Colombia