Iran is one of many countries experiencing environmental degradation. Suffering from exponential desertification and a water crisis, the country's political and economic stability could be jeopardized in the long term by climate change. Drought, resource scarcity, and poor water governance threaten Iranian food security and regional security overall. As Iran's groundwater nears full depletion, it has become a dire economic issue for the many people whose livelihoods depend on farming; the agriculture sector provides 17% of the country's employment. Challenging conditions are causing a mass migration of Iranians from the countryside to the capital city of Tehran in search of jobs, but they often find themselves unemployed or even homeless. As conditions worsen, Iran's water crisis threatens to fuel unrest, hurt the economy, incite tensions with neighboring countries, and destabilize an already fragile democracy.
Iran's annual precipitation is one-third of the global average, at just 250 mm (less than 10 inches) per year. Because of this, much of Iran's land is arid, and the remaining surface water is quickly drying up. More than 90% of water usage can be attributed to the agriculture sector, which accounts for 10% of Iran's GDP. "Our water usage is twice the world standard, and considering the situation in our country, we have to reduce this level," said Massoumeh Ebtekar, head of Iran's Department of Environment. However, legitimate efforts have not been made on the part of the Iranian government to reduce this consumption. Culturally, Iranians consume water-intensive foods such as meat and dairy and grow many water-intensive crops with inefficient flood irrigation, such as corn and rice.
As Iran's environment deteriorates, its population is also changing. The population has climbed to more than 80 million people, double what it was in 1979. Youth make up an outsized majority of the country, with an average age of 29 years old and 60% of the population below the age of 25. Thirty-five percent of this demographic is highly impacted by drought, especially in the agricultural border regions of Iran. The government expects to begin grappling with the impacts of mass migration; Isa Kalantari, head of Iran's Department of Environment, predicts that Iran's water crisis could displace over 50 million people in the next 25 years.
This issue hugely impacts families who, for generations, have relied on agriculture in order to make a living in rural societies. They have been forced to move to Iran's urban centers, where societal norms and ways of life are often in juxtaposition to their previous rural living. As cities in Iran are unable to accommodate the influx of people in recent months, and people are unable to adapt to the starkly different environment between rural and urban lifestyles, the economic and social conditions in cities are deteriorating. This has led to agricultural communities becoming highly marginalized in Iranian cities, such as Tehran. The business climate has become quite weak because of this, as unemployment and homelessness in city centers is now at an all-time high.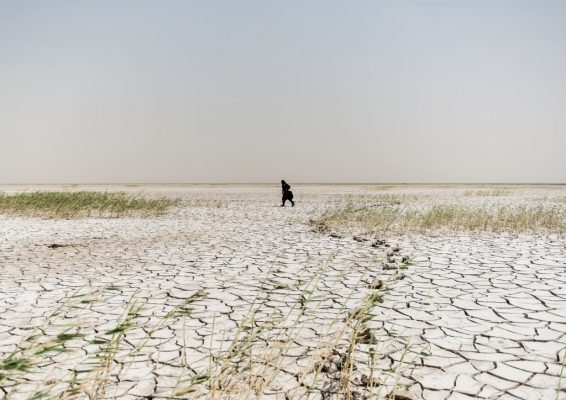 Political and economic unrest due to Iran's water crisis has had massive regional implications as well. Iran shares water resources with 12 neighboring countries, and Iran's water crisis has led to direct incidents of violence at its borders with Iraq and Afghanistan. In June, protests over poor water quality shook the southwestern borders of Iran. Trade and economic projects have slowed down between Iran and its neighbors because of such outbreaks.
According to the Middle East Institute, Afghanistan's agricultural output has declined by 45%. The Afghan government plans to build a dam near its border with Iran, in order to increase temporary water supply to farmers in Afghanistan to mitigate the economic effects of water scarcity. This will exacerbate the water crisis for Iranians who inhabit this border area. Tensions over dams between Iran and Afghanistan have escalated and are said to have potential for escalating to military action. This has led to Iran suspending energy exports to Afghanistan.
Iranian policymakers must seriously commit to better water management if there is any hope of recovering from this crisis. Water rationing programs have already been implemented in cities such as Tehran, since 2001. However, water infrastructure requires further investment and updating, as one-third of potential water supplies are lost due to leaky pipelines across Iran.
This is not enough to reverse the damage that has been done to the environment and economy. Iran's agriculture sector is not sustainable with its outdated methods of flood irrigation. Farmers must adopt more eco-friendly and economically feasible practices. The government must also closely regulate water and energy usage to protect against water waste.
Such solutions require international cooperation. Successful programs between the Iranian government and United Nations agencies such as the UN Development Program, the UN Environmental Program, and the Food and Agriculture Organization have already been implemented. Training and education are required if the Iranian agricultural sector is to overcome the water crisis.
Nikta Khani is a former intern for the Middle East and North Africa team at the Center for International Private Enterprise.