This is the final part of a three-part series about how CIPE is empowering women around the world.
You can view part one here and part two here.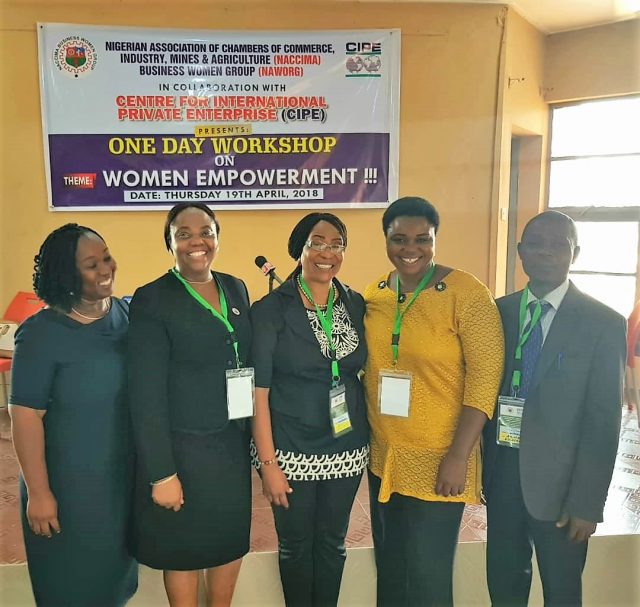 In Nigeria, women own nearly half the country's micro enterprises and 20% of small and medium-sized businesses, according to a national survey conducted by the Small and Medium Enterprises Development Agency of Nigeria (SMEDAN). As Nigerian women are becoming entrepreneurs at a higher rate than men, women are playing an increasingly important role in generating wealth and jobs for the country. Several federally sponsored loan programs for small businesses and women entrepreneurs exist in Nigeria. However, women entrepreneurs across the country have identified several significant barriers to accessing finance to start or grow a business. This information was used to create recommendations that will be shared with government officials to improve women's access to financing for their businesses.
With support from CIPE, the Nigerian Association of Chambers of Commerce, Industry, Mines and Agriculture's Women Group (NAWORG) held roundtable discussions with its members and key stakeholders to pinpoint specific obstacles that women business owners face. The roundtables were held throughout 2018 in three Nigerian cities: Abeokuta, Port-Harcourt, and Kaduna. The discussions revealed that many women entrepreneurs do not apply for business loans because the application process is confusing and cumbersome, and the process of accessing these loans is opaque and bureaucratic.
In addition to roundtable discussions, NAWORG administered a structured questionnaire to women entrepreneurs in Nigeria's three primary geopolitical zones. The questionnaire gathered the entrepreneurs' demographic information; awareness level of loan packages; technical and business management skills; membership in business organizations; and credit worthiness, which is a measure of an entrepreneur's ability to repay loans. Out of 150 questionnaires administered, 114 were submitted, a response rate of 76%. The results indicated that despite a relatively high rate of credit worthiness among women entrepreneurs, the general lack of awareness of loan packages, coupled with difficulty in obtaining several forms of documentation for the application, mean that the majority of Nigerian women entrepreneurs lack proper access to finance.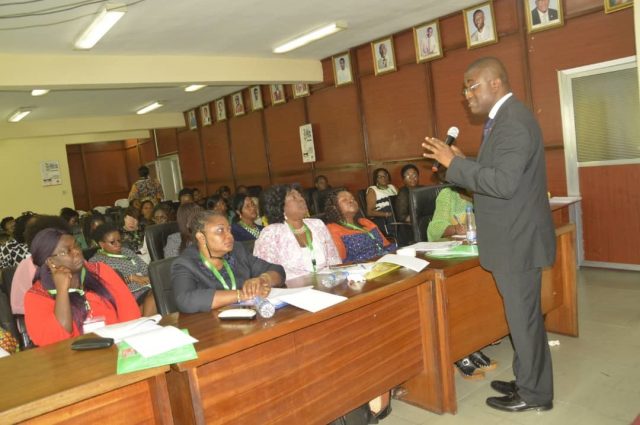 Based on key findings from the roundtable discussions and questionnaires, NAWORG developed a draft policy paper with the aim of improving access to loans for women entrepreneurs. In August 2018, the draft policy paper was presented to members of the Central Bank of Nigeria (CBN), the Federal Ministry of Women Affairs and Social Development, and the Federal Ministry of Industry, Trade and Investment. The policy paper's recommendations include:
The CBN, Ministry of Industry Trade and Investment, and the Ministry of Women Affairs should set aside funds for additional investment in financial literacy initiatives for women and simplify the application process for obtaining a loan as a women entrepreneur;
The CBN should publicly share data pertaining to women's access to all available financial opportunities, including loans and grants. Making this data public will allow women's business organizations to analyze the data and issue periodic reports to highlight the need to increase access to finance for women entrepreneurs;
The Nigerian government should create a Public-Private Financial Inclusion Committee within all ministries, agencies, and departments that makes decisions on financial policy and management affecting women's access to finance. In addition, the committee should review the current criteria for allowing women applicants to access loans and grants in an effort to reduce barriers for women to access finance.
Building on momentum from the policy paper, NAWORG is implementing a campaign to encourage key government officials and commercial banks to make the loan application processes more streamlined and transparent. During this campaign, NAWORG will collaborate with the Association of Nigerian Women Business Network (ANWBN), a coalition of 18 business associations of which NAWORG is a board member and with which it has carried out a national-level financial inclusion campaign. With these groups' combined experience, networks, and national reach, NAWORG and ANWBN have the capacity to spread the word about the importance of increasing access to finance for women entrepreneurs throughout Nigeria.
CIPE's new Center for Women's Economic Empowerment considers this approach a model for groups around the world seeking to enhance women's access to finance. Because a country can only achieve its economic potential when women entrepreneurs flourish, the Center exists to give women entrepreneurs a voice in shaping laws and policies that govern their businesses. In line with the Center's goal, NAWORG gives women entrepreneurs a key role in advocating for improved access to finance, allowing them to grow their businesses and have a better chance of succeeding.
Created in 1960, the Nigerian Association of Chambers of Commerce, Industry, Mines and Agriculture (NACCIMA) is the umbrella organization for member chambers throughout the country. Through voluntary membership, the Association champions the voice of business and promotes public policies that promote free enterprise. Since 2005, the NACCIMA Women Group (NAWORG) has served as a trade group that facilitates women's participation in commerce and governance and helps members access loans and identify market opportunities.
Morgan Frost is CIPE's Assistant Program Officer, Global Programs.