This is part one of a three-part series about how CIPE is helping to empower women around the world.
You can read part two here and part three here. 
Legal, structural, and cultural barriers to women's economic empowerment are numerous and striking: Recent studies show that more than 100 countries still restrict the kinds of jobs women can hold, while at least 75 nations restrict the right of women to own property. Meanwhile, at least 18 countries require women to have the permission of their husbands or male relatives to work outside the home.
The average global pay for women in 2017 was $12,000 for women compared to $21,000 for men.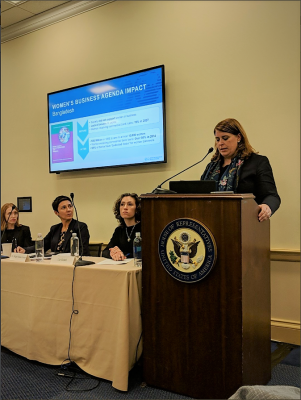 Experts gathered to address these challenges and explore possible solutions and recommendations at a mid-November event on Capitol Hill. The event was hosted by the International Foundation for Electoral Systems and sponsored by Congresswoman Sheila Jackson Lee (D-Texas).
"Economies prosper when women have a voice in shaping the laws and policies that govern their businesses," said Barbara Langley, Director of CIPE's Center for Women's Economic Empowerment.
While holding women back hurts countries economically, empowering women pays off for countries by boosting GDP and reducing poverty, said Rachel Vogelstein, Douglas Dillon Senior Fellow and Director of the Women and Foreign Policy Program, Council on Foreign Relations.
To that end, panelists recommended the following paths to women's economic empowerment: equal pay for women, increased living wage, equal access to formal employment, gender parity for women in elected and unelected government positions, financial and digital inclusion, lifting legal restrictions, and legal equality for women at work.
Langley pointed to CIPE's partnership with the Bangladesh Women's Chamber of Commerce and Industry (BWCCI) as a successful model for empowering women. In 2006, the first year of the partnership, BWCCI identified primary barriers to women's entrepreneurship, including high interest rates on loans and banks' refusal to take women entrepreneurs as clients. BWCCI then formulated 30 policy recommendations and presented them to the government.
As a result of BWCCI's advoacy, Bangladesh's central bank instructed commercial banks to increase lending to women-owned businesses, including through collateral-free loans, at a reduced interest rate. "Today more than $93 million in loans to small and medium enterprises have been provided to 20,000 women in Bangladesh," Langley said. "The proportion of women entrepreneurs in the country receiving commercial bank loans has increased from 19% in 2007 to over 50% in 2014." CIPE's Center for Women's Economic Empowerment plans to replicate this successful approach in other countries.
Click here to watch a video recording of the Capitol Hill event.
Kathryn Walson is Staff Writer and Editorial Content Specialist at CIPE.