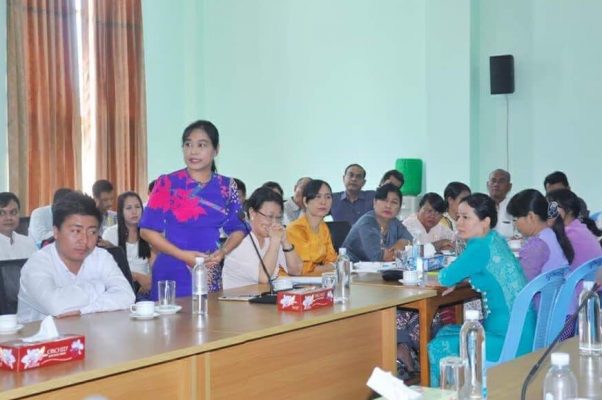 Thirty years ago, a popular pro-democracy movement took place across Myanmar in protest of economic hardship and military rule. The National League for Democracy (NLD) party and many prominent student leaders-turned-activists were born in the aftermath of the August 1988 People Uprising. On my first visit to Burma in 2012, I was fortunate to meet recently released political prisoners—activists, commentators, and students leaders—who had been jailed for standing up for freedom and democracy and spent their youth behind bars for the cause.
In recent years, the country has experienced dramatic political and economic changes that signify a hopeful turn. The NLD party won a majority of seats in the 2015 elections and formed the country's first freely elected national and subnational governments. On the economic front, Burma has opened up to tourism and foreign capital, keeping pace with the country's transition to democracy since 2012.
Nonetheless, the country continues to face many daunting challenges, including ethnic conflict, land rights disputes, tepid economic development, and low capacity of local governments. Moreover, the military's influence remains deeply ingrained in the political system, while vested interests and cronyism are entrenched in the economy. Over the past two years, the NLD government has made little progress in tackling these issues. For instance, the top priority has been the peace process between the government and ethnic minority-based armies, but skirmishes have only grown more frequent in some areas. The NLD's attitude towards NGOs and the broader civil society has also changed. After working closely with civil society leaders for three decades, the NLD's leaders now see little need for watchdogs or oversight because the Burmese people have elected them to rule the country, with little focus on consultative and inclusive policy making. The NLD has also lost tremendous international credibility due to its silence on the Rohingya humanitarian crises.
Building on this sequence of disappointments, Burma's economy—once expected to soar after the lifting of sanctions and the opening up of the country—has lost momentum. Over time, poor economic performance could create a loss of faith in democracy and deprive Burmese citizens of the better quality of life promised by the NLD.
Myanmar lacks the foundational building blocks for a robust market economy required for democracy to deliver. Persistent gaps include weak rule of law, stifling bureaucracy, lack of a level playing field in the marketplace, and regulations and norms that discourage entrepreneurship. Further constraining Burma's economic development is the close relationship between the military and the crony businesses that dominate the private sector. This leads to a distorted economic structure that benefits the few over the many, leaving the majority of the population in poverty. Unfortunately, international aid and foreign investment have to collaborate with established intermediaries that have an interest in preserving the status quo because they are the only ones that are capable and have connections. This reinforces distorted economic conditions by exacerbating unbalanced economic growth that favors crony business elites.
In order to sustain and reinforce democratic progress, this early stage of Burma's transition must incorporate democratic principles, practices, and expectations into local policymaking. In the experience of CIPE and many other governance reform practitioners, public-private dialogue and other mechanisms for citizen input into policymaking make local governance more responsive and effective. Specifically, policymakers can use public-private dialogue to more accurately capture the priority issues and identify entry points for reforms through inputs from constituents. Public-private dialogues provide a platform for stakeholders to work cooperatively to address state and market collective action problems. They are also a path to setting policy priorities, improving legislative proposals, and incorporating feedback into regulatory implementation. If public-private dialogue becomes embedded into the planning and budgeting processes of local governments, it will lead to more participatory, inclusive, and responsive local governance.
However, policymakers and stakeholders from the private sector lack the capacity for and experience in participating in public-private dialogues. Private sector organizations are struggling to make their voices heard in the policymaking process as they provide feedback on draft legislations or policies. Elected parliamentarians in most state and regional legislatures are new to lawmaking and therefore face challenges in performing their basic functions of representation, lawmaking, and oversight.
To help democracy take root, CIPE's programming in Burma has adopted an approach to strengthen grassroots participation in private sector advocacy at the state and local levels and to create a stronger entrepreneurial ecosystem by equipping entrepreneurs with necessary knowledge to be effective advocates. This programmatic approach has proved successful: CIPE's partner Yone Kyi Yar Knowledge Propagation Society (YKY), a think tank, organized public-private dialogue sessions that brought together local business representatives and local government officials for formal consultations on select policy topics.
CIPE's project in Myanmar focuses on tourism for the first topic of discussion because the Mandalay government has selected this industry as one of its priorities. After a series of consultations with industry associations, CIPE's project got a glimpse of how unfriendly current legislations and regulations are towards businesses. For instance, hotels have to register foreign visitors with 13 different agencies and offices, which creates unnecessary red tape and incurs additional expenses and costs for hotel operators. Also, the trash collection service provided by the regional government does not apply to hotels, motels, or guest houses, making them responsible for their own trash collection and waste management. Other issues include an arbitrary rule that corporate income tax cannot be lower than the previous year even if there is a net operating loss for the business.
It is an achievement in itself that the participants actively engaged in the consultation sessions to identify issues and achieved consensus in a country with an extremely low level of trust, as indicated on a recent National Democratic Institute (NDI) survey result. CIPE's project provides an opportunity for the business community to work together to address challenges. In the coming year, CIPE will continue to work with its in-country partners to organize public-private dialogues. CIPE will also provide economic development training to parliamentarians and entrepreneurs on creating an enabling environment that will make market-oriented reforms possible. Achieving a robust democracy and prosperous economy in Burma will require establishing a climate of transparency, accountability, inclusion, and democratic governance.
Catherine Tai is the Program Officer for Asia at the Center for International Private Enterprise.