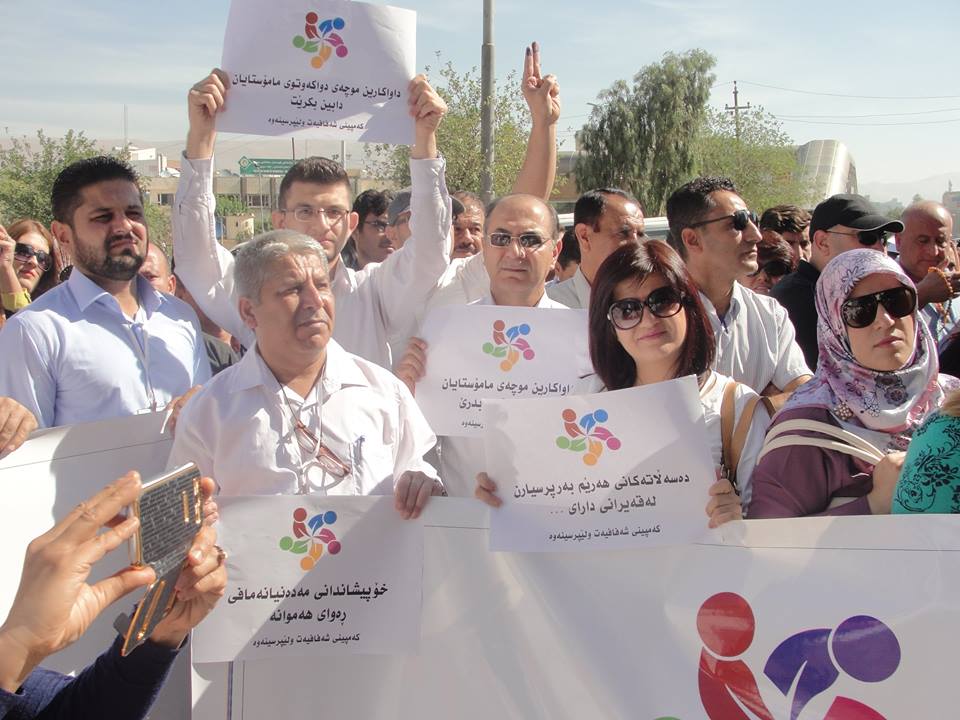 Oil and gas revenues are the main sources of income for many developing countries. Iraq is one of the countries that has not surpassed the initial phase in its development cycle that moves it from a rents-based economy to manufacturing and finally to services, creativity, and innovation. Crude oil and gas products still dominate the list of exported items at the expense of non-oil exports and manufactured goods that remain at the margin in Iraq, including in the Kurdistan region, which comprises three provinces in northern Iraq and is home to roughly 6 million ethnic Kurds. Political and economic development are interconnected; in other words, improvement in one area must be synchronized with the other. For instance, in a country whose political and democratic processes are still nascent and lack the capacity to enforce transparency and accountability measures over influential political parties and high-ranking public officials, it would be no surprise to see it suffering from high rates of corruption and lagging behind in international transparency standards.
However, in Iraq and the Kurdistan region specifically, the emerging democratic process, which failed to rein in some corrupted political parties and individuals, succeeded in producing committed and proficient civil society organizations that efficiently advocated legislative authorities to enact laws and regulations that enhance transparency and accountability in the Kurdistan region. The Kurdistan Economic Development Organization (KEDO) and its allies in the Transparency and Accountability Board have proactively diagnosed that legislative weakness and collaborated with the region's parliament to issue the Oil Imports Fund Law in 2015. This law is meant to regulate the expenditure of revenue generated from oil exports from the region, potentially enhancing people's quality of life and strengthening the private sector. However, it has yet to be implemented.
Admittedly, this law faced several challenges and obstacles that deferred its implementation: the war against ISIS terrorism that lasted two years, the political bottleneck in negotiations between the federal and regional governments over oil production and marketing, and lastly, the stymied political situation and isolation following the Kurdistan regional referendum on September 25, 2017. More so, the political contest that preceded and succeeded Iraq's federal parliamentary elections collectively diverted the regional government's attention from implementing this law. However, the region's upcoming elections on September 20, 2018 represent an opportunity for civil society organizations and the public to secure commitments and pledges from candidates to implement the Oil Imports Fund Law should they succeed in making their way to the regional parliament and government.
In addition to enhancing transparency and accountability, strengthening the rule of law, and reducing corruption, which are the main pillars of democracy, this law would bear prominent economic fruits that would help democracy deliver even more. For instance, if well implemented, the law would increase the amount of funds designated for investment and reconstruction, which would improve the infrastructure and services necessary to attract foreign and local investment and promote doing business in the Kurdistan region. The proper implementation of this law and the associated gains could even trigger an incentive for adopting similar measures in other parts of Iraq that are also inflicted with poverty, unemployment, corruption, and poor services.
It is worth mentioning that one of the most positive points KEDO has observed during the campaign for the oil fund law is the strong support shown by a number of Kurdistan regional parliamentarians for the campaign's objectives. Lawmaker Shirko Jawdat strongly supported the law and expressed readiness to endorse memoranda demanding that the regional government implement it. For his part, Member of Parliament Ali Hamah indicated a willingness to participate in forming a committee to oversee campaign activities such as writing a memorandum to the Prime Minister, coordinating with the parties, and meeting with media outlets. The Deputy Head of the Kurdistan government's NGO Department also asked to participate in the formation of a committee and coordination with civil society organizations and influential figures. Additionally, Hoshyar Malu, director of the Kurdish Human Rights Watch (KHRW), said he is prepared to write the instructions of the oil revenue fund law as a volunteer.
Lastly, oil and gas are important and precious resources whose revenues can be used as drivers for economic development and prosperity in Iraq, including in the Kurdistan region. Countries like Sweden that invested their natural resource revenues in improving infrastructure, education and health systems, and public services — in addition to creating space for the private sector to innovate and create job opportunities — ended up with high growth rates and better living conditions for their people. Therefore, implementing the Oil Imports Fund Law transparently in the Kurdistan region, as well as the reasonable use of those scarce resources, is crucial to enhancing the quality of life for this generation and for securing a better future for the next generations.
Hussam Barzinji is the Executive Director of the Kurdistan Economic Development Organization (KEDO).
Mohammed Al Saeedi is the Program Coordinator for programs in Iraq, Yemen, and Bahrain at the Center for International Private Enterprise (CIPE).
For more information:
Although Iraqi law mandates that provinces receive 50% of border revenues, Iraq's Wasit province hasn't received its share of funding since 2011. Read about how people in Wasit province, which is in dire need of schools, hospitals, housing, and infrastructure, are advocating the federal government for revenues their province has a right to receive.
Read about how a longtime CIPE partner has created awareness of the importance of passing laws that favor Iraq's private sector.