The Zurbatiyah border crossing should act as a thriving revenue source for citizens in Wasit province, in the south of Iraq. As the main border point with Iran, Zurbatiyah facilitates numerous daily imports and exports between the two countries. However, local Wasit citizens have noticed that their province receives little revenue, if any, from these transactions. As such, there is no investment in Wasit's public services, healthcare, or provincial infrastructure. In a province where the poverty rate is 62%, it is up to local-level advocates to act as a monitoring mechanism for Zurbatiyah and mobilize Wasit citizens to demand better living conditions.
Iraqi Law 21, Transfer of Authorities Article 44 was amended in 2013 to include a number of stipulations, including that provinces are entitled to 50% of their border revenues collected annually to invest in local strategic projects. However, Wasit province has not received this allocation since 2011, when it received over $9 million USD (over 11 billion Iraqi Dinars). Of the 29 strategic projects planned by the local government, only one has been implemented effectively. The implications of not receiving this allocation are exacerbated by the desperate economic situation in the province, as reported by CIPE partner and economic civil society organization Inbithaq:
Iraq's Directorate of Education revealed that Wasit province needs 350 schools;
The country's Department of Planning announced that there were 42,000 informal houses, which are built on land that occupants have no legal claim to;
Welfare payments for 14,000 beneficiaries have been suspended;
Only six public hospitals exist in the province of 1 million people, including one for women and obstetrics and children;
There are few functioning sewage networks; and
There is a complete deterioration of infrastructure, especially the roads and bridges to Badra, an important commercial gateway to Iran.
In light of this critical economic situation, Inbithaq Chairman Maher Mahmood decided to launch a provincial-level advocacy campaign. He established the Wasit Advocacy Coalition, comprised of influential private sector and civil society leaders who engaged with electoral candidates, local ministry leaders, and local government leaders. The Coalition gained the public sector's support and buy-in for the project, and had media outlets televise key political leaders committing to fulfill the advocacy campaign's objectives. Public sector leaders also signed a formal document outlining the Coalition's recommendations and calling for the Federal Government to address the border revenue issue.
Perhaps one of the most exciting elements of this project has been the unexpected alliances formed between different stakeholders. At the outset of this project, CIPE and the local coalitions believed that the legislative authority — whose role is to issue local laws and monitor Federal Government work — was as complicit as the Federal Government in misusing border revenues. However, through informal meetings, the Advocacy Coalition discovered that while the legislative authority is entitled to 50% of border revenues, it has not received any of the allocated funds from the Federal Government. It does not even know the amount of revenue generated annually from the Zurbatiyah border point. As a result, legislative authority members actually joined the Coalition to work in partnership with civil society and private sector leaders, a rare occurrence in Iraqi provinces. Such key local stakeholders as Adil al-Zirgani, Deputy Governor of Wasit, were instrumental in garnering local decision makers' support and interest.
As the project progressed, local partners determined that the border revenue issue stemmed from a complex legal and regulatory environment that contradicts Iraq's newly decentralized framework. Decentralization ushered in a new era of reform legislation in Iraq that theoretically should have empowered local level governments to govern their provinces more efficiently and effectively. One of these reforms includes the amendment made to Iraqi Law 21, Transfer of Authorities Article 44. Yet, there are still laws in place that allow the Federal Government to centralize its control and exacerbate the border revenues issue. For instance, the Wasit local authority won a 2015 court case on the premise of Article 44 demanding their border revenue allotment (not received since 2011), but the Federal Government countered their appeal and won the case using the Federal Budget Law. The Federal Budget Law states that the Ministry of Finance has the power to determine the amount allocated to each province for its border point. However, this piece of legislation deprives local authorities of the ability to invest money into any public service, as it mandates that the allocation be spent on border point maintenance and infrastructure. In any case, Wasit province has also not received this Federal Budget allocation either.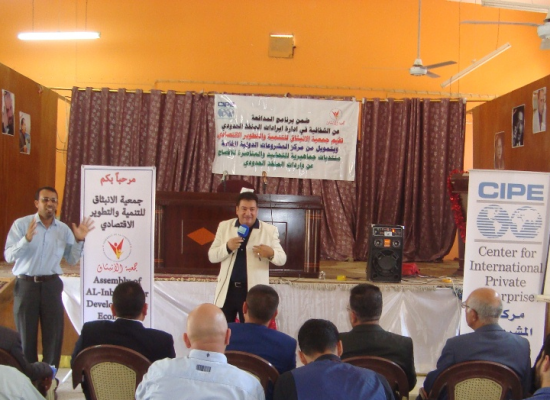 That being said, some reform-oriented politicians at the national level, including Prime Minister Abadi, do support local level initiatives such as Inbithaq and the Wasit Advocacy Coalition. As a result of this project, the Advisory Commission of the Prime Minister's government activated the Border Authority Commission dedicated to the transparent monitoring and allocation of border revenues at provincial border points. The Border Authority Commission represents eight provinces in Iraq: Basrah, Amarah, Maysan, Wasit, Anbar, Diyalah, Sulaymaniyah, and Erbil. The Deputy Director of the Border Authority Commission (and representative for Wasit) Adil al-Zirgani is a member of the Wasit Advocacy Coalition. This Commission will unify Iraq's provinces behind anti-corruption initiatives at border points and, in doing so, amplify local demands and recommendations to the national level. The Commission also acts as one of the few mechanisms available to Iraqi stakeholders that facilitates constructive public-private engagement and allows grassroots-level advocates to influence democratic reform.
The people of Wasit province want a free and dignified life with good living standards, which can only be achieved through the investment of local resources and wealth. In order to obtain good health services, education and public services, local Wasit citizens must continue to claim their rights and act as a constructive force for decision makers. These private sector actors act in the best interest of their communities and government by ensuring transparent and comprehensive economic growth at both the local and national level.
Maher Mahmoud is the Executive Director of the Assembly of Al-Inbithaq for Development & Economic Development (commonly referred to as Inbithaq).
Abigail Stoltzfus is the DC-based Assistant Program Officer for Iraq at the Center for International Private Enterprise (CIPE).
For more information:
Read about how a longtime CIPE partner has spotlighted the importance of passing laws that favor Iraq's private sector.