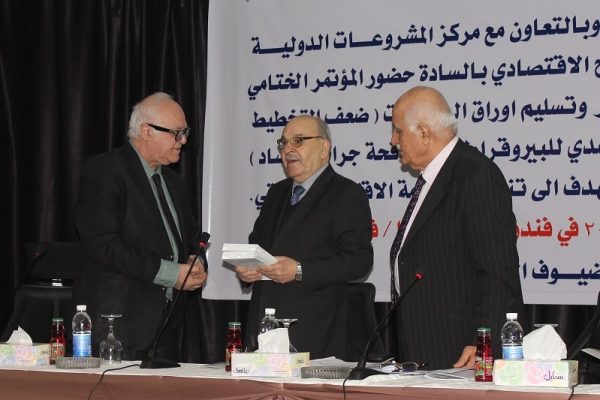 The Iraqi military defeat of the Islamic State in Iraq and Syria (ISIS) has ushered in a new wave of hope for stability and democracy in the country, but to achieve true economic recovery and social stabilization, ongoing systemic issues must be addressed. The Center for International Private Enterprise (CIPE) has worked in Iraq since 2003 with more than 40 business associations and chambers of commerce, as well as hundreds of civil society organizations, to continue targeting these issues despite recurring violence and national crises. Without this ongoing dedication to tackling Iraq's core challenges, CIPE partners would not have established a platform with public sector representatives where they can advocate and deliver economic reform promises to local Iraqi citizens and improve local livelihoods in the post-ISIS era.
CIPE's long-term partner, the Iraqi Businessmen Union (IBMU), illustrates such ongoing work through its national-level advocacy campaign. Launched in 2017, IBMU engaged high-profile government leaders in public-private dialogue (PPD) roundtables. The first phase of the project aimed to promote knowledge-sharing between the public and private sectors on economic issues through a series of workshops and dialogues with a diverse set of stakeholders to discuss the most important issues preventing private sector growth. Based on their feedback, CIPE's partners developed four policy papers examining the most critical issues affecting Iraq's business community: the implementation gap, a lack of strategic planning, ways to reduce bureaucracy to enhance investment, and combating corruption. Topical studies conducted by the Iraqi Institute for Economic Reform (IIER) supplemented the results of the workshops and provided further evidence of the barriers facing businesspeople in Iraq. By developing in-depth and comprehensive studies on long-term challenges facing the country, the private sector provided a valuable roadmap for national-level parliamentarians to pursue economic reform.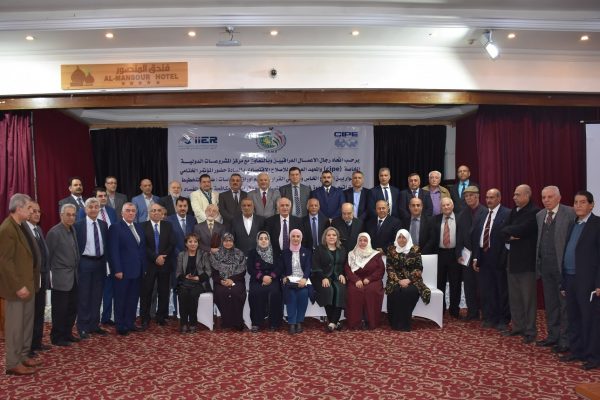 Building trust in the hearts and minds of others is a challenging mission, yet this project relied on trust between policymakers, the private sector, and CIPE. Policymakers and government officials in Iraq typically believe that international non-governmental organizations do not leave a lasting positive impact through their relief and development programming. However, CIPE and IBMU sought to change that perception by conducting open and frank PPD roundtables on each critical issue — corruption, lack of strategic planning, the implementation gap, and bureaucracy — and debating key recommendations with national-level policymakers, including members of Prime Minister Haider al-Abadi's cabinet. As a result, the PPDs culminated with economist Munaf al-Sayegh, a high-ranking official in the Iraqi cabinet, commending CIPE for its ongoing work to improve the business environment in Iraq. He expressed his great respect for — and confidence in — CIPE and its partners to a room full of officials, lawmakers, businesspeople, activists, and journalists, saying that "CIPE is the only honest, truthful international organization working in Iraq as its work with its partners is feasible and of great impact." This expression of trust illustrates the value of PPDs as a collaborative and constructive mechanism between the private sector and policymakers to achieve economic reform.
Following the PPDs, IBMU conducted its final conference, where it publicly launched the papers in conjunction with Abadi's renewed commitment to corruption after declaring victory in the war against ISIS. Abadi and Iraq government members have repeatedly expressed support for anti-corruption reform programs, but the severe security situation distracted national-level efforts to address these issues adequately. During the conference, participants recognized that administrative and financial corruption, as outlined in the policy papers, will severely hinder Iraq's post-ISIS recovery. According to the Parliamentary Integrity Committee, Iraq lost over $350 billion USD from 2003 to the end of 2017 because of corruption. With international development organizations looking to invest in the country's reconstruction, the Iraqi government has to deal with these vast corruption issues to ensure that aid funding serves local citizens' needs and stimulates sustainable economic growth opportunities.
Despite such challenges, CIPE and IBMU saw significant progress through the receptiveness of national-level policymakers to collaborate with local private sector and civil society leaders during the PPD roundtables and final conference. Most notably, Iraqi lawmaker and member of the Parliamentary Economy and Investment Committee, Jamila al-Obaidi, recognized the Iraqi government's failure to support the economy and private sector. In her speech, Al-Obaidi blamed Iraqi politicians for neglecting the private sector and stressed its important role in building the Iraqi economy. She said, "We — Iraqi politicians and Iraqi lawmakers — are careless. We need to make some real change by issuing laws that give the private sector a bigger role in Iraq's economy."
CIPE also received some of the following commitments from high-profile Iraqi officials willing to commit to economic reform:
Mudhir Mohammed Salih, Abadi's Economic Advisor, promised to head directly to the Prime Minister's cabinet and deliver the four policy papers and all related recommendations to the Secretary General of Iraq's Council of Ministers. He also urged all participants to keep after him to apply these studies practically, saying, "Please, if you do not hear from me, come and ask me about it after two or three months. If you follow up, you will push me harder."
Raad al-Mas, a member of the Martyrs and Political Prisoners Committee, praised the efforts of CIPE and its partners and backed his colleague saying, "We support the efforts of the private sector in developing new versions for economic laws. Our role is to present these new legal suggestions to the Parliament and push for approving them."
Speaker Muna Noor Zalzala, Representative of the First Deputy for the Parliament, confirmed that joint efforts can do a lot: "We could defeat ISIS when we united, and we can combat corruption if we unite our efforts."
The positive feedback CIPE and its partners received at the conference, as well as the expressions of trust in their work to achieve meaningful, lasting change through private sector involvement in decision-making, are integral to diversifying Iraq's economy. More importantly, it shows a longer-term commitment to address the core challenges facing Iraq's fragile democracy, without which economic reconstruction and growth would be impossible.
Laith Hammoudi is an Iraq-based Program Coordinator for CIPE.
Barbara Gallets is a DC-based Middle East North Africa Program Assistant for CIPE.
For more information:
Read more about CIPE's efforts to advance economic and democratic reform initiatives in Iraq.
Read about how the private sector can pave the way to peace in conflict zones.