There are many takeaways from the recent World Movement for Democracy Global Assembly in Senegal. The theme of the weeklong event was "Building Strategic Partnerships for Democratic Renewal," with a focus on ways to strengthen inclusive democratic governance and engage stakeholders in civil society and the private sector. CIPE, the National Endowment for Democracy, and the United States Chamber of Commerce were among the event sponsors, sharing new information and resources during panel discussions and activities. The blog below is a call to action for corporate citizenship in Central and Eastern Europe and explains how CIPE is helping to build more sustainable and beneficial relationships among stakeholders.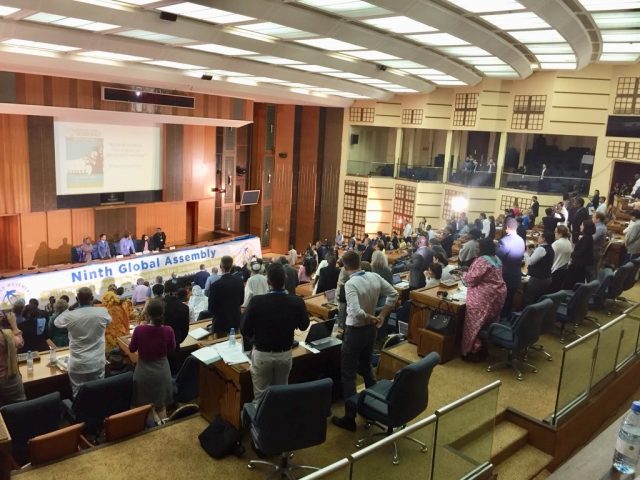 Governments, civil society, and business have an important symbiotic relationship. When they work well together, democracies and economies flourish. In democratic nations, governments are expected to foster environments that support innovation and enable local businesses to thrive. Additionally, it is the right and duty of civil society and the private sector to hold governments accountable and advocate for market-oriented reforms.
There is increasing alarm among the international community that many of Europe's newer democracies are letting slip their commitments to democratic principles, negatively affecting civic engagement by both citizens and the private sector. Several governments in Central and Eastern Europe appear to be experiencing backsliding in institutional reform efforts, accompanied by a resurgence of corruption and opportunistic politics. These trends threaten to undermine the important role that the private sector has played in the region since the early 1990s, when business became the engine driving economic growth and development, creating jobs and providing services.
One way to rectify this situation is to protect the rights of businesses to participate in policymaking, to ensure that new laws and regulations create an enabling environment for growth. Policies enacted under pressure and without input from the business community have a greater risk of backfiring. However, in Central and Eastern Europe, given recent democratic backsliding, many local companies are finding it challenging to participate in such policy advocacy efforts.
In addition, an increasing number of investors, lenders, and consumers are attracted to firms that act as good corporate citizens of the communities in which they operate. One key way in which corporations can demonstrate such leadership is by supporting non-profit organizations pushing for change via financial contributions or forms of collaboration. But Central and Eastern European entrepreneurs often fear from repercussions should they support civil society groups.
In response, CIPE is currently working with partners from civil society and business in the region to develop a blueprint for a new kind of private sector leadership, with the aim of supporting locally-owned civil society initiatives. These initiatives will have a particular focus on the rule of law, to tackle the above-mentioned risks of resurgent corruption and to improve the local business environment. CIPE and its partners are seeking to create funding mechanisms that will give local civil society organizations an opportunity to benefit from grants from the private sector. These initiatives may create platforms for the private sector and civil society to build networks, exchange views on topics of common interest, and explore other forms of mutual assistance, such as in-kind support and knowledge sharing. Such programs can demonstrate to citizens the critical connection between healthy democracies and a thriving market economy to provide for sustainable and long-term growth.
To discuss these issues among a wider audience, CIPE is convening a meeting on May 15 in Katowice, Poland for its many partners and business leaders from the host country, Hungary, Czech Republic and Slovakia. CIPE will also play a key role in the GLOBSEC Bratislava Forum, set to begin May 17. There, as hundreds of influential experts, statesmen, and business leaders will gather to discuss pressing global issues, CIPE will be adding its voice on the importance of civic engagement in advancing democratic, pro-market values in the region.
Author Martina Hrvolova is a CIPE Europe Program Officer.