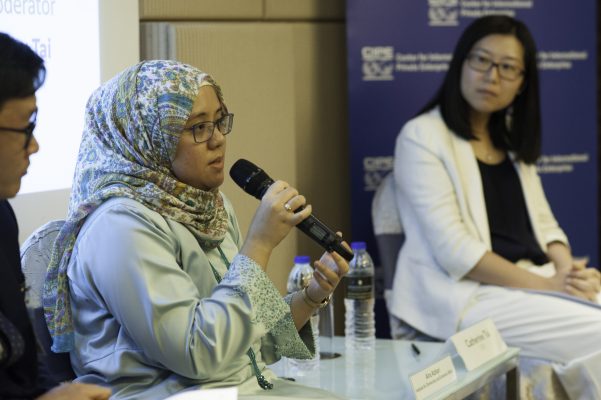 Malaysians will head to the polls on May 9 to elect representatives of the country's 14th Parliament. The electoral contest throws into sharp relief the challenges of current Prime Minister Najib Razak and the ruling Barisan Nasional (BN) coalition as they seek to retain a parliamentary majority for the 11th general election in a row. A scandal over accusations that Najib channeled nearly USD $700 million from a government-run company into his personal bank accounts brought thousands of protestors to the streets in 2015 and continues to animate Pakatan Harapan, the opposition coalition. The recent defection of former prime minister Mahathir Mohamad, Malaysia's longest-serving leader, from BN to Pakatan Harapan also tests the ruling coalition's ability to stay in power.
However, political concerns are not the only issues shaping the electoral contest. Economic policies play an important role in both coalitions' campaigning. Pakatan Harapan is challenging BN on its engagement with Chinese investment projects, such as the East Coast Rail Link, and accusing these projects of denying Malaysian firms and labor equal opportunity to participate. To address widespread concern about the country's high cost of living and wage stagnation, the opposition has also taken aim at the unpopular 6% tax on goods and services introduced in 2015. The ruling government coalition, meanwhile, aims to address the cost of living with a phased increase in the minimum wage over five years and an expansion of the cash-transfer system that provides subsidies to low-income Malaysians.
Aira Azhari, Research Coordinator for the Democracy and Governance Unit of the Institute for Democracy and Economic Affairs (IDEAS), a nonprofit research organization based in Malaysia, discussed economic policies and their impact on the general election in a recent webinar. Aira stated that the most likely outcome is a continuation of the past two general election trends, where BN will retain its governing majority but continue to lose Parliament seats and some states to the opposition. In this case, Najib could step down as his predecessor Abdullah Ahmad Badawi did following the 2008 election. Less likely results could see BN win a significant majority as the Spoiled Vote campaign and mid-week ballot date conspire to drive down turnout. An outright opposition victory would be an exceedingly unlikely result, according to Aira.
Aira's April 18 webinar was a key element of CIPE's Southeast Asian Think Tank Network project. Launched in July 2016, the project aims to empower a network of 18 think tanks to promote market-oriented democracy and principles of good governance across the region. Webinars like Aira's enable these organizations to share not only their knowledge of policy topics but also methods for shaping policy agendas.
IDEAS itself plays a role in the evolution of the policy narratives in the election campaign. The research organization receives frequent requests for comment from media outlets ranging from the BBC to "The Wall Street Journal" and "The Guardian." By contributing to the public discourse with incisive policy analysis, IDEAS' expert commentary informs the public and improves the quality of citizens' informed choices. By providing objective, fact-based evaluations of the coalitions' manifestos, IDEAS also helps politicians calibrate their policies and elevate the quality of policy debates.
Many think tanks perform such roles in democracies around the world. What makes IDEAS special is the success the organization has in transmitting its message in Malaysia. This comes from substantial planning and organization: for instance, the research department organizes itself into work streams and categorizes all incoming news into those streams to clearly delineate responsibility. "We do a lot of prep work because there really is no shortcut to good analysis," says Aira. IDEAS' dedication to responding to campaign platforms through an objective, uniquely liberal lens also boosts its legitimacy in Malaysia's media market, where press freedoms are frequently restricted by the Printing Presses and Publications Act unless journalists conform to government narratives.
To disseminate its research, IDEAS relies on a diversified media outreach plan. Acting CEO Ali Salman provided his insights on radio station BFM's "Battle of the Manifestos" on April 12, while the think tank's general media statement was publicized on its website and delivered to a variety of digital and published media. A regular column with rotating IDEAS staff in "The Edge Markets," a popular business publication in Malaysia, also acquaints the paper's wide readership with IDEAS' unique viewpoints and policy positions through persuasive, less technical op-eds.
As Malaysia quickly approaches its next general election, the country's citizens are fortunate to benefit from the insights and analysis of IDEAS. The research organization can serve as a model for other groups around the world seeking to share their expertise with the public with the aim of fostering democracy and cultivating an informed electorate.
Gibson Haynes is a Program Assistant for Asia at the Center for International Private Enterprise (CIPE).
Read more about the Southeast Asia Thank Tank Network and its efforts to empower think tanks to take a lead role in advocating for smart policies.