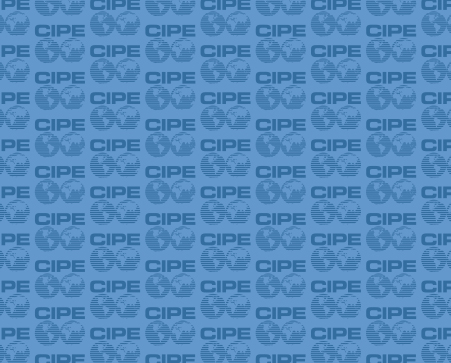 CIPE and the local Afghan business community teamed up to develop an initiative that is helping to spur economic growth and create jobs in the provinces. Driven entirely by the provincial business communities in Nangarhar, Kandahar, Balk, and Herat, CIPE's Provincial Business Agenda (PBA) program has produced a wide range of results that improve the local business climate, which has suffered setbacks in recent years. In areas far from Kabul, the economy has been particularly hard-hit by a drastic reduction in international development spending since 2014, resulting in a huge increase in unemployment in the provinces. This has caused many Afghans who were previously employed by the military and international donors to move to Kabul to look for work—or to leave their country out of desperation to earn a living.
CIPE started working at the provincial level in 2008, but has stepped up its efforts since 2014 as its role has become increasingly vital. CIPE works with home-grown, provincial-level small businesses to identify the day-to-day problems Afghans face when trying to start or grow their businesses, which leads to the creation of more jobs. CIPE takes the bottom-up approach in Afghanistan. We do not create business associations, because in CIPE's experience, the local business community views donor-created business associations as inauthentic. We work with associations and chambers that formed because the business community came together out of the innate understanding that there is safety in numbers and power in collective action. Given the context of decades of war, continuing violence and deep-rooted ills, removing the obstacles caused by poor governance is a reasonable starting point for a country as complex and as dangerous as Afghanistan. Creating an environment that is friendlier to small businesses is a good first step towards improving the overall economy.
CIPE helps turn local economic grievances into policy issues, which can then be resolved through public-private dialogue. CIPE provides provincial-based businesses and business associations the support they need to understand and prioritize the problems and barriers they encounter, as well as the technical assistance needed for the local business community to understand these issues from a policy perspective and translate their economic grievances into policy reform recommendations. The business associations identify and prioritize the reforms needed in each province to improve the small business environment.
The policy issues and recommendations are put into a Provincial Business Agenda (PBA), which is shared with the business community, media, and government. The local business community uses the PBA as an advocacy tool. CIPE provides training and technical assistance to business associations to support their efforts to advocate for reforms and recommendations to local governments. CIPE has encouraged business associations to form coalitions in their advocacy efforts by forming PBA Advocacy Taskforces. With CIPE's coaching, the Taskforces have already made several significant reforms to improve the local business environment.
To note a recent success, the PBA Advocacy Taskforce in Kandahar has met with the Pakistan Consulate in Kandahar City numerous times over the past two years. Most recently, Afghan fruit growers were faced, yet again, with a recurring problem: without warning, Pakistan closed its border and stopped issuing visas to Afghan traders. If this issue was not resolved quickly, it would cause truckloads of grapes to be destroyed because while they were stuck at the border the fruit would spoil. To tackle this problem, the PBA Taskforce initiated meetings with the Pakistan Consulate to persuade officials to re-open the border and resume the visa process for Afghan traders. The issue was urgent; peak grape season was looming. Fortunately, because of the Taskforce's efforts, the Pakistani officials agreed to resume issuing visas to Afghan traders and permitted drivers to cross the border freely. Thanks to CIPE's guidance and support to the Taskforce concerning their communication and advocacy strategy, 32 air-conditioned trucks loaded with grapes are now reaching Pakistani markets every week. Afghan traders aim to send 80 trucks a week as the fruit season peaks in late August. One truckload of grapes can bring in $10,000—more than most Afghans earn in eight years. In addition, the introduction of air-conditioned trucks created more than 100 new jobs in Kandahar for farmers, grape pickers, traders, truck drivers and fruit sellers.
Other examples of PBA Taskforce successes include the Afghanistan government's long-awaited investment in a Kandahar industrial park, which is expected to create 3,900 jobs. Also, the government has issued nearly 1,000 new business licenses to shopkeepers, thereby encouraging entrepreneurship and turning informal businesses into formal businesses, thus raising local provincial-level revenue. In Nangarhar province to the north, advocacy efforts led to the addition of electricity in a new industrial park and enabled 23 new factories to open, producing more than 2,500 new jobs.
CIPE's PBA Advocacy Taskforce program has produced significant results that benefit the local business community—with many more successes on the horizon. As the country's security and the effectiveness of the National Unity Government continue to deteriorate, the success of CIPE's PBA program to improve the local economy becomes even more crucial to Afghanistan's stability. Even U.S. military officials have stated that this conflict will not end through military might alone.
Jennifer Anderson is the Senior Program Officer for South Asia at CIPE.