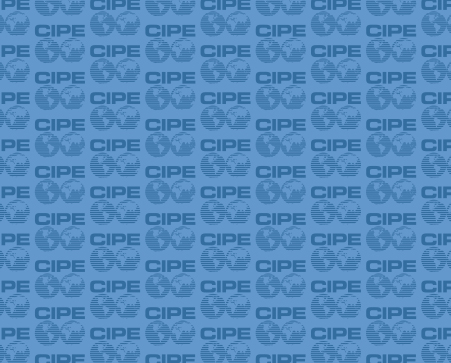 Healthy, vibrant democracies must deliver for all of their citizens. Women's full economic participation, control over their financial circumstances, and greater decision-making power are essential to building gender-equitable political and economic systems. Moreover, it has been shown that women's economic empowerment can have a positive multiplier effect, leading to political and economic gains that benefit society as a whole. Yet research also shows that it is insufficient to focus solely on income-generating projects for women. Rather, to empower women as equal stakeholders, it is necessary to build a gender-inclusive business-enabling environment that allows women to start and grow their own businesses.
In the evolving democracies of South Asia, the majority of women are blocked from full economic and civil participation by a range of formal and informal obstacles, including laws and regulations, and cultural and societal norms. Women in the region continue to trail their peers in other parts of the world. Indicators for women's employment, income, and wealth in South Asia are particularly dismal, and the region is the slowest in the world to equalize laws affecting women's employment and entrepreneurship. From 2014 to 2016, the region enacted just three reforms to increase women's economic opportunities—the fewest reforms out of 65 economies.
Despite extensive donor development assistance for women in South Asia, more effort is needed to reform the economic and political institutions that restrict women's ability to access finance, register a business and participate in the marketplace. Severe legal and regulatory barriers impede South Asian women's ability and incentives to work or start a business. As a result, only eight to nine percent of formal small and medium enterprises (SMEs) in South Asia are owned by women. In Pakistan, for example, a married woman registering a business must provide her father's or husband's name, nationality and address in the presence of a witness. In Nepal and Bangladesh, widows do not have equal inheritance rights. Male approval, discriminatory property and inheritance laws, low ownership of fixed assets, and limited access to financial services stifle women's entrepreneurship in countries across the region.
Focusing on closing the gender gap in women's entrepreneurship is critical to the future prosperity of South Asian economies. Gender gaps presently account for an estimated regional income loss of 19 percent. Policy and fiscal systems that advance gender parity, on the other hand, provide a high return on national and regional economic growth. For example, in 2012, 14,300 women-owned SMEs accounted for just two percent of Nepal's national gross domestic product (GDP). But compared to their male counterparts, women entrepreneurs in the country generated six percent higher profits on annual sales even though they operated smaller businesses. It is evident that if women's credit requirements were adequately met, they could significantly boost Nepal's economic growth. Additionally, South Asian countries (excluding India) could contribute a cumulative $100 billion toward incremental global GDP by 2025 if each country improved opportunities, legal protections, and access for women at the same rate as India—the fastest-improving country in the region.
Based on its work in South Asia and worldwide, CIPE recognizes that women must play a key role in shaping and implementing reforms needed to level the playing field. The results of CIPE's ongoing effort to support South Asian women's business organizations underscore the fact that for local chambers of commerce and business associations to succeed in their policy advocacy role, they must be well-governed, effectively managed, financially secure, and have an active membership and robust communications strategy. This requires significant investment in capacity building and training. Through women's chambers and business associations, women entrepreneurs in South Asia can increase their visibility, voice, and representation, and work with governments, civil society, and the media to build more inclusive economies and democracies that deliver for all.
This post was co-authored by Jenny Anderson & Maria Philip. Jenny Anderson is a Senior Program Officer for South Asia and Maria Philip is a Program Assistant for Eurasia & South Asia.