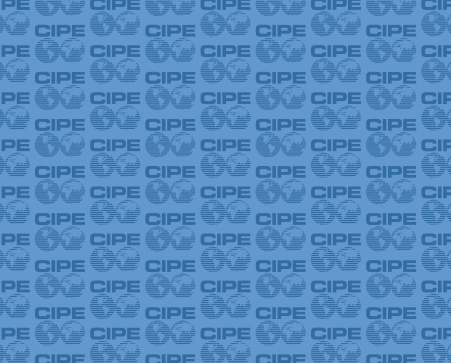 Throughout South Asia, women in business have faced several barriers to achieving full civic and economic participation. To tackle these challenges, the South Asia Regional Women's Economic Network has helped amplify women's empowerment in the region. Supported by CIPE, the network has been able to effectively advocate for policy reforms that create more opportunities for women-owned businesses. This network is comprised of women business associations from Nepal, Pakistan, Bangladesh, Afghanistan, India, and Sri Lanka.
The achievements of the network continue to show that now, more than ever, focusing on women's economic growth is key to strengthening democracy. For example, Multan, in South Punjab, and Peshawar—both cities in turbulent regions—are home to large artisan communities consisting mainly of women working on hand embroidery and handcrafted textiles. Despite challenges for women to participate economically and politically, both the Southern Punjab and Peshawar Women's Chamber pushed the government to change a policy that was impeding the earning potential of women artisans. Eventually, the State Bank issued policy instructions that led to lengthening the amount of time that artisans have to pay back their loans. Extending credit will help them in fulfilling orders, and allows them to plan purchases and sales further in advance, with less pressure for rapid repayment.
Building upon the momentum of the network, CIPE, in partnership with Panoply Digital (a U.K.-based ICT for Development consulting firm), sought to further advance the efforts of the network by providing a technology training workshop in Nepal in February. Prior to the technology training workshop, CIPE and Panoply Digital conducted a needs assessment of the South Asia Regional Women's Economic Network to gauge the network's technology capacity. The assessment indicated that most members of the network were fairly unfamiliar with technology for monitoring and evaluation, and all members expressed extreme interest in social media and communications. Using the assessment as a foundation, the training workshop was developed around on monitoring and evaluation, surveying and polling, and external communication to further advance policy advocacy by the network's member organizations.
The first day of the training focused on monitoring and evaluation and surveying/polling. Along with the discussion of best practices, Panoply Digital introduced useful tools such as VOTO Mobile or Google Forms to send surveys and polls to crowdsource the needs of women in order for these associations to push for more inclusive policy reform. These tools are also helpful when using monitoring and evaluation throughout life cycles of donor funded programs. The second day of the workshop focused on external communications and social media. After learning how to develop a communications strategy to create more awareness around advocacy campaigns, Panoply Digital introduced an SMS messaging systems called Signal. Similar to WhatsApp, Signal is a secure messenger system where you can create groups for internal or external communications, as well as send project announcements and updates.
As these women business associations become better equipped with technology tools, their capacity to make the voices of their members heard will dramatically increase. Overall, the workshop was very well received with the participants expressing their plans to use new technology tools such as Google Forms and Signal for their policy advocacy efforts. We look forward to seeing how this technology training workshop will continue to enhance strategies for these business associations across South Asia, as they push to reduce barriers for women in business.
Morgan Frost is a Global Program Assistant at the Center for International Private Enterprise.