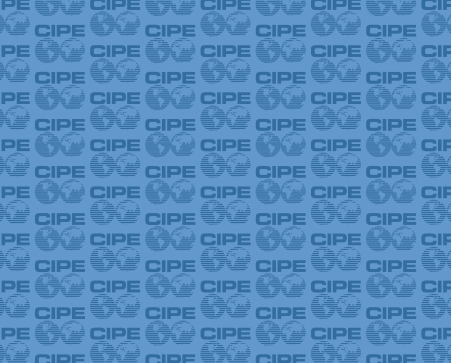 A CIPE partner in Albania, Center for Economic Research (ACER), recently had a great reason to celebrate: their efforts to have Albania's tourism VAT decreased had finally been successful. This outcome was the result of and the national tax administration recognized the work of the ACER-supported National Business Forum (NBF), including the recent release of the Forum's priorities for economic reforms focusing on taxation, informality, and public private dialogue, which included a recommendation to reduce the tourism VAT.
Since 2013, CIPE has been supporting ACER, a leading Albanian economic think tank, in its efforts to mobilize the local business community by working with a coalition of 11 reform-minded business organizations (the National Business Forum) to develop a common platform for advocating economic reform through its public-private participation. CIPE has helped the group carry out joint advocacy campaigns, including to address the most pressing, systemic issues in the Albanian economy, highlighted not only in the EU progress reports but also identified as the top priorities by the Albanian business community.
Across the region, where other countries are backsliding on reform implementation, Albania holds strategic importance for its status as a country that has taken positive steps in the midst of all the regression. However, despite this initial progress, further efforts are still needed. It is important to maintain pressure through constructive criticism to avoid losing sight of reform. Especially because the development of efficient public-private dialogue is far from being completed. There have been efforts made on both sides to improve communication between the government and the private sector, but they have yet to produce tangible results.
It is extremely important to help the Forum to step-up its efforts as there is still a significant lack of trust between the private and public sectors in Albania, with only 21 percent of Albanian businesses expressing satisfaction with the degree to which the private sector is consulted by the government on laws affecting their operations.
In 2016, the National Business Forum used CIPE's National Business Agenda methodology to identify problems common to the whole Albanian business community and policy solutions to foster the country's macroeconomic stability, ensure fiscal sustainability, and support long-term growth and competitiveness. As the decrease of the VAT in the Albanian tourism sector shows, the Albanian business community is a proactive, credible and independent player in public-private dialogue with the government and beyond. CIPE will continue its work helping the local private sector in Albania continue to play a constructive role in the country's economic and democratic development.
Martina Hrvolova is Program Officer for Eastern Europe & Eurasia at CIPE.