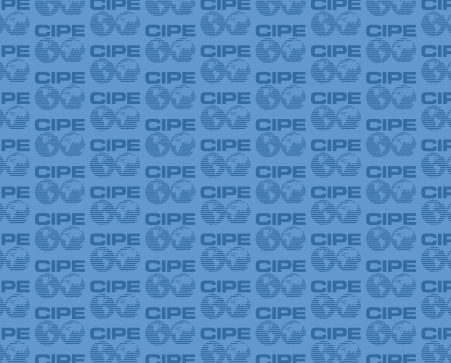 Following a wave of global democratization, over the last decade democracies in emerging markets have been tested from above and below. In countries previously seen as successes, citizens are frustrated by economic stagnation and dislocation, dissatisfied with underperforming governments, and divided over identities and values. A new set of anti-establishment, populist leaders have capitalized on this dissatisfaction and are starting to contest the very idea of liberal democracy. The populist approaches have diminished the need for rule of law and challenged the liberal economic order. "We need to respond to the attack on democracy in new ways," says Carl Gershman, President of the National Endowment for Democracy (NED), and "defend the inter-dependence of liberal democracy and the market economy, without which economic progress and human freedom will not be able to survive."
To examine how the inter-dependent relationship of the market economy and democracy might be strengthened, on January 30 CIPE and the NED co-hosted a discussion featuring panelists from the Free Enterprise and Democracy Network. Our panelists were Selima Ahmad, President of the Bangladesh Women's Chamber of Commerce and Industry, Aurelio Concheso, President of the Advisory Board, Centro de Divulgación del Conocimiento, and Güray Karacar, Former Secretary General of the Corporate Governance Association of Turkey. The three panelists pointed to three bastions of democratic market systems that require defending.
First, they said equality of opportunity must be actively promoted. Regulatory environments ought to ease access to starting a business. Anti-monopoly laws are essential to ensuring a level playing field, otherwise one ends up with crony capitalism. Separate policies may be needed to create opportunity for women entrepreneurs, said Selima Ahmad, as was the case in Bangladesh. To engage the next generation, business organizations have an important role to play. They can stimulate entrepreneurial ideas in future leaders and future participants in the economy.
Panelists also stressed the importance of democratic rule of law. One problem occurs when the laws are not taken seriously. In much of Latin America, there has been an attitude that "We will put it on the books but we won't enforce it," said Aurelio Concheso. The other type of problem occurs when laws are enforced but are not respectful of citizens' rights and inputs. Moderator Karen Kerrigan (Small Business and Entrepreneurship Council) noted that the political system must be responsive to individuals. Entrepreneurs and small businesses sometimes see rules and regulations being made without their voice and input.
Finally, for the market economy to sustain democracy, it must be accompanied by transparency and accountability. Chile and Uruguay are two examples of transparent countries with market economies. These countries with vibrant economies have been able to inoculate themselves against democratic backsliding. Looking at the Middle East, Güray Karacar raised corporate governance as a powerful tool for promoting accountability and dealing with corruption and inequality. He recommended that the banking sector reward companies who comply with ethical standards. Other ideas from the panelists for encouraging transparency and accountability include anti-corruption hotlines, sharing of public procurement information, and advocacy for transparency in government.
For all democracy's need of defending, Gershman noted that "the alternatives to liberal democracy, market economies, and rule of law are all failing." Therefore, Ahmad called for the private sector and citizens to find ways to participate together to have a democratic government from which everyone benefits. CIPE's role, according to Chairman Gregori Lebedev, is "reconstructing democracies piece by piece, and it all begins with those institutions that permit market economies to work and societies to flourish, which in turn permit a climate for democratic governance." In closing the event, CIPE Managing Director Andrew Wilson recognized the Free Enterprise and Democracy Network as the place where theories are tested, problems are identified, and solutions worked through to sustain democracy and market economies.
Full audio of the event can be found in an earlier blog post. 
Kim Bettcher is the Director of Knowledge Management at CIPE.