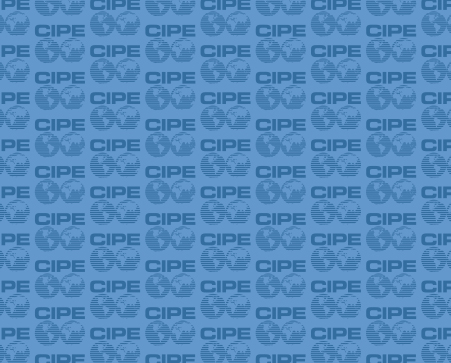 CIPE's Frozen Conflicts blog series looks at the current situation in seven breakaway regions of the former Soviet Union, with a particular focus on the economic dimension. To learn more about frozen conflicts and what can be done about them read CIPE's Economic Reform Feature Service article on the subject.
In May 2014, not long after the EuroMadian demonstrations toppled Ukraine's former President Yanukovych, pro-Russian separatists in two Eastern Ukrainian regions, Donetsk and Luhansk, held referenda – unrecognized by Kyiv and the West – and declared their independence as "people's republics."
According to a September report from the UN, an estimated 8,000 people have been killed and almost 18,000 wounded in the ensuing war in Eastern Ukraine – the area known as the Donbas – as the new government in Kyiv has tried to regain control over its territory. The UN High Commission on Refugees (UNHCR) estimates that the conflict has created 1.5 million internally displaced persons. While the Kremlin long denied its military involvement, the Russian business magazine Delovaya Zhizn revealed the number of Russian casualties: 2,000 dead, 3,200 wounded.
Of the three million who are left in the region, about two million are children and pensioners. This leaves only one million working-age adults to support them and do the fighting. For around two months, between the beginning of September and November 2015, fighting in Donbas subsided, and some Ukrainian news outlets were speculating that the war could be coming to an end. But just as some IDPs were starting to return to the region, reports of ceasefire violations emerged. In September, UN agencies and a number of humanitarian NGOs were expelled from Luhansk by the forces in control of the area.
While the military aspect of the situation has been extensively covered, less well known is how the occupied region is managing economically. At first, the Kyiv government paid social benefits to the separatist region, despite not receiving any of its tax revenues. But since November 2014, when Kyiv cut the region off, the separatist authorities have been supporting residents with pensions paid out in rubles. They claim that these funds derive from tax collections, not support from Moscow, but this assertion seems questionable given a sharp economic decline. Interestingly, in June 2015 the authorities paid out pensions in U.S. dollars.
The Donbas is heavily industrialized and used to depend on exports, selling about 70 percent of its products abroad. It has now lost its traditional export markets due both to sanctions and because clients do not want to deal with an unstable and unpredictable grey zone economy. Several major iron, steel, machinery, and chemical enterprises have ended production due to the destruction of infrastructure, and coal production declined by 57 percent in Donetsk and 81 percent in Luhansk.
Small and medium-sized enterprises are suffering as well, as business owners are having difficulties obtaining loans. This drop in production means the region has little in the way of revenue to support the separatist government, and as a result large parts of the region suffer from gas, water, and electricity shortages.
But even before April 2014, Donbas was not economically self-sufficient. Total subsidies to Donbas from Kyiv were 38.6 billion hryvnia ($2.9 billion) in 2013, or 17 percent of the region's GDP. The central government subsidized the region's budget deficit, its coal industry, and electricity and natural gas for local industry. Thus when the fighting eventually ends, this region, which had been Ukraine's "industrial heartland," accounting for 16 percent of Ukraine's GDP and 23 percent of its industrial output, will be reliant on support from Russia.
Looking forward, the Minsk II peace agreement, brokered among Ukraine, Russia, Belarus, Germany and France, stipulates that a new Ukrainian constitution should enter into effect by the end of 2015. Minsk II requires both decentralization for Ukraine and permanent legislation on the status of the separatist districts of Donetsk and Luhansk oblasts (provinces). The Ukrainian government likely wants to fulfill its obligations, but there is strong opposition by nationalist groups to more autonomy for the rebel-held east. In fact, clashes between nationalists and riot police erupted in Kiev after the Verkhovna Rada gave preliminary approval to required decentralization reforms.
Those decentralization provisions stipulate that the separatists cannot be prosecuted or punished; that they are to participate in naming prosecutors and judges; and that they may form and maintain their own security forces. Yet the central government will be responsible for financing the region.
Some analysts argue that decentralization will trigger a negative reaction in Ukraine's central and western oblasts, thus intensifying the disintegration processes by enabling Russia to exacerbate separatist leanings in the east. But even if the rest of Ukraine accepts the special status of the Dontesk and Luhansk "peoples' republics," it could hamper the country's decision-making and policy implementation, and turn Ukraine into a fractured state like Bosnia-Herzegovina. With such poor choices among likely outcomes, there is sharp disagreement on what the Ukrainian government should do next.
Some believe that the Ukrainian leadership should refrain from implementation of the political part of the Minsk agreement. They argue that the Ukrainian leadership should seek to destabilize the breakaway regions further by strengthening the economic isolation of the occupied territories, thus pressuring the leadership into cooperation with Kyiv. Already, the Ukrainian government has progressively limited the flow of people and goods into the occupied areas by closing checkpoints in August. Others argue that the size of Donbas, and its border with Russia, means that a strategy of isolation and "strategic patience" will never succeed in achieving reunification. They argue that the only viable strategy is political engagement and economic integration, once open fighting subsides.
Meanwhile there has been some speculation that Russia's military intervention in Syria could be an attempt by the Kremlin to redirect the West's attention away from Ukraine, and escape the mess in Donbas unnoticed. Reports have emerged of rebels feeling "abandoned" by their Russian patron state.
But Moscow still likely wants to keep the Eastern Ukrainian separatists under its influence and retain its levers to weaken the government in Kyiv. An unresolved situation probably suits the Kremlin best. It was reported on September 9 that a new Russian military base is being constructed 25 kilometers from the Ukrainian border. The ongoing war deters foreign investment in Ukraine and forces Kyiv to spend more on the defense and security sectors. While it is not likely to annex Donbas, Moscow is probably content to see the economic problems in Eastern Ukraine drag on.
Ann Mette Sander Nielsen is an undergraduate student at Freie Universität Berlin, where she majors in Political Science. Her research interests include Russian and Eurasian politics, the European Union, and international political economy. In the summer of 2015, she was an intern at the Washington, DC offices of the Center for International Private Enterprise, carrying out extensive research on frozen conflicts in the Eurasia region.
This series was edited by Marc Schleifer, Regional Director for Eurasia & South Asia at CIPE.