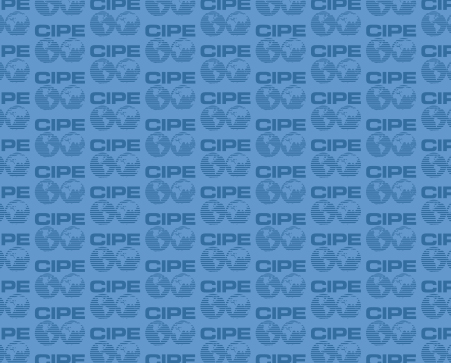 CIPE's Frozen Conflicts blog series looks at the current situation in seven breakaway regions of the former Soviet Union, with a particular focus on the economic dimension. To learn more about frozen conflicts and what can be done about them read CIPE's Economic Reform Feature Service article on the subject.
Unlike the situation in most of the other post-Soviet breakaway regions, the conflict in Nagorno-Karabakh is far from frozen. Indeed, there are some recent signs that a fresh shooting war could be brewing. Regular exchanges of fire along the line separating Nagorno-Karabakh from Azerbaijan proper are threatening a ceasefire that has been in place since 1994. This year has seen the highest number of casualties since 1994, due to the increasingly advanced weaponry being deployed.
The roots of the conflict over Nagorno-Karabakh date back to the early 19th century, when Armenians and Azeris regularly fought over this predominantly Armenian-populated enclave within Azerbaijan. As part of Stalin's divide-and-rule nationalities policy, the Nagorno-Karabakh Autonomous Oblast became part of the Azerbaijani Soviet Socialist Republic (SSR). During Soviet times, Nagorno-Karabakh pleaded several times to be transferred to the Armenian SSR, but without success.
As the Soviet Union collapsed, Nagorno-Karabakh passed a resolution which called for complete independence, resulting in clashes between local Armenians and Azeris. Shortly thereafter, the conflict nearly expanded into full-blown war between newly-independent Armenia and Azerbaijan.
The clashes lasted for almost six years, with an estimated 25,000-30,000 casualties, 750,000 internally displaced persons in Azerbaijan from Karabakh and the seven Azeri districts around Karabakh still held by Armenia, and around 360,000 Armenian refugees from Azerbaijan. The 40,000 Azeris living in Nagorno-Karabakh were driven out or killed. After the war, the region was left poverty stricken. Two thirds of the population had been displaced. Local industry had collapsed, and the agricultural system was dysfunctional. The population survived on subsistence farming or the resale of goods from Iran and Armenia.
In subsequent years Nagorno-Karabakh began to piece itself together, functioning as a de facto state, with its own elected government and a population of 140,000, officially unrecognized by any government – even Armenia, which supports Nagorno-Karabakh militarily and provides economic aid. The local authorities have pursued state-building activities in an effort to gain international recognition. Nagorno-Karabakh holds regular elections and ranks as "partly free" in the Freedom House index. Dissent and political opposition are generally considered a sign of disloyalty and a security risk.
However, over the past decade, Nagorno-Karabakh has enjoyed a high rate of growth. Indeed, Nagorno-Karabakh has, on average, grown by about five percentage points more per year than Armenia. Of course, those results are not being achieved without significant support from Armenia. Yerevan provides Nagorno-Karabakh with investment, diaspora remittances, and direct aid.
However, there are signs that the Nagorno-Karabakh is slowly becoming more economically independent. About half of the regional government's spending now comes directly from the Armenian state budget — but five years ago it was two thirds. Officials expect that in another ten years, direct aid from Armenia will make up only about 10 percent of the budget.
In the first six months of 2015, according to the Nagorno-Karabakh Republic National Statistical Service, Nagorno-Karabakh saw a 7.4 percent increase in GDP, growing to 83.5 billion drams ($1.7 billion), representing a GDP per capita of around $1,200. The mining industry accounts for just over a quarter of output, with light industry and the energy sector accounting for around 35 percent each. Industrial output grew by almost 25 percent in the first six months of 2015. Nagorno-Karabakh's energy sector is on its way to becoming self-sufficient, and the region could even become an energy exporter in the future. Its state-run energy company, Artsakh HEK Stepanakert, has constructed four small-scale hydroelectric power plants since 2010, to go along with its existing Sarsang power station, allowing Nagorno-Karabakh to produce 166.4 million kWh of electricity in 2014 alone.
From a political point of view, the status quo is costly for all the parties to the conflict, which should be a spur toward seeking some sort of resolution. But both Armenia and Azerbaijan appear treat the situation as a zero-sum game, and are reluctant to make any concessions to unfreeze the negotiation process. Leaders both in Yerevan and Baku have used the conflict for political purposes and do not have an interest in coming to a negotiated agreement.
Yet the conflict has not been without cost to these countries. Armenia has seen its trade routes to Azerbaijan and Turkey closed off completely, blocking 80 percent of its borders. Estimates of the cost of this blockade for Armenia range from 10 percent to 30 percent of Armenia's GDP. Moreover, the conflict resulted in a sanctions regime against Armenia in the 1990s, helping facilitate the rise of the country's oligarchy and commodity-based cartels that control key sectors of the Armenian economy. These actors are opposed to a political settlement, as they benefit from market distortions produced by the conflict.
Yerevan's ability to build political support for a settlement is also affected by Russia's dominant role in Armenia. As a result of its isolation from Azerbaijan and Turkey, Armenia depends on Russia economically and for its security. Russia has a large military base in Armenia, and the two countries have a security alliance which entails obligations for collective defense. Nevertheless, Russia has simultaneously sold weapons to Azerbaijan, indicating that Russia may have an interest in keeping the conflict unresolved.
After more than 20 years of negotiations led by the Organization for Security and Cooperation in Europe, the various parties to the conflict have lost trust in international mediators and external actors. The European Union's European Neighborhood Policy (ENP) Action Plan for Azerbaijan highlights the principle of territorial integrity, while the ENP Action Plan for Armenia emphasizes the principle of self-determination. Baku professes little understanding as to why the West punishes Russia for annexing Crimea, but is perceived to give Armenia a pass for its behavior in Nagorno-Karabakh.
As the number of casualties along the line of control grow, there is a real risk of an "accidental" war. Nagorno-Karabakh's "defense minister" has already announced that one of the main targets of a new war would be the crucial Baku-Tbilisi-Ceyhan (BTC) pipeline, located less than 30 miles from the conflict zone
Such a conflict could destabilize the whole region, including the Russian North Caucasus, as well as drawing in Turkey, Iran, and Russia, particularly in a time of heightened tension between Moscow and Ankara. This, in turn, would undermine for years the potential of the South Caucasus to become a key trading, transit and energy route between Europe and Asia, and would allow Moscow to retain its influence and leverage in the region.
Ann Mette Sander Nielsen is an undergraduate student at Freie Universität Berlin, where she majors in Political Science. Her research interests include Russian and Eurasian politics, the European Union, and international political economy. In the summer of 2015, she was an intern at the Washington, DC offices of the Center for International Private Enterprise, carrying out extensive research on frozen conflicts in the Eurasia region.
This series was edited by Marc Schleifer, Regional Director for Eurasia & South Asia at CIPE.