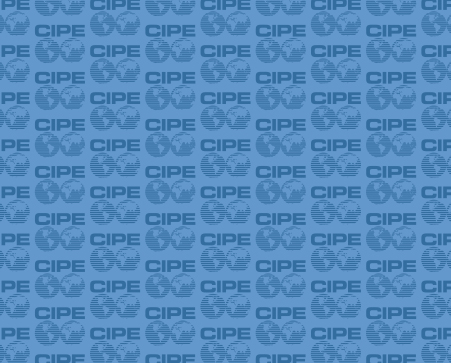 The 8th Assembly of the World Movement for Democracy, in Seoul, Korea, focused on ways to renew democracy, prevent backsliding, and sustain democratic transitions. In line with this theme, CIPE organized a workshop for participants to share experiences in balancing economic and political reform priorities and engaging civil society to drive reforms.
The speakers focused on two of the four dimensions in the Steering Committee's "Call for Democratic Renewal": the need to prepare civil society to protect fragile new democracies and the need to restore the credibility of mature democracies. They also stressed the need for two-way international engagement.
Across the world, poor governance and an overbearing state have presented themselves in the form of land grabbing and weak property rights; the denial of opportunities to women, local communities, and small businesses; and the suppression of efforts to build civil society. Specific challenges cited include efforts to deprive women of their rights in Cambodia, Bangladesh, and Morocco; unbalanced economic reforms that neglected political reforms in the Middle East; and restrictions on independent civil society organizations including business associations in Vietnam and China.
An overarching theme of the discussion, therefore, was to invigorate democracy by building institutions of a free polity and a free economy. This means strengthening property rights, simplifying regulations, encouraging individual responsibility, and fighting corruption. Crucially, democratic governance emerges through citizen participation in decision making and coalition building among progressive forces in all sectors of civil society, business, and government.
Speakers at the CIPE workshop shared examples of initiatives to empower citizens, improve governance, and raise economic competitiveness. Silaka, a non-government organization in Cambodia, facilitates citizen monitoring of public procurement and encourages leadership of young women in subnational citizens' forums. The Bangladesh Women Chamber of Commerce and Industry advocated successfully for financing for 11,000 small entrepreneurs and nearly 3,000 women-owned mid-size firms. The Center for Liberal Democratic Studies in Serbia championed reform of the customs administration by liberalizing foreign trade. The Islands of Good Governance program in the Philippines is guiding reforms in public administration, corporations, and local governments.
Drawing lessons from these and other countries' experiences is challenging, however, because transitions are unpredictable and every country has different institutions, economic opportunities, and levels of civic freedom.
Participants made the following recommendations for linking economic reform to democratic renewal:
Build democratic governance through (1) a shared vision of democracy that delivers for all; (2) shared responsibility among government, civil society, and the private sector; and (3) shared value and inclusive growth.
Use public-private dialogue as a mechanism for feedback and accountability in policymaking.
Integrate business and the economy into the international system as a driver for sustainable economic reforms.
Remain flexible, experiment, innovate, and take advantage of dynamic forces in any country.
Mobilize citizens, progressive elements of the private sector, and diverse constituencies, especially women and local communities, to create the conditions for democratic governance and economic competitiveness.
Kim Bettcher is Senior Knowledge Manager at CIPE.