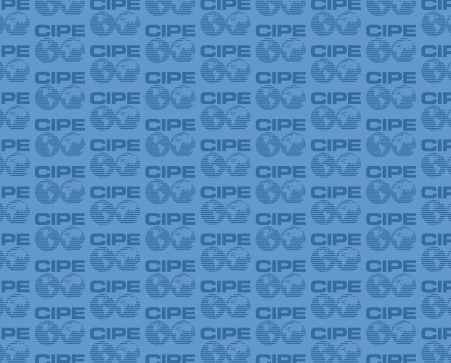 The Ukrainian government is in the difficult position of trying to overhaul a wide range of economic, judicial, and political institutions, all while fighting a war in the country's east. The challenges are stark: Ukraine is in the midst of its worst recession since 2009, and the government expects the economy to shrink by 9.5 percent this year, with annual inflation likely to reach 48 percent. Thus it comes as no surprise that many Ukrainian citizens have begun to complain that the government isn't doing enough, or that the pace of change after the EuroMaidan is too slow.
A policy paper released by the Friedrich Naumann Foundation in November 2014, not long after the current government took office, analyzed a range of Ukrainian policies that are slanted against the business community, creating particular challenges for small and medium-sized enterprises (SMEs).
While the reform effort since 2014 has been intense, many SME owners are still not satisfied with efforts to ease the regulatory burden, according to the findings of a national survey of over 1,600 SMEs, recently conducted by CIPE as part of the USAID project Supporting Urgent Reforms to Better Ukraine's Business Environment (SURE) .
While the majority of SME owners say that that the state of the economy is the single most important problem facing businesses in Ukraine, they claim to have seen little change in the level of corruption. Further, nearly one in three SME heads say that it is very difficult or nearly impossible to be in full compliance with various laws. However, there are some signs of progress that deserve greater attention. For instance, the survey showed that most SME owners believe that paying bribes is never justified.
In addition, CIPE is assisting Ukraine's government to effectively design and implement anti-corruption legislation, both at the national and regional levels, to support the creation of a business-friendly ecosystem. For example, in February, Drago Kos, Chairman of the OECD's Working Group in Bribery, carried out a needs assessment as the head of SURE's Anti-Corruption Expert Panel, focusing on Ukraine's new anti-corruption law, which establishes a National Anti-Corruption Agency and National Anti-Corruption Bureau. The conclusions that Kos drew from the needs assessment were widely distributed to the business community, civil society partners and the U.S. government.
CIPE is also working with business associations that represent SMEs develop, propose, and advocate for legal and regulatory reforms as part of the SURE program. Thanks to that effort, four draft laws were submitted to the Verkhona Rada, Ukraine's Parliament, between April and July. If passed, these laws will:
Eliminate unnecessary administrative barriers for SMEs in regards to land use, urban development, and public settlements.
Amend legislative acts on settling commercial and civil law obligations by simplifying the procedure for closing contracts as well as by revising the tax code.
Improve access to justice for businesses by creating an effective system for legal assistance reimbursement.
Establish provisions to regulate claims and complaints.
CIPE and its partners anticipate that these laws will be considered by the Verkhovna Rada in the fall, and that they have a high likelihood of passage. If so, the country's SMEs and individual entrepreneurs, which constitute by some estimates 99 percent of the firms in Ukraine, will face significantly fewer challenges in operating their business. This, in turn, will help build a more diverse, thriving economy in the country.
Of course, a great deal more work needs to be done in Ukraine in the coming months and years. Many analysts are looking forward to the fall of 2015, when the Ministry of Economic Development and Trade and the Ministry of Finance have pledged to push a fresh round of deregulation, privatization of state-owned enterprises, energy sector reforms, financial reforms and a tax code overhaul. The challenge facing CIPE and its network of business association partners will be to ensure that the voices of SMEs are represented in that process.
Rachel Grossman is an Assistant Program Officer for Eurasia at CIPE.