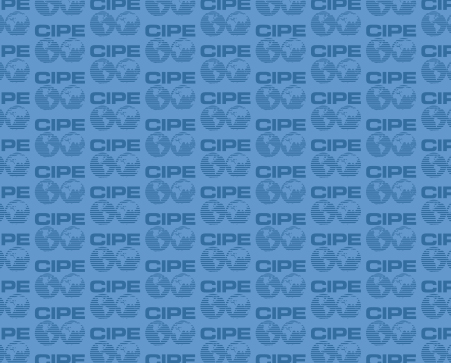 Fostering a strong competitive market requires the private and public sectors to understand each other's needs. In any country, entrepreneurs look for ways to make their businesses successful while the federal and local governments deliberate how they can boost the economy by providing loans for businesses or building up infrastructure. Developing solutions to such questions involve facilitating effective public private dialogues (PPD).
At the 8th PPD Global Workshop in Copenhagen, Denmark – which was co-organized by the World Bank Group, Ministry of Foreign Affairs, and the Confederation of Danish Industry – over 300 participants from civil society organizations, companies, governments and development partners from 54 countries came together to share their experiences with PPDs. CIPE and several current and past partner organizations from Ethiopia, Jordan, Kenya, Moldova, Serbia, and Nigeria participated in this four day event.
Betty Maina, CEO of CIPE partner Kenya Association of Manufacturers, was a featured speaker and highlighted the importance of PPD for the enabling business environment. Director for Multiregional Programs Anna Nadgrodkiewicz also presented CIPE's joint initiative with the World Bank, an interactive knowledge hub website for the global PPD community of practice (www.publicprivatedialogue.org).
The workshop focused both on successes and challenges faced by PPD practitioners when developing, implementing, and evaluating constructive dialogues in different environments. The breakout sessions were divided by range of themes such as fragile and conflict-affected states (e.g. Palestine and Guinea), politically and socially transitioning environments (e.g. Tunisia and Slovakia) and city-level versus regional-level PPDs.
While the conclusion of the workshop was that there is no "one size fits all" guidance for creating constructive PPD models, the following were key themes that PPD practitioners emphasized at the workshop.
Governments and businesses are afraid to join dialogues due to lack of trust. To overcome this and to build trust among PPD stakeholders, dialogues must be constructive, action-oriented conversations. PPDs cannot be a platform for complaining about each actor's wrongdoings.
Securing high-level buy-in from both public and private sectors is critical. This leads to a stronger possibility of reform implementations.
Changing policies take a long time. To not lose momentum, and to encourage each other, it's important to celebrate both shot-term and long-term wins.
Due to scare resources available in certain environments, identifying shared strategic priorities for all parties is critical.
PPDs bring together actors with different viewpoints, so searching for mutual understanding and building compromises between actors is key.
Innovation, flexibility, and adaptability are important factors to keep in mind when PPDs are operated in fragile or transitioning countries.
Developing an ecosystem conducive for economic growth takes time, but the workshop attendees have returned to their respective countries with more energy, resources, and networks to catalyze their local dialogues.
As PPD practitioners continue advocating for stronger business environments, CIPE encourages members of PPD community to stay in touch and share their stories and lessons learned on the PPD hub at www.publicprivatedialogue.org or on its social media sites at Facebook or Twitter.
Maiko Nakagaki is a Program Officer for Global Programs at CIPE.