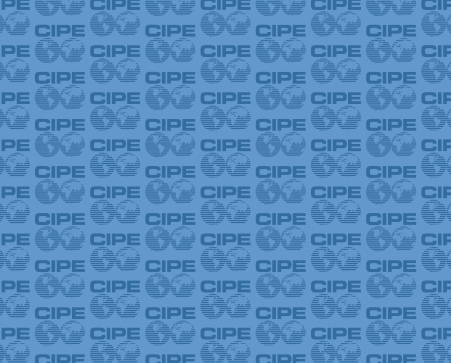 CIPE Pakistan has completed its 7th successful year. The 2013 Pakistan Activities Report details the progress of yet another instrumental year for policy reform driven by the private sector in the country.
Following are the highlights of the report:
The General Elections in 2013 brought new momentum to Pakistan's democratic and economic policy reform process. Considering the economic vision articulated by country's leaders in their election manifestos, CIPE initiated a program of support for the Islamabad-based think tank, the Policy Research Institute of Market Economy (PRIME), to lay out a roadmap for tracking the new government's implementation of its economic platform.
Key chambers of commerce have engaged in dialogue with Pakistan's major political parties and are actively monitoring the progress of implementation of the economic agenda promised by the government.
CIPE's efforts to strengthen corporate governance in state owned enterprises resulted in the approval of a set of rules for corporate governance to help improve transparency, strengthen the country's finances, and potentially limit the corruption in listed and wholly owned government companies.
Chambers of commerce, including several women's chambers and business associations, are building their membership, strengthening governance, and improving management capacity.
Major universities continue to promote youth entrepreneurship.
Young bloggers continue to become more effective citizen journalists.
CIPE Pakistan also recognized the cooperation and valued support of its partners such as Islamabad, Rawalpindi, Karachi, and Lahore Chambers of Commerce and Industry; the Peshawar, Islamabad, and Central and North Punjab Women's Chambers of Commerce and Industry; the Pakistan Institute of Corporate Governance; the Securities and Exchange Commission of Pakistan; the Association of Chartered Certified Accountants/Pakistan, the Pakistan Business Council; Policy Research Institute of Market Economy; The Uks Research, Resource, and Publication Centre on Women and Media; the Pakistan Software Houses Association for IT and ITES; the Board of Investment; the State Bank of Pakistan; the Economic Reforms Unit of the Ministry of Finance; and the Government of Pakistan Cabinet Division Intellectual Property Organization. These are among the many partners who have worked with CIPE to play a crucial role in the economic and democratic development of Pakistan.
In 2014, CIPE Pakistan, through the support of its partners, will continue to serve as a catalyst in strengthening democracy through private sector and market-oriented reforms.
Emad Sohail is Senior Program Officer for CIPE Pakistan.