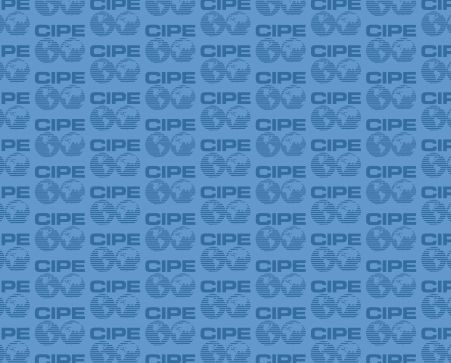 "To realize sheer benefits of the GSP Plus status the government should take rationalized steps to minimize the cost of doing business as lack of resources and huge export of raw material is indicating further increase in cost of doing business in the future" – Faisalabad Chamber of Commerce and Industry President Suhail Bin Rashid.
Historically, business associations were heavily politicized in Pakistan, preventing them from becoming a unified voice for economic reforms in the country. Recently, the Federation of Pakistan Chambers of Commerce & Industry, an apex body of business associations in Pakistan, unveiled its first-ever "shadow budget," consisting of suggestions related to Pakistan's 2014-15 Federal Budget. This is a major turnaround.
After six years of support from CIPE Pakistan's multifaceted capacity building efforts, business associations are now becoming a strong national voice for economic revival plans and mapping government accountability. This was a long process, started in 2009 when CIPE partner Rawalpindi Chamber of Commerce and Industry organized its first All-Pakistan Chamber Presidents' Conference.
Initially, the response was weak, but as the effort continued, business associations realized its importance. Since then, the annual conference has become an important venue for bringing the business community from across Pakistan together to discuss pressing economic issues and propose reforms to provide level playing field for businesses to grow. At the 6th Presidents' Conference, participants not only discussed key areas for the revival of economy but made their thinking more public.
As the Federal Budget 2014-15 is in its preparation phase, for the first time, business leaders decided to collectively present their own budget proposals to the government. While taking the lead, Karachi Chamber of Commerce and Industry arranged the first ever All Pakistan Chamber Presidents Pre-Budget Conference in first week of February 2014 to come up with suggestions regarding the federal budget.
In April 2014, Faisalabad Chamber of Commerce and Industry invited all Chamber Presidents to a second All-Pakistan Pre-Budget conference where the Chairman of the Federal Board of Revenue, Tariq Bajwa, participated at the conference and listened the issues of business community.
CIPE engaged business associations and motivated them to speak on issues of economic importance and role of private sector in economic policy reforms. As a result, now all Chambers are able to turn the tables by raising their voice unanimously to issue specific policy proposals.
There is still a long way to go, but CIPE`s efforts of bringing business community together as part of a single platform has started paying dividends.
Hammad Siddiqui is Deputy Country Director for CIPE Pakistan. Muhammad Talib Uz Zaman is a Program Officer for CIPE Pakistan.