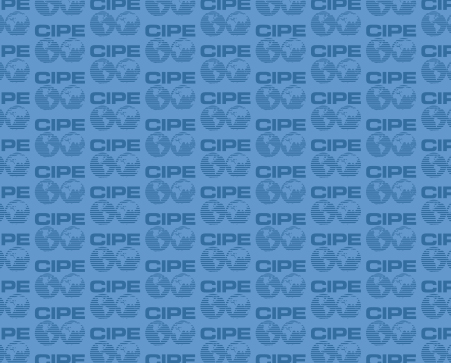 In 2013, Pakistan experienced its first peaceful transition between two elected, democratic governments. In another first, several parties, including the winning PML-N, produced a concrete manifesto outlining their planned economic policies. But citizens have no mechanism to regularly track what governments are doing towards achieving their election promises.
With CIPE support, the Policy Research Institute of Market Economy (PRIME), an independent economic think tank, has been monitoring progress on the government's economic manifesto via a carefully designed scorecard. The results show that while the new government has made some progress, implementation of its election promises remains slow.
The first Scorecard report, released on January 27, covered the period between June and December 2013. The report received wide appreciation in media as well as among the business community. This report showed that the average score for Economic Revival was 3.17 out of 10, Energy Security scored 4.16, and Social Protection scored 6.
PRIME issued the second Scorecard on April 17 of this year. This report is titled "Losing the Steam" and covers the period between January and March 2014. The average score in Economic Revival stood at 4.47 as compared to 3.17 in the first tracking report. In the Energy Security, the PML-N government received a score of 4.34 which was 0.18 point better than the previous 4.16. Lastly in social protection its average score was 6.5, as compared to 6 in the last report.
Out of 91 components being measured in this scorecard, the government has not make any reform progress on 29. Two key promises made by the government, tax reforms and privatization of state owned enterprises, are still pending and no progress has been made in these areas. The government received only 1.75 points for its tax reform policies and 3.5 points for progress towards reforming state owned enterprises.
The launch of this edition of the scorecard was covered by major national newspapers and TV channels, including The News and Dawn. This media coverage ensures that the government will remain accountable to their voters for promises made during the election campaign.
The next tracking report will be issued in July 2014. At a recent event, Ali Salman of PRIME talked about the methodology of the scorecard, the results, and its impact — full video of that discussion is available here.
Hammad Siddiqui is Deputy Country Director for CIPE Pakistan.